The term 'Janmashtami' is a blend of two words – 'janm' meaning birth and 'ashtami' implying the eighth day of the month. That's the day on which Lord Krishna was born and, hence, Krishna Janmashtami is celebrated. More precisely, Janmashtami is the day on which Lord Krishna was born. The Hindu festival is a harbinger of love, peace, and goodness in humanity. This year, Janmashtami is on 18th August, Wednesday.
Now, let's discuss the significance of Janmashtami as defined by our history.
Janmashtami History & Significance
Krishna Janmashtami commemorates the birth of Lord Krishna, revered as the 8th embodiment of Lord Vishnu. He was born in Mathura, modern Uttar Pradesh, about 5,200 years ago. As per the Hindu almanac, the holy day is the 8th day of gloomy fortnight during the period of Bhadon.
Janmashtami significance arises from the theme of dominance of good over evil when positive forces emerge victorious over negative elements. The themes of friendship and unity are also an integral part of the festival. The Bhagwat Gita propounds that the Lord takes rebirth everytime sin rules the world with his unwavering mission to protect the genuine and rid the world of the wicked. He brings all the goodness of the universe to the forefront and seeks to preserve it till eternity, emphasising on the theme of togetherness and union. This is the predominating Janmashtami history.
According to Hindu folklore, Lord Vishnu was born reincarnated as Lord Krishna when evil ran wild during the rule of King Kansa. He put an end to all the sinister practices and spread the message of love, peace, and happiness among humanity. This is yet another factor behind Janmashtami significance. Here are 10 DIY aarti thali decoration and diya decoration ideas in case you are looking for some inspiration.
Janmashtami Celebration At Home
Prayers are offered to Lord Krishna at midnight because this is the time he was believed to have been born. An idol of Lord Krishna is bathed in butter and water and then placed on a cradle. Instead of an idol, paintings of the Lord can also be worshipped. Devotees also like having the idol of Radha along with that of the Lord.
A dahi matka or handi (earthen pot) is tied at a certain height above the idol. This handi is filled with yoghurt (dahi), ghee, chocolates, and other goodies. A group of boys form a pyramid by climbing onto shoulders. The motive is to help get the hands of the boys in the top row close to the handi, which they need to break. This is an important part of the festival's customs and is done in memory of nand laal or natkhat laal's constant obsession with makkhan (butter) – as Lord Krishna was nicknamed during his childhood.
6 Ways In Which Janmashtami Is Celebrated
Krishna Janmashtami can be celebrated both at home and at Hindu temples. Some look forward to organising Janmashtami celebration at home, while others visit temples to participate in the festival
Devotees of Lord Krishna observe a fast on this day till the Janmashtami pooja at home has been completed and then break the fast with Janmashtami prasad items
The cradle, matka, and homes are decorated with flowers as a part of Janmashtami decoration at home. The idol is garlanded with flowers. Temples are decorated in the design and pattern of jharokhas to resemble a palace from outside for stunning Krishna Janmashtami decoration
Devotees sing devotional songs to express their love and reverence for the Lord. At temples, devotees chant devotional songs and read religious texts on Lord Krishna or read from the Bhagwad Gita
The fast is broken with sweets and other savoury delectables like roasted makhana, sabudana tikki, aloo chaat, fruit chaat, dahi aloo, singhare ki poori, sabudana thalipeeth, samvat rice khichdi, to name a few. These are important food recipes for Janmashtami
There are some Janmashtami prasad items that are offered to the Lord first during Janmashtami pooja at home before they can be had by devotees
4 Janmashtami Decoration Ideas For Your Home
Here are 4 ideas for a dazzling Krishna Janmashtami decoration.
1. Paint The Matki
Flowers are an obvious way to decorate the matki, an essential part of Janmashtami decoration. But how can you decorate it differently? Try painting it with bright colours that catch your fancy and complement the mood of the festival. Not just that, you can also wrap satin or netted material around the matki to add even more variety to it for your Janmashtami decoration at home.
2. Experiment With Lights
No, just hanging fairy lights and diyas aren't enough when you want to make your festive home decor look unique for Janmashtami decoration. Explore DIY lanterns with paper and cardboard boxes in which you receive your online shopping orders. Paint on bottles or decorate them with laces and then place fairy lights in them. Get creative with your ideas and add shine to your Janmashtami decoration at home!
3. Let Your Rangoli Be Hatke
There are some common motifs for Janmashtami rangolis. Peacocks to mention just one of them. Try out the same motif in a different way that your rangolis stands apart from the rest. Give a modern touch to the traditional designs or think of an uncommon motif altogether for Janmashtami decoration and take Janmashtami celebration at home several notches higher.
4. Let Flowers Do Their Magic
Traditional festivals and flowers go hand-in-hand. No celebration can be complete without them. But, this Janmashtami, introduce a twist to the way you decorate your home with flowers. Think of different designs for Janmashtami decoration. Apart from genda (marigold), the obvious favourite, you can have sunflowers, roses, and other flowers that are readily available at the market near you for Janmashtami decoration at home.
4 Janmashtami Bhog Recipes That Are Absolutely Delicious
Once you're done with finalising Krishna Janmashtami decoration for your home, it's time to decide on Janmashtami bhog recipes for the day.
1. Sweet Potato Chaat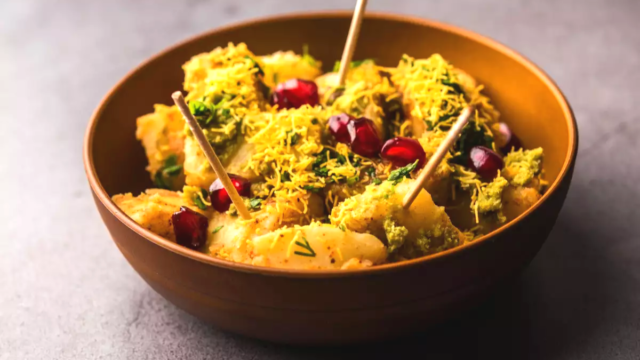 Preparation Time: 10 minutes
Cooking Time: NIL
Ingredients
2 sweet potatoes (chopped)
½ tsp black pepper powder
½ tsp amchur powder (mango powder)
½ tsp sendha namak (rock salt)
½ tsp lemon juice
Method
Boil sweet potatoes in a pressure cooker for 2 to 3 minutes
Take the potatoes and all the other ingredients in a bowl and toss them well and, ta-da, sweet potato chaat – one of the most common Janmashtami prasad recipes, is ready to be enjoyed!
2. Sabudana Khichdi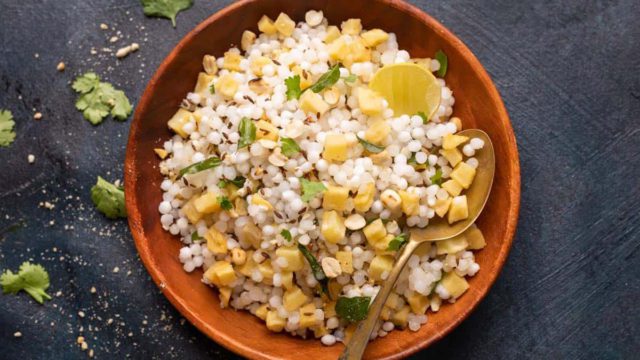 Preparation Time: 20 minutes
Cooking Time: 5 minutes
Ingredients
150 gms sabudana (tapioca pearls)
Water to soak sabudana
2 potatoes (medium-sized)
½ cup roasted peanuts
8 – 10 curry leaves (optional)
1 tsp grated ginger – optional
1 green chilli
½ tsp of ginger paste
1 tsp jeera (cumin seeds)
¼ cup grated fresh coconut (optional)
Sugar to taste
½ to 1 tsp lemon juice (optional)
3 tsp oil or ghee
rock salt (edible and food grade) (sendha namak) as required
1 – 2 tbsp dhaniya patta (coriander leaves)
Method
Rise sabudana in water thoroughly and leave it overnight or for at least 3 to 5 hours.
Drain water from sabudana completely and keep aside.
Boil potatoes in a pressure cooker and then peel them when they are warm.
Take a pan and roast the peanuts till they turn brown. When they cool down, prepare a coarse poder in the grinder or in a mortar and pestle.
Mix this coase peanut powder, sugar, and salt in the drained sabudana and toss thoroughly.
Next, heat oil or ghee in a pan and fry cumin in it till it crackles.
Add chillies and curry leaves, followed by ginger paste. Saute for a few seconds till you cannot smell the raw smell of ginger anymore.
Add the boiled potato and saute for about 1 minute.
Then add sabudana and keep stirring it often for 4 to 6 minutes on low flame.
You will know the saubada has been cooked when the opaque pearls turn translucent.
Drizzle with lemon juice and garnish with coriander leaves and voila, Sabudana Khichdi – one of the most favourite Janmashtami prasad recipes is ready to be served.
3. Sabudana Thalipeeth
Preparation Time: 8 hours
Cooking Time: 30 minutes
Ingredients
⅔ cup sabudana (tapioca pearls)
2 potatoes (peeled and mashed)
½ tsp cumin powder
4 tbsp peanuts (roasted and coarsely ground)
½ inch ginger – finely chopped or grated
¼ cup dhaniya patta (coriander leaves)
1 tsp lemon juice
Sugar to taste
Sendha namak (rock salt) to taste
Oil or ghee
Method
Wash sabudana thoroughly till it is free of starch completely.
Soak it overnight.
Drain all the water again and keep aside.
Add potatoes and all the other ingredients to the sabudana and blend well.
Take a skillet and heat oil or ghee in it. Apply some oil on your psalm as well.
Take a small portion of the mixture (enough to make a tikki-like shape) and flatten it using your palms to make a thalipeeth.
Place a few thalipeeth on the pan, as many as can fit into the skillet, on low to medium heat.
Fry one side till it turns golden brown, turn it over, and repeat the same for the other side too.
If you're breaking a fast, serve sabudana thalipeeth with raita or chutney or homemade tomato sauce made without garlic and onion. It can also be served with yoghurt, sugar, or jaggery.
4. Sabudana Kheer
Preparation Time: 15 minutes
Cooking Time: 20 minutes
Ingredients
½ cup sabudana (tapioca pearls) – for a thicker kheer, you can add ⅔ sabudana
2 cups whole milk
2 cups water
Sugar to taste
½ tsp dalchini (cardamom powder)
2 tbsp chopped cashews
½ tbsp kishmish (raisins)
3-4 kesar (saffron strands)
Method
Rinse sabudana in water till the water comes out clean, devoid of starch.
Take a heavy flat-bottomed pan and pour water and sabudana ino it.
Let the sabudana soak in water for about 20 minutes.
Meanwhile, heat milk for 4 to 5 minutes.
Then, pour the milk into the pan with sabudana.
Add cardamom powder and sugar and keep simmering for 20 to 25 minutes on low to medium heat until the sabudana has been cooked well.
Keep stirring often to prevent the sabudana from sticking to the bottom of the pan.
Turn off the gas and then add raisins and cashews, and garnish with saffron strands.
You can serve Sabudana Kheer, one of the most preferred Janmashtami bhog recipes, hot or chilled.
Janmashtami is an effort to maintain love, peace, and happiness among all. It seeks to rid the world of evil and all elements that prevent humanity from progressing forward. So, let us all do our best to maintain positivity among all and uproot sin from its roots. Shubh Janmashtami to you all!
Open up like never before and participate in conversations about beauty, entrepreneurship, mental health, menstrual & sexual health, and more. Desi women, join our community NOW!