The annual festival of Eid al-Adha, also known as Eid ul-Adha or the Festival of Sacrifice, is celebrated on the tenth day of Dhul Hijjah, the twelfth and last month of the Muslim lunar calendar. It is the second most important Muslim festival after Eid al-Fitr, which commemorates the end of Ramadan, the month of fasting. In the Indian subcontinent, the festival is popularly referred to as Bakri Eid, deriving its name from the tradition of sacrificing a goat or 'bakri'. This year too, Eid ul-Adha will be celebrated on 9th and 10th July.
History & Significance Of Eid al-Adha
Eid al-Adha is celebrated by the Muslim population across the world. The history behind the festival dates back to the times of Prophet Abraham or Ibrahim. He saw a dream in which God commanded him to sacrifice his eldest son, Ismail or Ishmail. However, while he was about to sacrifice his son, God sent him a huge sacrificial ram through the hands of Angel Gabriel. Abraham was informed by the angel that he has successfully completed his dream vision and that he can sacrifice the ram in place of his son. This story can be found in Chapter 37 of the Holy Quran and in the Bible's Old Testament as well.
The significance of the Day of Sacrifice lies in it being the climax of the 5-day Hajj or pilgrimage, which is considered to be the fifth pillar of Islam. The annual pilgrimage to Mecca or Medina in Saudi Arabia is encouraged for all Muslim men and women. However, it is not mandatory for all. Only those physically fit and financially capable are expected to go on a pilgrimage once in their lifetime. Haj is believed to cleanse the soul of sins and encourage brotherhood and equality.
Religious Practices & Traditions Of Eid al-Adha
Eid Prayers
Eid celebrations begin with performing more prayers than usual in the morning. People visit mosques in large numbers.
Animal Sacrifice
Sacrificing an animal on this day forms a significant aspect of the celebrations. This signifies animals that Muslims are allowed to eat, like sheep, goat, cow, or camel, contributing to a feast of sacrifice. Special livestock markets are often organised in various parts of the world to meet the demand for a sacrificial animal.
Meat Distribution
The meat that people purchase for sacrifice on this occasion is only solely meant for personal consumption or consumption within their families and friends. A part of the purchased meat meant for the feast of Eid needs to be distributed to others as well as a mark of brotherhood and solidarity. For a feast of sacrifice, the meat purchased is meant to be divided into three distinct parts as below:
One, for the person sacrificing it and the immediate family members
Second, for the extended family and friends
Third, for the needy. One may also choose to donate the value of one sacrificial animal to a Muslim charity organisation that specialises in remote animal sacrifices and distributing the meat among the underprivileged muslim population like the poor, elderly, disabled, and refugees
5 Eid al-Adha Traditions That Is Followed By Muslims Around The World
People attend special open-air prayers organised at mosques and Islamic centres
Some may choose to exchange gifts
People follow the tradition of wearing new clothes
Students take a day off from schools and colleges while adults may take a leave from work
Some work to ensure a meat-based meal or feast of Eid for as many Muslims as possible
3 Popular Recipes For Eid al-Adha Feast
3 of the most popular Eid ul-Adha recipes are as below:
1. Whole Wheat Mutton Khichda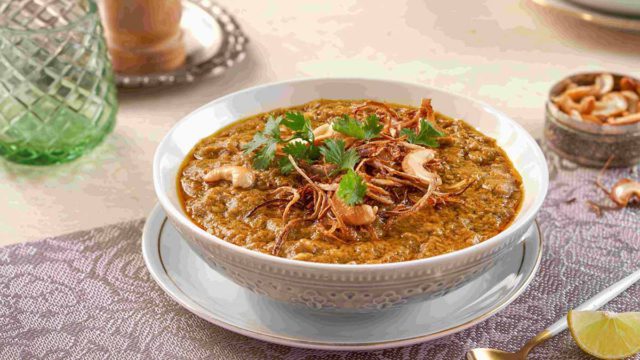 Preparation Time: 20 minutes
Cooking Time: 25 minutes
Ingredients
500 gms mutton curry cut
50 gms whole wheat & daliya
1 cup dahi (yoghurt)
1 large onion
1 large tomato
1 tbsp refined oil
Ghee
Freshly made ginger garlic paste
3-4 laung (cloves)
1 tej patta (bay leaf)
1 stick dalchini (cinnamon)
1 star anise
1 black elaichi (cardamom)
Black pepper whole
Saunf
1 tsp jeera powder
1 tsp dhaniya (coriander) powder
1 tsp haldi (turmeric)
1 tsp roasted kasuri methi
1 tsp degi mirch
Garam masala
Salt to taste
Steps
Soak whole wheat and daliya overnight. Marinate the mutton with yoghurt.
Chop online and tomato and keep them aside.
Heat refined oil and ghee in a heavy-bottomed pan. Once hot, add the cloves, cinnamon, cardamom, bay leaf, star anise, saunf, and whole black pepper.
Add the onions, tomatoes, and ginger garlic paste. Saute well.
Add dhaniya powder, jeera masala, haldi, and degi mirch. Then, add the soaked wheat and daliya and saute for a few minutes.
Add the marinated mutton and saute properly. Mix kasuri methi in it and add water.
Garnish with golden fried onions and some ghee, and serve sizzling hot.
2. Awadhi Gosht Korma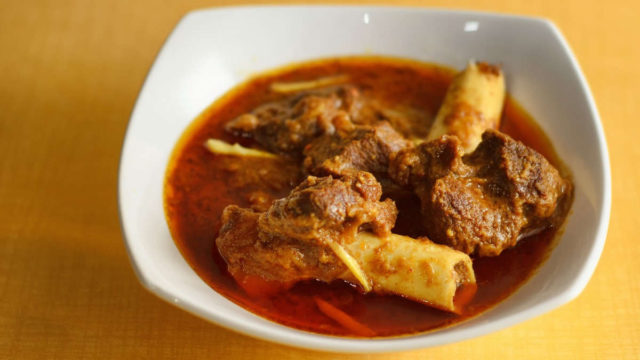 Preparation Time: 15 minutes
Cooking Time: 1 hour 45 minutes
Ingredients
1 kg mutton
2 tbsp refined oil
3-4 green elaichi (cardamom)
1 tsp whole dalchini (cinnamon)
2 black elaichi (cardamoms)
2-3 tej patta (bay leaves)
1 tsp haldi (turmeric powder)
¼ cup water
1 tsp ginger garlic paste
1 tsp dhaniya (coriander) powder
1 tsp red chilli powder
1 tsp garlic (ground & fried)
1 tsp onion (fried)
3 tbsp yoghurt (beaten)
2 tsp gulab jal (rose water)
2 tsp garam masala
½ tsp nutmeg-coriander powder
½ tsp kesar (saffron)
Few drops of ittar
Wheat dough
Fresh coriander for garnish
Salt to taste
Steps
Take a pan and heat oil in it.
Add cinnamon, cardamoms, cloves, and bay leaves.
Add the meat and lightly fry it.
Then, add salt and turmeric.
Pour water, cover the lid and keep cooking till it boils.
Add coriander powder, garlic paste, red chilli, and online paste, and mix well.
Add yoghurt, nutmeg-cinnamon powder, rose water, garam masala, and saffron. Cover and cook again for 2 to 3 minutes.
Next, transfer the meat to a heavy bottomed pan. Make sure that you strain the gravy.
Pour a few drops of ittar and use the lid to cover the pan.
Seal the pan with a wheat dough and cook on low flame.
Garnish with fresh coriander and ta-da, your Awadhi mutton Gosht is ready to be served.
3. Kimami Sewaiyan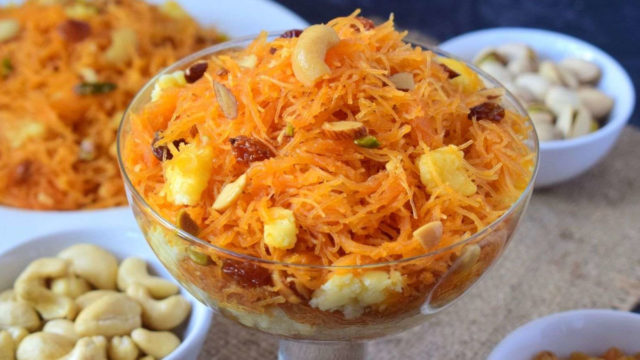 Preparation Time: 10 minutes
Cooking Time: 40 minutes
Ingredients
1 cup sewaiyan (vermicelli)
1 cup khoya
1 cup sugar
1 cup milk
1½ cup water
Ghee (as per preference)
1 tsp elaichi (cardamom) powder
1 cup phool makhana (lotus seeds), chopped
1/4 cup almonds (finely chopped for garnishing)
1 tbsp whole cashews (finely chopped for garnishing)
1 tbsp kishmish (raisins)
2 tbsp dry coconut
Steps
Heat a pan on low heat and roast dry vermicelli till it becomes dark brown. Don't over-roast it. Keep it aside.
Heat ghee in the same pan and fry the makhana on medium heat for 5 to 6 minutes or until it becomes crunchy. Keep aside.
Next, saute the cashews and almonds for 2 minutes. Add the coconut and fry carefully to prevent it from burning. Keep aside again.
Take a deep pan and add khoya, milk, sugar, and water and mix well on high heat. Let it boil.
Reduce the flame and keep cooking until the consistency becomes thicker.
Pour half a cup of water or milk and give it another boil.
Add the roasted vermicelli, fox nuts, and coconut and cook on slow flame for 4 to 5 minutes.
Sprinkle cardamom powder, mix well, cover the lid, and keep it for 10 minutes.
Switch off the heat and garnish with cashews, almonds, and raisins.
The history, significance, and traditions of Eid-ul-Adha that we just discussed help us to #BeALittleMore aware of the nitty-gritties of the festival. So, whip up the above Eid al-Adha recipes to soak in the flavour of the occasion.
Open up like never before and participate in conversations about beauty, entrepreneurship, mental health, menstrual & sexual health, and more. Desi women, join our community NOW!