We have grown up listening to advertisements like, "Piyo doodh for healthy reason…rahoge phir fit aur fine, jiyoge past ninety-nine. Piyo glass full doodh..." It defined (and still does) the importance of doodh in every household. Daily chai for adults, glass of milk in its purest form or stirred with health drinks for children, kesar or haldi doodh for the elderly or the newly married, and deliciously milky desserts for all – your daily diet remains incomplete without milk in its varied forms. However, the definition of milk has slightly changed over the last few years. It does not solely refer to milk sourced from animals. The introduction of the concept of veganism in modern times has popularised plant-based milk as well. 
On the occasion of World Milk Day (1st June), here's enlisting 15 different varieties of animal and plant-based milk varieties for you to #BeALittleMore updated on this subject.
Milk Sources From Animals
1. Cow Milk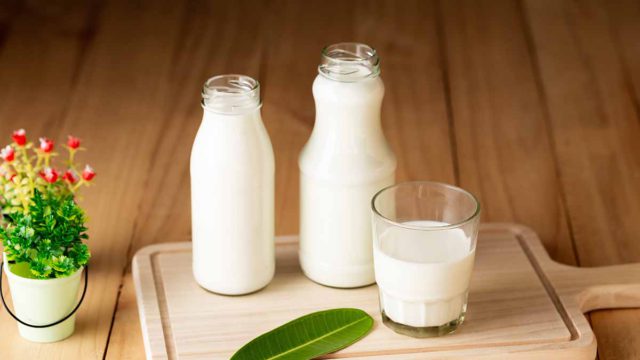 a. Whole Milk
Cow's milk is fortified with various nutrients like calcium, protein, vitamin D, and niacin. Whole milk contains 88% water, 5% carbs (lactose), 3% protein, and 3% fat. That apart, it also consists of minerals like phosphorus and potassium.
b. Toned Milk
Toned milk does not contain as much fat as there's in whole milk. A certain percentage of the fat content is discarded in the case of toned milk.
c. Double Toned Milk
As evident from the name, the fat content of the milk is even lower in double toned milk than toned milk.
Read 10 Alternate Foods For Milk To Meet Your Body's Calcium Needs
3 Other Milk Sources From Animals
2. Goat Milk
The milk of goats is a rich source of protein, calcium, potassium, magnesium, and vitamin D. One cup of goat milk contains 9 gm of protein. However, it is high in fat content and calories. It is easy to digest and controls inflammation but is higher in lactose content as compared to cow's milk.
3. Camel Milk
Although it has a similar composition as cow's milk, camel milk is believed to score over its popular counterpart due to its high protein content and anti-microbial properties. This milk that is salty in taste is also a good source of protein, unsaturated fatty acids, and vitamin B, and is low in fat. Apart from being lactose-free, it is ten times richer in iron and three times richer in vitamin C than cow's milk.
4. Buffalo Milk
Its fat content is almost double of that in cow's milk, which makes it difficult to digest, especially by children. Its saturated fat content and overall calories are also high.
Read 5 Insta-Worthy Mango Dessert Jar Recipes To Try In This Garmi Ka Season
11 Types Of Plant-Based Milk
5. Almond Milk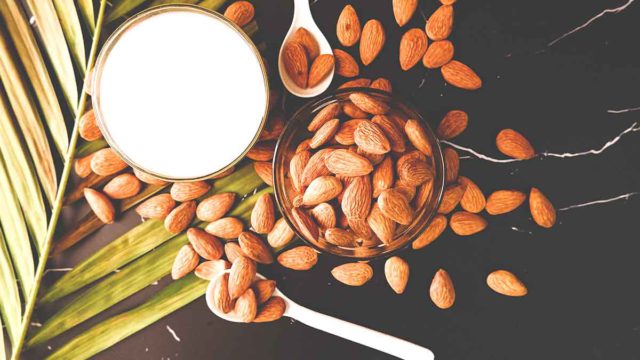 One of the most popular varieties of plant-based milk, almond milk is a silky texture and a distinctly nutty flavour. It contains the goodness of almonds like vitamin A, vitamin D, and vitamin E, magnesium, calcium, potassium, phosphorus, iron, and zinc. What makes almond healthy is that it is devoid of polyunsaturated and monounsaturated fats – nutrients that control the risk of heart conditions. Though the original variety is unsweetened, the packaged ones often consist of added sugar (like cane sugar), contributing to their calorie content. Hence, make sure that you go for the natural variety instead of the sweetened one.
6. Cashew Milk
This milk stays true to the creamy texture of cashew paste. Its taste is quite similar to that of cow's milk. Natural cashew milk contains just 25 calories, while its sweetened version may comprise as high as 160 to 180 calories. However, unfortified cashew milk is comparatively low in calcium.
7. Hazelnut Milk
This sweet and nutty milk is a great option for those following a high protein diet. It comprises double the protein content of standard unsweetened almond milk. However, it contains less calcium than other plant-based milk varieties and is also higher in fat content.
8. Walnut Milk
One cup of walnut milk comprises 11 gm of fat, 120 calories, 3 gm of protein, and 1 gm of carb. Not just that, it is also a healthy source of omega 3 fatty acids and fibre. However, it is low in calcium content. This milk is closely associated with its strong flavour and texture that is akin to that of chocolate milk.
9. Pistachio Milk
Known for its distinctive earthy taste, pistachio milk is considered to be an effective alternative for a wide range of recipes for smoothies, yoghurts, ice cream and bakes. While the unsweetened cup of this milk usually contains 50 calories, the sweetened variety comprises 92 calories.
10. Macadamia Milk
The monounsaturated fat content of this milk imparts with its typical creamy flavour. A cup of macadamia milk generally comprises 50 calories, 1 gm of carbs, 1 gm of protein, and 5 gm of fat. It is also fortified with vitamin B6, iron, potassium, and manganese. This milk is a suitable option for those looking for a high-carb beverage to incorporate into their daily diet or want a beverage that is devoid of the added sugar content of its popular counterparts.
11. Coconut Milk
Coconut milk is known for its creamy consistency and coconutty flavour. However, it doesn't quite match up to other milk types like cow's milk in terms of its nutritional content. Besides, commercial packages of cashew milk have more saturated fats than other types of milk. The cashew milk that you get in the market usually contains a lot more than just the milk of cashews. These other ingredients may include salt, water, emulsifiers like sunflower lecithin, locust bean gum, and minerals and vitamins that manufacturers may choose to add.
12. Banana Milk
This milk is rich in potassium and magnesium, which are known to enhance heart health. The natural fibre content is also great for improving digestion. Yet another plant-based milk of a rich, creamy texture, it is an effective source of milk for vegans and those who are lactose intolerant or have nut allergies. You can drink this as a beverage or eat it with cereal, making it a versatile variety of milk.
13. Flax Milk
This is yet another versatile form of milk that can be taken as it is. It can also serve as an effective replacement for recipes that require cow's milk. It keeps blood pressure levels under check, boosting heart health, as it does not contain lactose or cholesterol. What's more, it also controls blood sugar levels because of its ability to make you feel satiated for a long time. This milk offers 1200 mg of omega-3 fatty acids and a mere 50 calories.
14. Soy Milk
Soy milk is replete with protein and is low on carbs and fat. A cup of this milk is expected to include only 2 gm of carbs, 4.5 gm of fat, and 7 gm of protein. This versatile milk can be taken in its natural form as well as a replacement for cow's milk in recipes that require it.
15. Quinoa Milk
Derived from quinoa, this milk of course has a strong quinoa flavour, apart from being sweet and nutty. It is known for a wide array of health benefits like protein synthesis, tissue repair, muscle development, and nutrient absorption. This milk contains a high content of fibre, protein, vitamins, minerals, and all types of essential amino acids. One cup of quinoa milk is said to contain 1 gm of fat, 70 calories, 2 gm of protein, and 12 gm of carbs.
Heart of any other types of milk or have tasted them? Share in the comment section below.
Open up like never before and participate in conversations about beauty, entrepreneurship, mental health, menstrual & sexual health, and more. Desi women, join our community NOW!