The Parsi New Year is celebrated on the first day of Farvardin, the first month of the Iranian calendar. It is a time for families to come together to worship, indulge in festivities and enjoy elaborate feasts. Today (16th August) is the day, let's learn a little more about why and how the Pateti festival is celebrated!
Pateti History & Significance
The celebration of Navroz or the Parsi New Year started more than 3,000 years ago and has its roots in the Zoroastrian religion (founded by Prophet Zarathustra). Before the rise of Islam, it was one of the major religions in the ancient world for more than a thousand years.
There is a very intriguing story associated with the origin of this festival. Navroz is named after Jamshed, the Persian king who is known for the creation of the Shahenshahi calendar. Legend has it that the king saved the universe from an apocalypse. When the world was caught in the grips of a neverending winter, the brave king rose to heaven on the shoulders of demons with a gem-studded throne. He sat on the throne in the heavens and shone just like the sun, thus giving birth to a 'new day' or Navroz.
Pateti significance lies in the fact that it is the time for new beginnings. People worship for a prosperous future and seek forgiveness for the past. It is believed to be a day of salvation and atonement.
How Is Parsi New Year Celebrated?
The festival is celebrated with great fervour among the Parsi community.
Friends and families come together to celebrate this fresh start.
Traditional attires are donned, sweets and greetings are exchanged and festive feasts are prepared.
Those participating in the Parsi New Year celebration clean and adorn their homes with lights, rangoli and flowers.
Celebrations also involve visiting an Agiary or fire temple to place offerings of flowers, sandalwood, milk, fruits, etc. in the sacred fire.
The occasion is also considered to be auspicious to buy something new or start a new venture.
The devotees indulge in Jashan, a prayer asking for good health and prosperity, and offer their gratitude to the Lord.
Many people also make philanthropic contributions to give this new beginning a good start.
Since a sizable population of the Parsi community can be found in Gujarat and Maharashtra, the Navroz celebrations in these states are the most prominent.
4 Parsi Delicacies Served On Navroz
The Parsi community is known for its rich food culture, a of which can be seen in the delicious Navroz spread. On this auspicious day, the Parsi kitchens prepare several delicacies like Mori Dar, Prawn Patio, Patra Ni Macchi, Dhansak, Akoori, Haleem, Falooda, Ravo, Sali Boti and Saffron Pulao. Here are a few delectable Parsi recipes you must try during Parsi New Year celebrations.
1. Sali Boti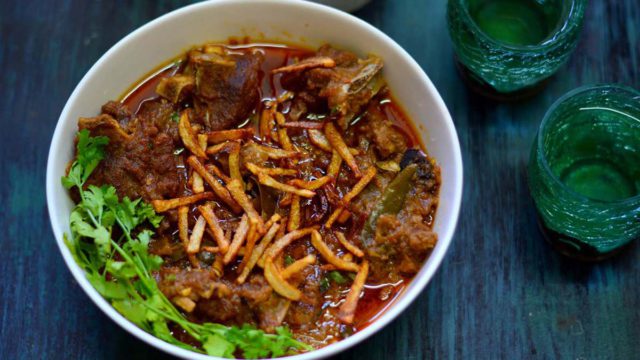 Tender mutton pieces cooked to perfection in tomatoes, onions, jaggery, vinegar and aromatic spices. Sali boti is pure love! This delectable delicacy is one of the staples of the Parsi new year celebration feast. The dish is served topped with crispy potato sticks.
Preparation time: 15 minutes
Cooking time: 1 hour 15 minutes
Ingredients:
For Boti:
1 kg mutton (cut into small cubes)
3-4 tomatoes (chopped)
2-3 tablespoons oil/ghee
Coriander leaves
3-4 onions (finely chopped)
½ teaspoon chilli powder
3-4 green chillies (chopped)
1½ tablespoon jaggery
2 cups water
1 teaspoon ginger garlic paste
½ teaspoon turmeric powder
1½ tablespoon vinegar
Salt to taste
For Sali:
5-6 potatoes
Oil (for frying)
Method:
Put a deep pan on the heat and add ghee or oil. Fry the chopped onions in the ghee/oil and fry until they turn golden.
Add the ginger garlic paste and the spices. Stir and cook for about one minute
Now put in the mutton cubes. Continue cooking till the cubes turn light brown. At this point, add in the salt, chillies, tomatoes and water.
Stir and mix well. Let the mixture come to a boil. Now reduce the flame and cook for about 30 to 40 minutes on low heat.
Now add the jaggery and vinegar. Let it cook for 5 minutes.
Take off the pan from the heat. Garnish the dish with chopped coriander leaves.
For making sali, cut the potatoes into very thin slices and soak them in cold salted water for some time. The slices should be somewhat straw-like.
Drain the water and let the potato pieces dry.
Deep fry the potato slices in ghee or oil till they turn golden brown and crispy.
Once done, remove the excess oil from the potato slices.
Top off the boti with these potato straws or serve them separately and enjoy.
2. Akuri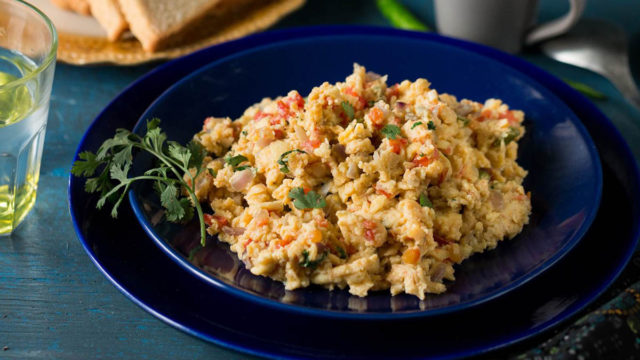 This Parsi-style scrambled egg recipe is simple to make and goes extremely well with buttered paos. It's a mix of eggs, spices, herbs, dry fruits and veggies and makes for an excellent side dish.
Preparation time: 10 minutes
Cooking time: 20 minutes
Ingredients:
6 eggs
1 onion (finely chopped)
1 tomato (finely chopped)
2 green chillies (finely chopped)
6 cloves of garlic (grated)
2 tablespoons butter
3 tablespoons fresh cream
Coriander – for garnish
Salt – to taste
Method:
Take a bowl and break all the eggs into it. Add salt and cream and whisk till frothy.
Keep a pan on the burner, put in some butter and let it melt.
Put the veggies (everything except tomatoes) into the pan and saute till the onion pieces turn soft and translucent.
Now add in the tomatoes and cook until soft.
After that, add the egg-cream mixture. Let it cook for about a minute.
Scrape and stir to scramble the eggs and mix the ingredients. Let it cook for another minute.
Keep cooking while lightly scraping and scrambling the mixture till the eggs are cooked. But make sure not to overcook the eggs. The eggs in akuri are slightly runny and soft.
Garnish with coriander leaves. Take the pan off the flame.
Your akuri is ready to serve
3. Patra Ni Machi
One of the most popular Parsi recipes, Patra Ni Machi is basically fish smeared with green chutney, wrapped in banana leaf and then steamed. This light and comforting delight give you that homely feeling, which automatically brings a smile to your face.
Preparation time: 15 minutes
Cooking time: 45 minutes
Ingredients:
800 grams Pomfret fillet
2 tablespoons olive oil
Salt – to taste
6 teaspoons malt vinegar
3 lemons (juice)
Banana leaves
For The Chutney:
¼ cup fresh coconut
1 cup coriander leaves
1 cup curd
2 teaspoons garlic
6 green chillies
½ teaspoon coriander seeds
1 teaspoon red chilli powder
2 teaspoons castor sugar
5 teaspoons cumin seeds
Method:
Once the fish is cleaned and washed properly, sprinkle it with vinegar and salt.
let it marinate for about half an hour.
Meanwhile, trim the banana leaves and then wash and wipe them.
For the chutney, mix the coriander leaves, coconut, green chillies, garlic, coriander seeds, cumin seeds and curd.
Also add lemon juice, red chilli powder and salt. Grind the ingredients together to make a paste.
Put the fish pieces in the chutney
Coat the banana leaves with olive oil.
Now
Wrap each fish fillet separately in banana leaves.
Put the wrapped pieces in a steamer for
About half an hour.
Once the fish is ready, unwrap it and serve it with lemon wedges.
4. Chicken Farcha
Boneless chicken chunks marinated in spices and then fried with a crispy, spicy coating, chicken farcha is a great appetiser for any feast. This recipe can give your favourite fried chicken restaurant chain a run for its money!
Preparation time: 25 minutes
Cooking time: 15 minutes
Ingredients:
250 grams skinless boneless chicken thigh
For Coating:
2 eggs
½ cup semolina or bread crumbs
½ teaspoon red chilli powder
Oil for Frying
For Marination:
2 tablespoons lemon juice
1 tablespoon ginger paste
1 tablespoon garlic paste
½ teaspoon coriander powder
½ teaspoon red chilli powder
1 tablespoon garam masala
½ teaspoon crushed black pepper
Salt
Method:
Clean, wash and cut the chicken into pieces.
Mix all the marinade ingredients in a bowl.
Now add the chicken pieces to the mixture and let them marinate properly for about 20 minutes.
In another bowl, break the eggs, add in the chilli powder and whisk well.
Take a deep frying pan and heat the oil.
Now coat the marinated pieces of chicken in semolina or bread crumbs and then dip in the egg mixture.
Deep fry the chicken pieces until golden brown.
Serve with chutney or dip and enjoy!
The Parsi New Year is all about new beginnings. People not only clean their houses but also purge their minds and souls of negative thoughts to make a fresh start. With festive gatherings, worship and traditional Parsi food recipes at its heart, the Pateti festival is celebrated with the utmost zest every year.
Open up like never before and participate in conversations about beauty, entrepreneurship, mental health, menstrual & sexual health, and more. Desi women, join our community NOW!