The monsoon is coming to an end and cosy winter days still seem a little far away. And as we wait for the weather to become a little more bearable, we are stuck with the unforgiving October heat.
Now, there might be dozens of ways to beat the heat but nothing comes close to enjoying a chilled bowl of comfort desserts on a sultry afternoon.
If that's exactly how you plan to get over your October blues, you've come to the right place! We have curated a list of 8 easy to prepare custard recipes you must try out at home!
How To Prepare Custard Powder At Home
Craving a bowl of chilled custard but out of custard powder? Don't worry! We'll tell you how to make your own custard powder at home! All it takes is just 10 minutes to prepare this custard powder recipe.
Custard powder ingredients:
Sugar – 1 cup
Cornflour – ½ cup
Milk powder – ½ cup
Yellow food colour – ¼ teaspoon
Vanilla extract – 1 teaspoon
Method:
Put sugar and vanilla extract in a blender and blend to make a fine powder.
Now transfer this vanilla sugar powder over a sieve.
Add the cornflour, food colour and milk powder.
Sieve to get rid of any lumps.
Mix the custard powder ingredients well.
Your custard powder recipe is ready!
Store the powder in an airtight container. It will remain good to use for as long as the shelf of the milk powder you used.
8 Yummy Custard Recipes You Can Try At Home
Here are 8 amazing custard recipes you could make at home on a sunny October afternoon. Made with easy-to-find ingredients, you do not need much culinary experience or expertise to prepare them.
1. Baked Custard / Custard Cake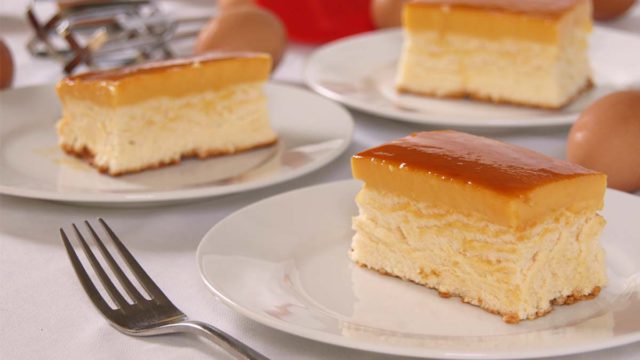 What's the perfect recipe way to end a delectable lunch or dinner? Custard or cake? This custard recipe combines 2 desserts to make a luxurious sweet treat!
Prep time: 15 minutes
Cooking time: 1 hour 15 minutes
Ingredients:
Egss (slightly beaten) – 3 large
Sugar – ⅓ cup
Ground nutmeg
A pinch of salt
Vanilla – 1 teaspoon
Milk (very warm) – 21/2 cups
Method:
Heat your oven to 350 degree fahrenheit.
Put salt, vanilla, eggs and sugar in a bowl and whisk well.
Slowly pour in the milk while stirring continuously.
Now pour the mixture into custard cups.
Sprinkle nutmeg powder on top.
Now place the custard cups in a pan and keep it in the oven.
Pour hot water into the pan.
Bake for around 40 to 45 minutes. You know it's done when a toothpick inserted halfway between the edge and the centre comes out clear.
When done, remove the cups from the water-filled pan. Let them cool for about half an hour.
Unmold and serve your custard cake. You can also refrigerate it before serving. Make sure to cover the custard cake before storing in the fridge.
2. Vanilla Custard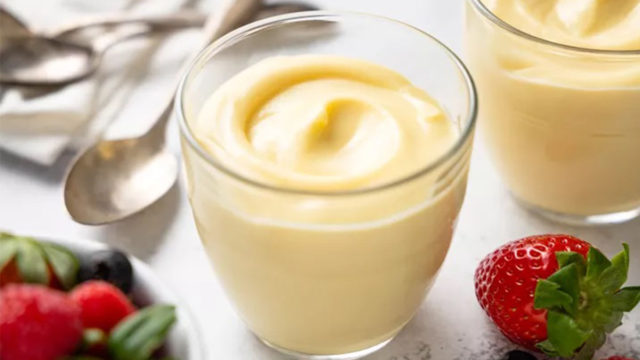 All you need to prepare this delicious vanilla custard recipe is 15 minutes! Check it out!
Prep time: 5 minutes
Cooking time: 10 minutes
Ingredients:
White sugar – ½ cup (more, if you want your custard to taste sweeter)
Whole milk – 4 cups
Cornstarch – 3 tablespoons
Eggs – 4
Butter – 1 teaspoon
Vanilla extract – 1 tablespoon
Method:
In a saucepan, put butter, vanilla extract and milk. Now cook and stir over medium heat and let the mixture simmer.
Once it starts to simmer, take off the saucepan from the heat. You do not have to bring it to a boil.
In a bowl, whisk sugar, eggs and cornstarch. Keep whisking until the sugar dissolves.
Now set the saucepan on low flame and slowly pour the egg mixture into it. Don't forget to whisk continuously. Continue for 7-10 minutes until the custard thickens.
You will know it's done when it begins to form a coat at the bottom of the spoon!
Let the custard cool down.
Once cool, add your favourite fruits and enjoy your vanilla custard. Add in pieces of freshly cut mangoes and turn your plain vanilla custard into mango custard!
This custard can also be enjoyed warm.
3. Caramel Custard
Prep time: 5 minutes
Cook time: 20 minutes
This no fuss microwave caramel custard recipe is perfect for days when you want to enjoy a sweet delight but aren't really in a mood to work with an elaborate recipe!
Ingredients:
Eggs – 4
Sugar – ¾ cup
Cornflour – 2 teaspoon
Vanilla Essence – 1 teaspoon
Milk – 2 cups
Water – 2 tablespoons
Method:
Place water and ¼ cup sugar in a microwave safe dish and cook it (with microwave set at HI) uncovered for 2 minutes
Now stir the mixture then cook for another 2-3 minutes. You will know it's done when the mixture turns dark brown. Keep the dish aside.
Now put cornflour, vanilla, eggs and sugar in a bowl and whisk well.
Now whisk while adding the milk in a stream.
Pour the egg, vanilla and cornflour mixture into the dish.
Cover the dish and cook for about 10 minutes at around 30 per percent.Don't forget to turn the pan after 5 minutes.
Let it cool. Once cool, unmould, serve and enjoy your caramel custard.
4. Fruit Custard
This classic fruit custard recipe still remains a hot favourite among people with a sweet tooth. Here is how you can prepare a delightful bowl of fruit custard.
Prep time: 15 minutes
Cooking time: 1 hour
Ingredients:
Egg yolk – 4
Milk – about 400 ml
Sugar – 3 tablespoons
Vanilla essence – ½ teaspoon
Cream – 100 ml
Fruits (freshly chopped) – 11/2 cups
Flour -1 tablespoon
Green cardamom cloves – 4
Infused milk – 2 tablespoon
Ingredients:
Prepare a double boiler and whisk sugar and egg yolks on it.
Put cream, milk, green cardamom and vanilla essence in a pan and mix well. Let it cool down for a little while.
Now add the egg and sugar mixture to the pan. Keep the pan on low heat and cook while stirring slowly.
In a bowl, add infused milk and flour and mix well. Now add this into the mixture to thicken the custard.
Take the pan off the heat and strain it into a bowl. This will help get rid of cardamom and lumps.
Let the fruit custard cool before keeping it in the fridge.
Your fruit custard recipe is ready!
Once it is chilled, pour the mixture over freshly cut fruits and serve.
If you are craving for a strawberry custard, add strawberry essence instead of vanilla and use only strawberries instead of other fruits.
5. Chocolate Custard Pudding
Preparation time: 15 minutes
Cooking time: 40 minutes
Here is a super quick, super easy chocolate custard recipe for all chocolate lovers out there.
Ingredients:
Sugar – ½ cup
Whole milk – 3 cups
Cornstarch – ¼ cup
Salt – 1 teaspoon
Vanilla extract – 1 tablespoon
Heavy cream – 1 ½ cups
70% dark chocolate – about 99 grams.
Egg yolks – 12
Method:
In a heavy bottomed saucepan, put cornstarch, sugar and salt and whisk well.
Continue whisking as you add in the milk.
Now add egg yolks and cream and mix well.
Keep the pan over low heat and keep stirring as the mixture cooks.
Continue till it thickens and starts to form bubbles.
Now take the pan off the heat.
Add chocolate and vanilla and continue to stir until the chocolate melts completely.
Strain the mixture to get rid of lumps.
Keep the mixture in a container with a lid and refrigerate it for a few hours.
Enjoy your chilled chocolate custard pudding.
6. Lagan Nu Custard
This authentic dessert is an essential part of the Parsi wedding menu. Lagan Nu Custard translates to wedding custard in english. Here is how you can prepare this custard recipe at home.
Preparation time: 10 minutes
Cooking time: 1 hour
Ingredients:
Milk (full cream) – 5 cups
Sugar- ¼ cup
Vanilla essence – ½ teaspoon
Almonds (slivered) – ¼ cup
Green cardamoms – 6
Nutmeg (powerded) – ⅛ teaspoon
Nuts for garnish
Cream – ½ cup
Eggs (beaten) – 4
Chironji – ¼ cup
Butter
Method:
Cook milk and sugar in a pan until the mixture is reduced to half.
Add cardamom powder, nutmeg powder, vanilla and half of the nuts and mix.
Let this mixture cool.
Now add cream to the mixture.
Pour the mixture into the bowl with beaten eggs and whisk well.
Now pour this mixture into a dish greased with butter.
Sprinkle over the remaining nuts and spice powder. Also drop a few blobs of butter on the top.
Make sure the oven is preheated at 350 degree fahrenheit before putting in the dish.
Bake for about half an hour. It will be done when the top turns brown.Insert a skewer to check whether it's done.
Let it cool and then keep it in the fridge to chill. If you want., you can garnish it with more nuts.
Cut the custard into smaller pieces before serving.
7. Lemon Custard Pudding
Prep time: 12 minutes
Cooking time: 20 minutes
Ingredients:
Cream cheese – a little more than 100 grams
Vanilla extract – 1 teaspoon
Sweetened condensed milk – about 150 ml
Lemon curd/jam/jelly – 100 grams
Fresh fruits (optional) – for garnish
Method:
Put condensed milk, cream cheese and vanilla in a bowl and whisk well.
When the mixture has been mixed properly, add preserves. Now beat the mixture until mixed evenly.
Now pour the lemon custard into pudding cups.
Top up with freshly cut fruits.
You can also fill this mixture into readymade tart moulds to make custard tart.
8. Apple Custard
Prep time: 10 minutes
Cooking time: 15 minutes
Ingredients:
Custard powder – ¼ cup
Milk – ½ litre
Sugar – ¼ cup
Apple (peeled and diced) – 1
Method:
In a bowl, add milk (¼ cup) and custard powder and mix well.
Take the remaining milk in a pan and heat. When it begins to boil, lower the flame.
Now add custard slurry into the milk. Stir and mix well.
Add sugar in the pan and stir.
When the sugar is dissolved completely, turn off the flame.
Allow the custard to cool down. Put it in the refrigerator to chill.
Now add diced apple to the custard and serve. You can add banana instead of apple to make banana custard.
7 Tips To Beat The Heat This October
Here are a few additional tips to help you stay cool when the October heat wave strikes:
Stay hydrated. We know you've heard this before but a little reminder won't hurt!
Wear loose, lightweight and light coloured clothing to stay cool.
Instead of chugging carbonated drinks, stay fresh with desi beverages like lassi and nimbu paani!
Have vegetable juices, fruit juices and coconut water.
Don't step out without sunscreen.
Smaller and lighter meals that are easy to digest will keep you feeling light through the day.
Eat a lot of fruits!
Coming home to a bowl of chilled custard can help you beat those October blues and stay cool and fresh! The best part is, you do not have to be an expert in the kitchen to master these recipes! So what are you waiting for? Try out these amazing recipes right away!
Open up like never before and participate in conversations about beauty, entrepreneurship, mental health, menstrual & sexual health, and more. Desi women, join our community NOW!