Summers bring sweet mangoes, tangy pickles and a whole lot of heat. While the summer of 2021 is being spent at home, the longing for refreshing drinks will never go away. All one can dream in these summer afternoons is moment is to have one of those chilled summer coolers and take a sweet nap. So gather up some desi kitchen ingredients, whip up a few of these deliciously thirst-quenching summer special drinks, sit back, escape the heat and enjoy!
10 Refreshing Summer Drinks You Can Enjoy This Season
1. Watermelon Cooler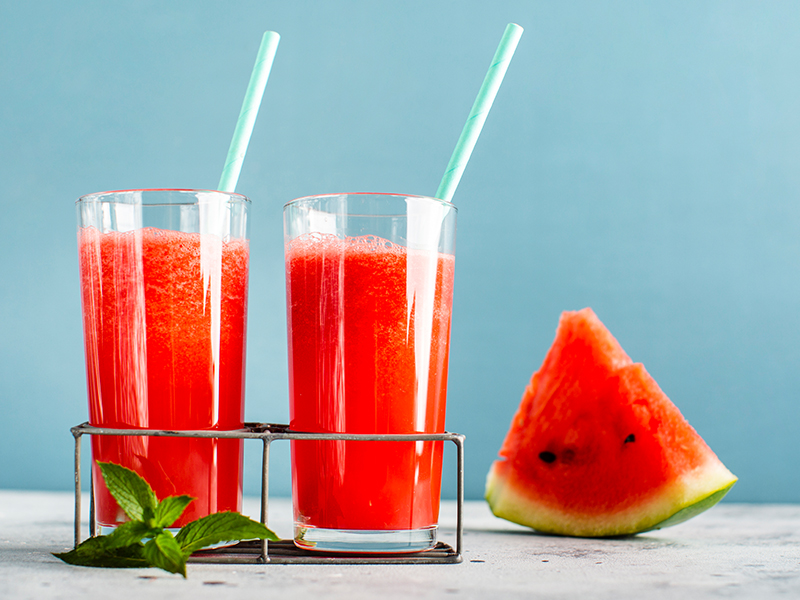 Watermelon is a favourite fruit for a lot of us and while watermelon juice is yum, this watermelon cooler is a step up to that.
Prep Time: 15 Minutes
Ingredients:
16 c. seedless watermelon pieces
1 1/4 c. fresh lime juice
4 c. vodka (optional)
Ginger ale, for serving
Method:
Puree watermelon in a blender, then mix it with lime juice( and vodka, if using).
Add to watermelon dispenser.
When ready to serve, pour over ice and top with a splash of ginger ale.
Using a paring knife and working at an angle, cut around one end of watermelon to create a lid, then scoop out the fruit with a metal spoon.
Hand-write "Enjoy" above spigot in marker, then use a linoleum cutter to trace letters and etch them in.
Fill with watermelon cooler, replace lid, and position on an iron stand or a bowl.
2. Pomegranate, Beet & Hidden Greens Smoothie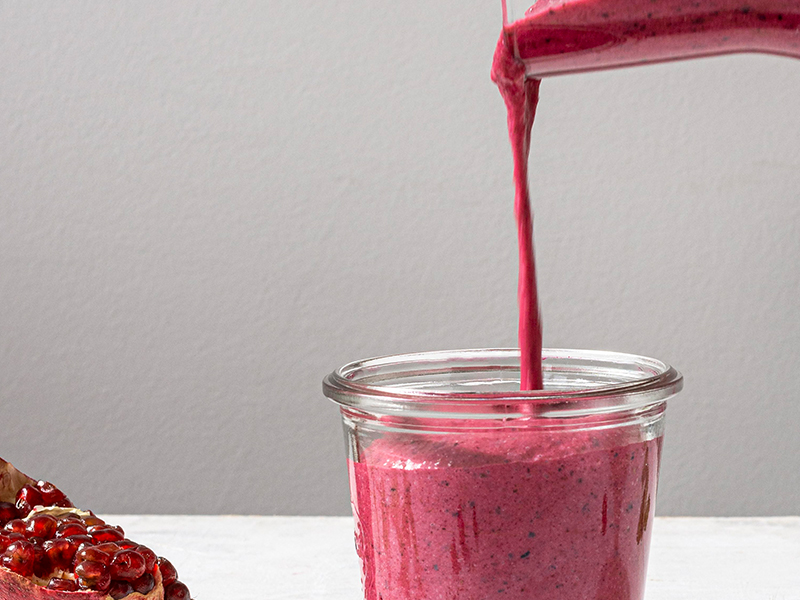 Get all your greens but in a yummy way with this smoothie.
Prep Time: 15 Minutes
Ingredients:
1 beet
1/2 apple
1 big handful of spinach
4 big mint leaves
1/2 cup 100% pomegranate juice
Method:
Peel and then wash the beet, removing any dirt or leaves. Cut into 4-5 pieces.
In a good blender, combine the beet, apple (seeds and stem removed), spinach, mint, and pomegranate juice. Blend well.
3. Mint & Mango Iced Green Tea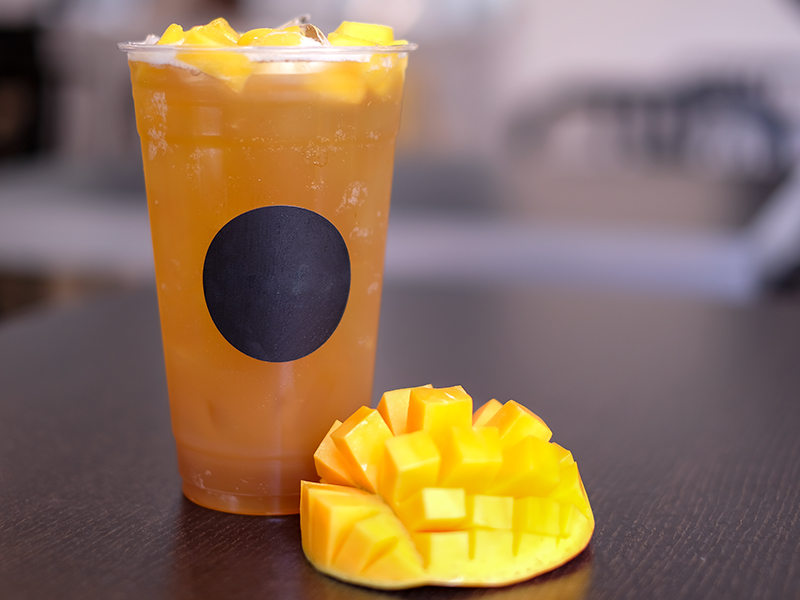 The mango season is here and we love mind in a drink! So refreshing. So why not make a drink out of it?
Prep Time: 15 Minutes
Ingredients:
1 mango, peeled, stoned and chopped
100g granulated sugar
4 tsp green tea leaves
Small bunch of fresh mint
1 lime, sliced
Method:
Put half the mango in a saucepan with the sugar and 100ml water. Cook for 8-10 mins then strain through a sieve and leave the liquid to cool.
Meanwhile, pour 500ml boiling water into a large heatproof jug and add the green tea leaves. Leave to steep for 5 mins, then strain into a large glass jug and add 300ml cold water. Leave to cool completely then put into the fridge to chill.
Once cold, add the strained mango syrup to the chilled tea, along with the rest of the chopped mango, fresh mint and lime slices. Fill up the jug with ice, stir gently and serve.
4. Fruit Punch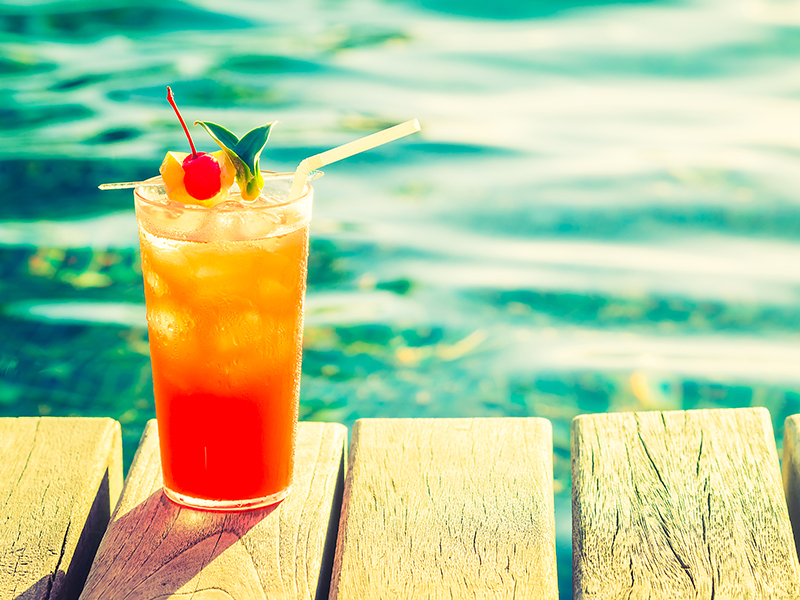 Have a restaurant like fruit punch at home in 10 minutes with this quick recipe.
Prep Time: 10 Minutes
Ingredients:
8-10 strawberries, halved or sliced
½ orange, sliced
½ lemon, sliced
A handful of mint leaves
large handful of ice
500ml pineapple juice
300ml orange juice
300ml lemonade
Method:
Put the fruits, mint and ice in a large blender jar and blend it
Pour in the juice, stir and top up with lemonade.
5. Raspberry Fiz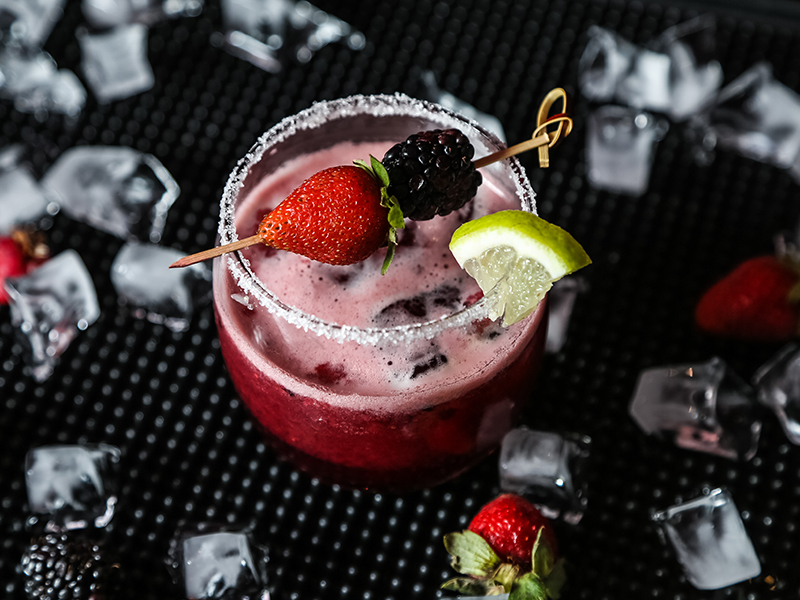 Another super quick and super yum drink perfect for party nights!
Prep Time: 5 Minutes
Ingredients:
4 raspberries
25ml raspberry liqueur
Sparkling water
Method:
Put four raspberries in a mortar and crush with a pestle.
Scoop the crushed raspberries into a champagne flute, add the raspberry liqueur, then top with an umbrella.
6. Cucumber, Apple & Spinach Juice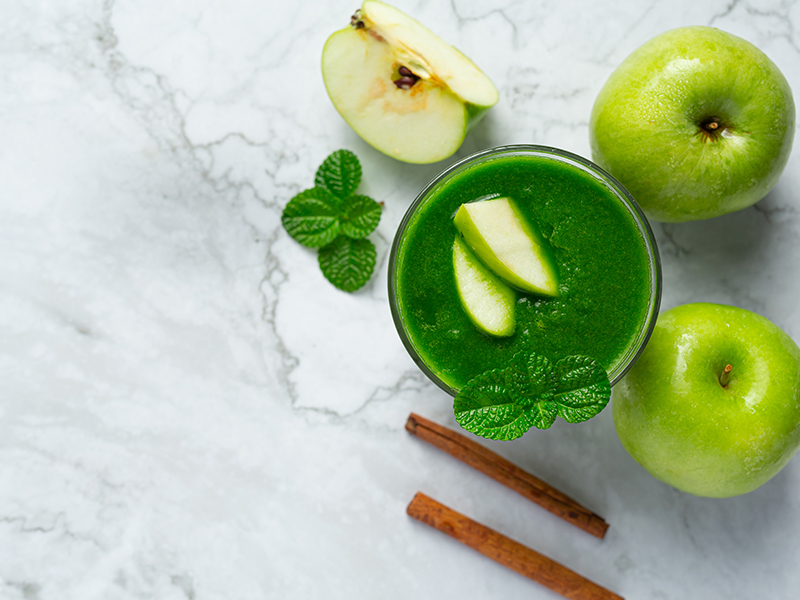 A super healthy one on the list, get your greens right by making this simple recipe at home.
Prep Time: 5 mins
Ingredients:
5cm piece cucumber, chopped
1 big celery stick, chopped
A handful of spinach leaves
150 ml of chilled unsweetened apple juice
Lime juice
Chilled coconut water
Method:
Put the vegetables in a deep bowl with the apple and lime juices and blitz with a hand blender (or in a blender or food processor) until as smooth as you can get it.
Tip into a glass and drink as it is or dilute with coconut water for the consistency you like.
7. Citrus Iced Tea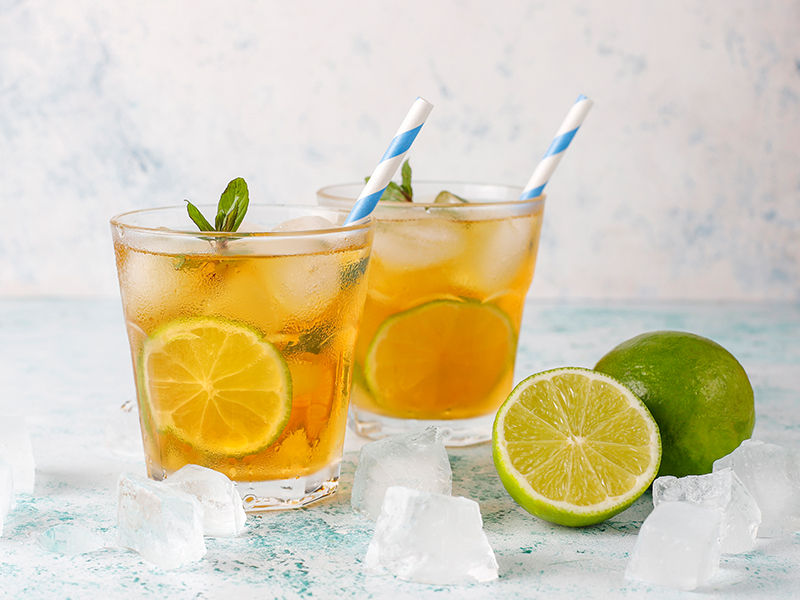 Iced tea is a perfect drink to tackle the scorching heat outside. Make your summer afternoons bearable with this recipe.
Prep Time: 15 mins
Ingredients:
6 tea bags
2 tablespoons of caster sugar
10 mint leaves
Lime juice
½ sliced orange
Method:
Make the tea with 1.2 litres of water and sugar. Add mint to the pot and infuse for 10 mins. Strain and cool.
Pour into a jug, stir in the juices and serve with orange slices, mint and plenty of ice.
8. Iced Mocha Latte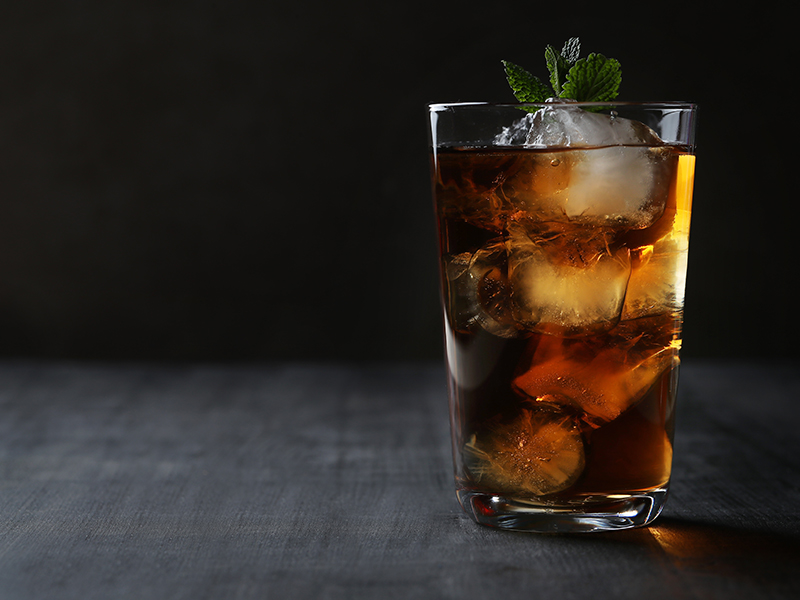 Coffee? Yes, please! The most popular beverage of all time with lots of ice is all you need this summer.
Prep Time: 5 mins
Ingredients:
1 cup of cold brew coffee
½ cup of unsweetened almond milk
1 tablespoon of honey
2 teaspoon of cocoa powder
Ice cubes
Method:
Take a small glass and combine the cocoa powder with cold water, mix it and remove the lumps.
Fill a big glass or mason jar with ice.
Take the cold-brewed coffee and fill the glass.
Add the milk and cocoa powder mixture.
Add sugar if you'd like and serve with ice.
9. Mango Milkshake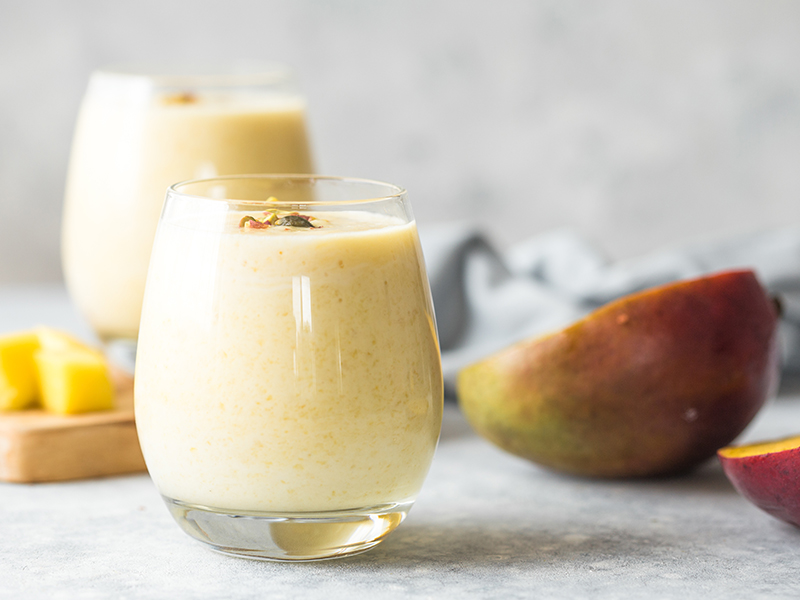 Obviously, the list would have been incomplete if we didn't include a mango milkshake. The mango season is here and this is a simple recipe to enjoy this cool drink.
Prep Time: 5 mins
Ingredients:
2 large ripe mangoes
1 ½ cups of milk
1 ½ tablespoon of sugar
2-3 ice cubes
Method:
Chop washed and peeled mangoes into small pieces and put them into a blender jar.
Add milk, sugar and ice cubes and blend.
Pour into a glass and serve with ice cubes.
10. Aam Panna With Jal Jeera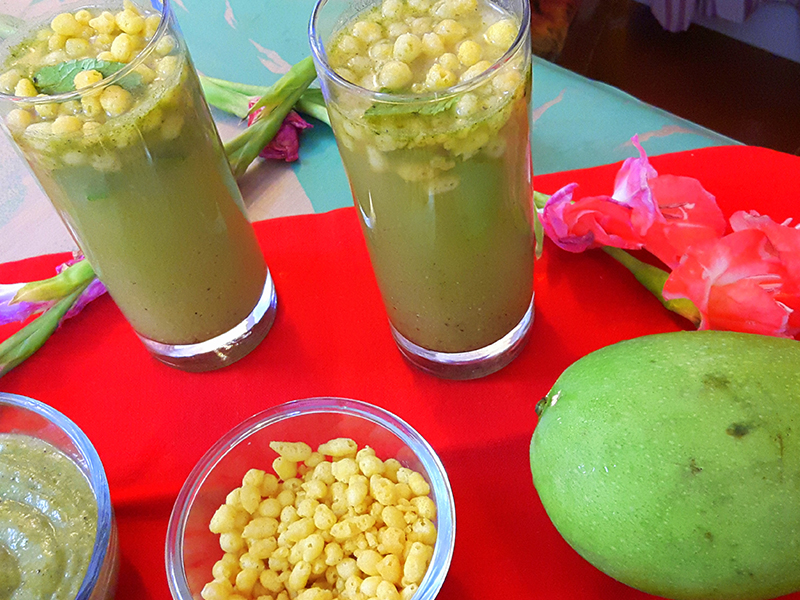 The taste of roasted mangoes and jal jeera makes us all think about the fun summer days of our childhood. Make this at home to relive those memories.
Prep Time: 10 mins
Ingredients:
2 raw mangoes
½ cup of jaggery
Black salt
Cumin powder
10 mint leaves
1 packet of jal jeera
Method:
For this Aam Panna, roast the mangoes till the skin is completely charred.
Place them in a foil and let them cool.
Take the pulp and mix with the rest of the ingredients in a blender jar and blend well.
Pour chilled water into a glass with the mixture.
Serve the Aam Panna with Jal Jeera chilled
These cool summer drinks are are the need of the hour and we're sure you are going to love these. Get delicious drinks like Aam Panna from the Red Dot Shop here or make your own summer special drink at home. These are not only super refreshing drinks but also super yummy and perfect summer drinks for kids too. Yes, for kids you can just subtract the alcohol! So what are you waiting for? Try these summer drink recipes right away!