The dhoom dham of Navratri coincides with another grand festival in India. Durga Puja. Both the festivals pay obeisance to different avatars of the same Goddess, both are a celebration of the feminine energy. It is an auspicious five-day festival that originated in the Indian subcontinent and pays respect Maa Durga. It commemorates the triumph of good over evil, as Goddess Durga assassinates the demon king Mahisasur. According to Hindu legend, the Goddess comes on an annual visit to her paternal abode on earth, along with her five children, during these days to bless her worshippers.
While the rituals include ten days of feasting and worshipping, the final four days—Saptami, Ashtami, Navami, and Dashami—are celebrated with great shor sharaba among Bengalis in India and abroad. The ten-armed Goddess riding the lion, her bahan, is worshipped with great passion and devotion.
Durga Puja festival is very important to the Bengali community. However, it is also celebrated in other states such as Odisha, Assam, Tripura, Bihar, and Jharkhand. People start making preparations to welcome the Goddess on Mahalaya, the day before Ekadashi.
But are you aware of the Durga Puja history? Let's learn about Durga Puja significance and importance.
Durga Puja History Behind Celebrations
According to Hindu legend, Lord Brahma granted the demon king Mahisasur the blessing of invincibility, which meant that no man or deity could slay him. After receiving the benediction, Mahisasur assaulted the gods and chased them out of heaven. To defeat the demon ruler, all the gods gathered to worship Adi Shakti. Maa Durga, the woman brought to life to defeat the demon king, was created by the divine light that emanated from all the gods during the puja.
Maa Durga's battle with Mahishasur lasted ten days. On the tenth day, Goddess Durga killed the demon ruler, and hence the day is celebrated as Vijaya Dashami, one of the durga puja significance, symbolising the triumph of good over evil. Vijaya Dashami coincides with Dussehra of the Navratri festival.
People believe that Maa Durga visits earth with her children in tow to bless her followers. A plethora of rituals take place in the 10-day celebration of the Durga Puja festival but the last 5 days are observed with an even greater fervour. Here are some popular rituals and rites that worshippers partake in:
8 Popular Durga Puja Rituals
1. Bodhon
Durga Puja celebration starts with Sosthi or Shashthi. It is said that Lord Ram began this ritual in order to enlist the Goddess's help in fighting Ravana. As a result, the Goddess must be specially called through the Bodhon ceremony, which is done at twilight. Several other rituals are done during the day previous to this, such as ensuring the Goddess that all rites would be completed according to the expected standards, preparing the location of worship, and so on.
2. Nabapatrika Snan
The Nabapatrika is made up of nine plants, the most prominent of which is the banana plant. The nine leaves represent the nine manifestations of Shakti or the female power. Nabapatrika is brought to the river for a Snan (bath), following which she is wrapped in a sari and placed next to Ganesha, one of her children. Because the banana plant's leaves stand out, the Nabapatrika is also known as Kola Bou (banana bride). Nabapatrika Snan takes place on Saptami, which is the seventh day of the celebration. 
3. Anjali
While the priests recite mantras to worship Durga Maa, everyone else can pay their respects with Pushpanjali, or Anjali for short, which means offering flowers cupped in your hands. Anjali is done on all three days of the Durga puja festival, Saptami, Ashtami, and Navami, although the one on Ashtami holds the most significance. Anjali's auspicious hour, which is always in the morning, is proclaimed ahead of time. It is traditional to fast until the day's Anjali has been offered. However, a certain section of the Bengali community devours on hilsa as a part of the Ashtami bhog, after offering it to the Goddess. 
4. Kumari Puja
Kumari Puja is performed on the eighth day. A pre-pubescent girl is chosen to be the living manifestation of Durga and prayers are said in her obeisance. She takes the stage with the Goddess, dressed in new garments and adorned with floral accessories. 
5. Sandhi Puja
Sandhi Puja takes place when Ashtami ends and Navami begins. It commemorates the appearance of Goddess Durga in her enraged Chamunda avatar to destroy the demons Chanda and Munda. One hundred and eight lamps are lit. Mantras is chanted by the priest. And the drummers (dhaki) start pounding out a frenetic beat. Previously, it was also common to make an animal sacrifice. However, this practice has largely been stopped, and vegetables are symbolically sacrificed.
6. Dhunuchi Naach
This is one of the chaotic but entertaining rites performed on Navami (ninth day) evening. Clay pots containing burning charcoal are held by people as they begin to dance to the beat of the dhaak. Those with more experience hold the clay pots on their heads, sometimes even by their teeth. Previously a male-dominated art genre, dhunuchi naach is now also performed by women.
7. Sindur Khela
Traditionally, Hindu women wear sindoor on their forehead to mark their marriage. Sindur Khela is one of the rites in which married ladies present sindoor and sweets to the Goddess. They then smear each other with vermillion. Photographers have a field day during this rite. Some women have recently begun to challenge the custom of not allowing widows and LGTBQ+ community to attend the event.
8. Bisorjon Or Bhashaan
The Goddess and her children are led in a parade to Bisorjon or are immersed in the river to symbolise her return to Mount Kailash. Even today, some traditional houses (bonedi bari) retain the habit of placing the idols on a bamboo platform and then emn of the family carry them on their shoulders. Most, though, transport the idols on a truck up to the riverbank. The idols are then placed on a boat and transported to the middle of the river for immersion. 
Did you know that Durga Chandi path is a holy scripture that contains 13 chapters of the Markandeya Purana detailing how Maa Durga kills the Demon Mahisasur. People recite Durga Chandi path to drive away negative energy and keep troubles at bay.
No Indian festival is complete without prasad, Durga Puja celebration is no different. Bhog is given to devotees on the seventh (Saptami), eighth (Ashtami), and ninth (Navami) days of the celebration. It is usually vegetarian and has no onion or garlic. Bhog consists primarily of Bengali delicacies such as khichuri, luchi, labra, begun bhaja, chutney, payesh, mishti doi, and roshogolla.
Here are two delicious recipes you can try out if you're celebrating durga puja at home:
2 Bhog Recipes For Durga Puja
1. Khichuri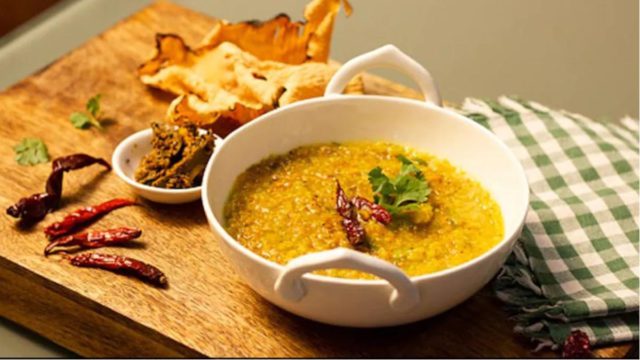 Bengali Khichuri, also known as bhoger khichuri, is a one-pot dish cooked with moong dal, rice, and a few spices. To make it you will need:
Ingredients:
1/2 cup basmati rice
1/2 cup dhuli moong dal
2 red chillies
1 tsp cumin seeds
1/2 tsp hing
1 medium-sized tomato, chopped
1.5 tbsp ginger, grated
Salt to taste
2 tsp sugar
1 tsp turmeric powder
2 tsp coriander powder
3-4 cups water
2-3 green chillies
5 green cardamoms
2-inch cinnamon
3 cloves
2 tbsp mustard oil
2-3 tbsp ghee
Directions:
Step 1: In a pot, dry roast the unwashed moong dal over medium-high heat. Cook this for 3-4 minutes, stirring constantly until the colour of the dal changes from yellow to light brown/mustard and it begins to emit an aroma. Pour it into a bowl and immediately rinse with water. Set it away.
Step 2: Place the rice in the same pot and dry roast for 2-3 minutes. Continue to stir until the colour changes to pale brown.
Step 3: In the same pan, pour in the mustard oil and heat it over medium heat until it begins to smoke. Then stir in the cumin and dried red chilies. Allow the seeds to sputter. After that, reduce the heat and add the hing. Cook for a few seconds after thoroughly mixing.
Step 4: Mix in the tomato, ginger, and salt. Cook for a few minutes over low heat, until the tomato softens. Stir in the sugar, turmeric powder, and coriander powder. Cook for 2-3 minutes, stirring occasionally.
Step 5: After that, add the washed rice and dal. Mix it thoroughly. Pour in the water and mix well. You might need 3-4 glasses of water. Start with 3 cups and add additional if the khichdi begins to dry up while the rice and dal are still cooking.
Step 6: Increase the heat to high and add the green chilies. Allow it to cook for a while. Turn off the flame. Pour ghee over the top and sprinkle with crushed green cardamom, cinnamon, and cloves. Combine thoroughly and serve immediately.
2. Payesh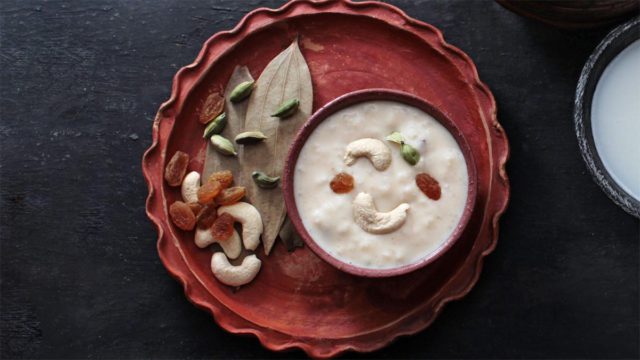 Chaler payesh is a type of rice kheer. It's a traditional Bengali rice pudding cooked from gobindobhog rice, milk, and sugar.
Ingredients:
4 cups whole milk
2 tbsp rice
1/3 cup sugar
8-10 raisins, soaked in warm water
6-8 cashews
8-10 almonds
1 tsp green cardamom powder
Directions:
Step 1: Fill a heavy-bottomed pot halfway with milk. Bring it to boil and cook until it has reduced to 3/4 of its original volume.
Step 2: Add the washed rice and mix well. Allow it to cook for 8-10 minutes, or until the rice is thoroughly cooked. Keep stirring it.
Step 3: Add in the sugar and raisins. Mix it all together. Cook until the sugar dissolves.
Step 4: Turn off the flame. Combine the cashews, almonds, and green cardamom powder in a mixing bowl. Combine thoroughly. It can be served hot or cold.
Whether you're celebrating Durga Puja at home or going all out, let your bhog thali #BeALittleMore festive ready with these recipes. Happy Durga Puja!
Open up like never before and participate in conversations about beauty, entrepreneurship, mental health, menstrual & sexual health, and more. Desi women, join our community NOW!