Reading a book is akin to going on a journey and in this journey, a bookmark can help find your way from one chapter to the other. And that doesn't mean those bland and boring bookmarks that you get as a gift with a new book! Customised DIY bookmarks that reflect your creative side are way beyond cute.
If you are planning to venture into the world of DIYs, a bookmark can be a great project to start with. They are quick, easy and there is so much scope for you to showcase your hunar. Plus, every reader needs a bunch of cool bookmarks. After all, you don't want to damage another book by dog-earring its pages, hai na?
The best part is, you can make your very own DIY bookmarks using a few basic materials and your creativity. Let us show you how.
10 DIY Bookmarks You Must Try
When it comes to DIY bookmarks, the sky's the limit. Whether you don't mind making a run to the nearest supply store or you just want to use up the material lying about in your house, you are sure to find an idea that'll fit your requirements.
Here are 10 easy and fun DIY bookmarks ideas that the craft lover and/or the bibliophile in you will absolutely love:
1. Elastic Ribbon Bookmark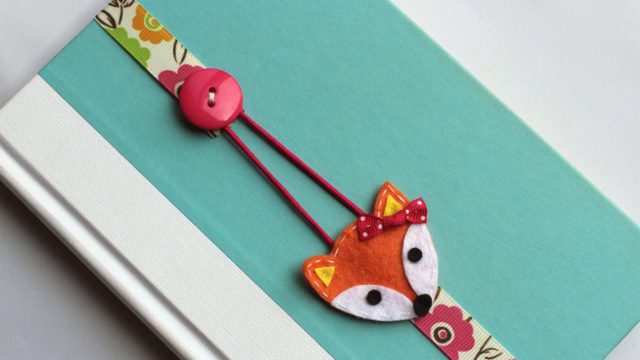 Use these handmade bookmark ideas for making these super easy and super pretty ribbon DIY bookmarks. Pick different styles of buttons and ribbons, play around with colours and add your unique touch to your ribbon bookmarks!
The best thing about these bookmarks is that they will not slip in between pages, making it hard for you to find your chapter.
Things You'll Need:
Decorative ribbon
Decorative buttons
Elastic bands
A pair of scissors
Needle and thread or sewing machine
Method:
To make these ribbon bookmarks DIY, start by cutting the ribbon into an 18-19 inch strip for a book for an average thickness.
Fold one end of the ribbon around ¼ inch and fold it over another ¼ inch and stitch it using the sewing machine or by hand.
Add the elastic tie on the other side of the ribbon before folding and stitching it.
Attach the button on the other side of the ribbon.
Use this bookmark by wrapping it around the book and secure it by pulling the elastic up and around the button.
2. Corner Bookmarks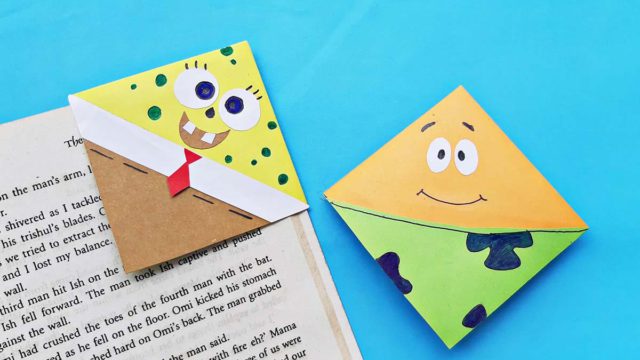 If classy and subtle is your style, corner bookmarks are just the thing for you. These are simple to make and the possibilities to decorate them are endless. Let your imagination run wild with these elegant DIY paper bookmarks.
Things You'll Need:
A square piece of paper( preferably a 6 by 6 inch)
Colours
Decorative items of your choice.
Method:
Fold the square into half in a triangle.
Fold the left and right corners inward at the centrefold.
Fold the square in half again.
Fold the right and left ends downward at the middle point.
Open up on the bottom and tuck the right and left ends into the opening.
Jazz up your bookmark with colours and decorative items of your choice.
3. Yarn Pom-Pom Bookmarks
These bookmarks are fun to make and too cute to resist. Mark your books with these fun and chic pom-pom bookmarks.
Things You'll Need:
Method:
Wrap yarn around your fingers about 100 times. Use two or three fingers according to the size of the pom-pom you want.
Remove the bundle of loops of yarn from your fingers carefully.
Cut a long length of yarn and tie one end tightly around the middle of the yarn loops. The loose end will be the marker portion.
Cut the loops of yarn and then trim and shape the pom-pom.
4. Paper Clip & Button Bookmarks
Next up on our list of top handmade bookmark ideas, is this inexpensive but attractive paper clip bookmark. This is the perfect DIY bookmark project for people who do want to use and upcycle what they have lying around the house.
Things You'll Need:
Paper clips
Buttons
Hot glue gun
Felt
Method:
Stick the button to the top of the paper clip with the help of glue.
Cut a small piece of felt to go on top of the glue for a smooth finish.
Make sure to stick it to the side which is not used to clip the paper.
5. Popsicle Stick Bookmark
Get creative and use popsicle sticks to make beautiful handmade watercolour bookmarks. These are super easy to make, look amazing and won't slip out of your book.
Things You'll Need:
Popsicle stick
Tape
Acrylic paint
Method:
Paint and decorate two popsicle sticks.
Stack them with the undecorated side facing inward and tape them together at the top. Leave about one cm of space at the top.
Use this bookmark by placing the page in between the two sticks.
6. Favourite Quote Bookmark
If you are Potterhead, use these Harry Potter bookmarks DIY to make a customised bookmark that represents your love for all things magic! All you need are a few simple supplies and, of course, your favourite HP quote.
Things You'll Need:
Card stock
A pair of scissors
Marker or pen in your choice of colour
Hole puncher
Ribbon
Method:
Cut the cardstock in your choice of measurement.
Write your favourite quote on it.
You can use colours and sequences to add more pizzazz to your bookmark.
Punch a hole at the top of the bookmark.
Insert the ribbon in the hole and double-knot it.
7. Tassels Bookmark
Tassels bookmarks are quite easy to make. Plus, they look super cute peeping through the pages of your book.
Things You'll Need:
Yarn
A pair of scissors
Cardboard
Cardstock
Hole puncher
Method:
Wrap the yarn about 80 times around the piece of cardboard, which is about 3 inches wide.
Slide a piece of yarn on one side of the yarn wrapped around the cardboard and double-knot it.
Cut all the yarn on the opposite side.
Make the head of the tassel by tying another piece of yarn near the top.
Trim the end of the tassel.
Cut the piece of the card stock and punch the hole at the top of it.
Insert the yarn through the hole and double-knot it and cut the excess yarn.
8. Magnetic Bookmarks
Want to take things up a notch? Try these 'not-so-simple' DIY magnetic bookmarks. They look quite attractive and are super fun to use.
Things You'll Need:
Cardstock
Magnetic strips
Scissors
Glue
Washi tape
Method:
Cut a piece of cardstock and fold it in half.
Decorate it with washi tape. You can use other decorative materials to give it a personal touch.
Cut the magnetic strips to the size and glue one on each side of the cardstock.
9. Leather Bookmarks
Keep it classy with DIY bookmarks made with leather. The supplies might seem a little hard to find, but the results will definitely be worth the effort!
Things You'll Need:
Leather
Scissors
Leather punch
Rivets
Hammer
Method:
Cut out the leather to your desired size of a bookmark.
Cut another small section for the top flap.
Punch a hole at the top of the bookmark and each side of the top flap.
Fold the flap over the bookmark.
Line up the holes and put the rivet in place and hammer it lightly.
10. Fabric Bookmarks
Personalise your bookmark by using your favourite piece of fabric to make it. From old scarves to single socks, anything will do!
Things You'll Need:
Fabric
A pair of scissors
Sewing machine
Ribbon
Method:
Cut two pieces of fabric into whatever measurement you want your bookmark to be.
Put fabrics together and stitch the edges, leaving the opening at the top for the ribbon.
Insert the ribbon into the opening and stitch the top of the bookmark.
No matter how packed your schedule is, always take out some time to #BeALittleMore in sync with your creative and fun side. Making these DIY bookmark ideas can be a great way to spend some quality time with your family. This can also be a fun activity for de-stressing after a hectic day or week. But most of all, a customised bookmark can make your reading journey a little more special. Happy reading!
Open up like never before and participate in conversations about beauty, entrepreneurship, mental health, menstrual & sexual health, and more. Desi women, join our community NOW!