Hanging paintings on walls is a very popular way of adding character to a space. Until recently, the only way to do so was by drilling holes and inserting screws into the walls so that paintings could be hung from them. Unfortunately, drilling is an inconvenient process and causes damage to the walls. This way is particularly impractical for people who live in rental homes and are not allowed to carry out structural repairs to the property. Such people are often wondering how to fix painting on a wall without nails. Here are some easy ways to do this:
1. Depend On Adhesives: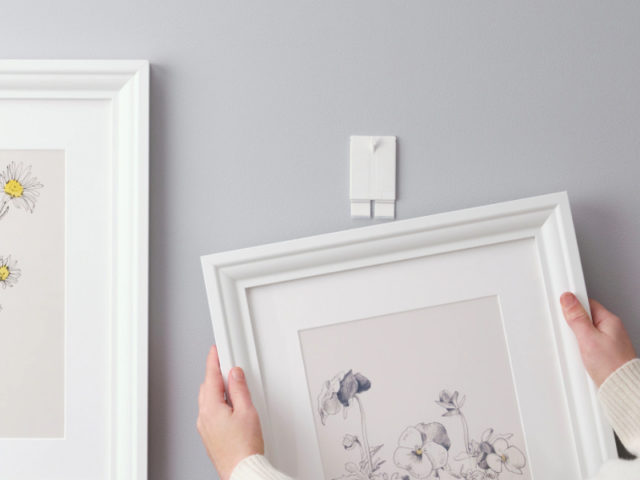 Adhesive strips and hooks are lifesavers for people who wonder how to fix painting on a wall without nails. There are many hardware brands that have a huge variety of products that enable people to hang things on their walls without having to drill holes. There are special hanging strips available for hanging paintings . These can be chosen on the basis of the weight of the painting one wishes to hang.
2. Use A Pegboard: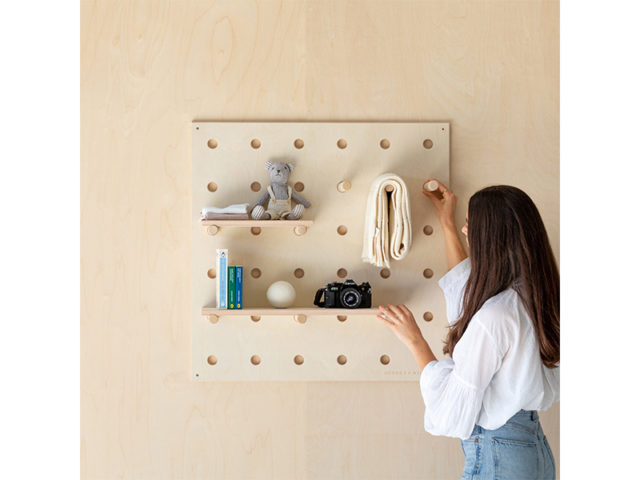 A pegboard is a great option for people who intend to put multiple works of art on their walls. Simply buy a pegboard in your preferred size and use a strong tape to stick it to the wall. Alternatively, you could lean the pegboard on the wall or place it on a shelf. Once in position, all you need is pegboard hangers to hang your paintings and other artwork.
3.Lean The Art On Furniture: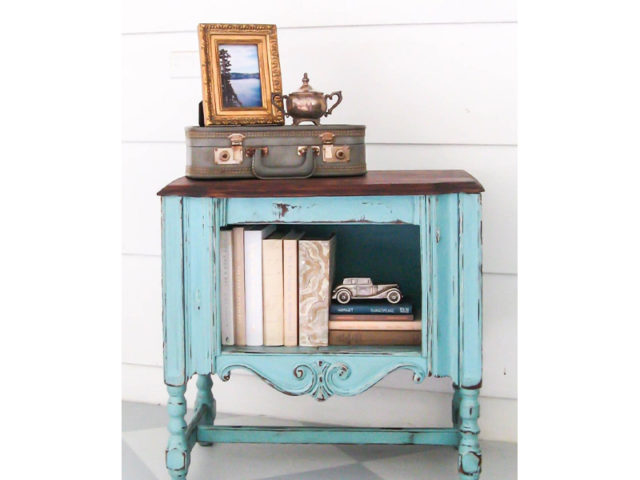 Consider placing your artwork on furniture if you are unsure about how to fix painting on the wall. Console tables and bookshelves are great for placing artworks. Use your creativity to add other decorative pieces that complement your painting to create an art-filled corner in the room.
4.Get An Easel: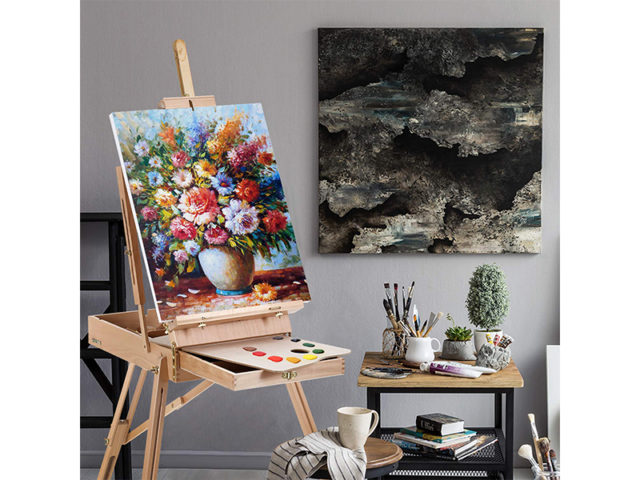 Getting an easel is probably the easiest way to showcase a painting. Simply place the painting on the easel and place it in  a strategic place in the room. The fact that both the painting and the easel can be moved around easily makes it possible to keep on changing the home decor arrangement in the room. Placing paintings on an easel also gives the space a very artistic look. Try these glass bottle decoration ideas from used and broken bottles to enhance the look of your place.
5. Use A Room Divider: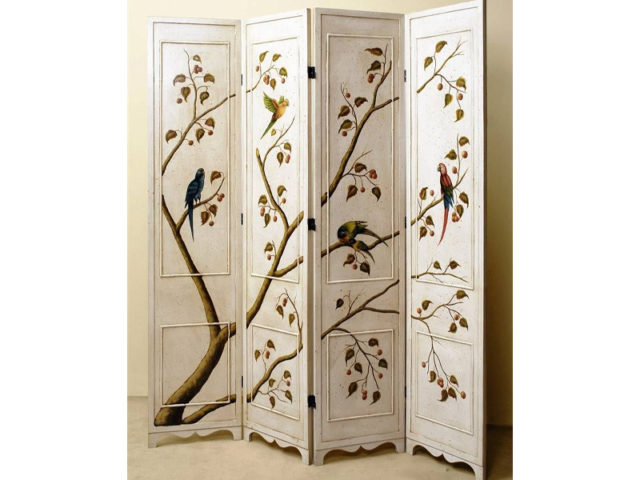 A room divider does a great job with breaking the room down into several separate areas. But not many people utilise this piece of furniture optimally. Displaying your statement art pieces and paintings on the room divider is a great way to flaunt them and also create a focal point in that section of the room.
6. Magnetic Paint Can Do The Trick: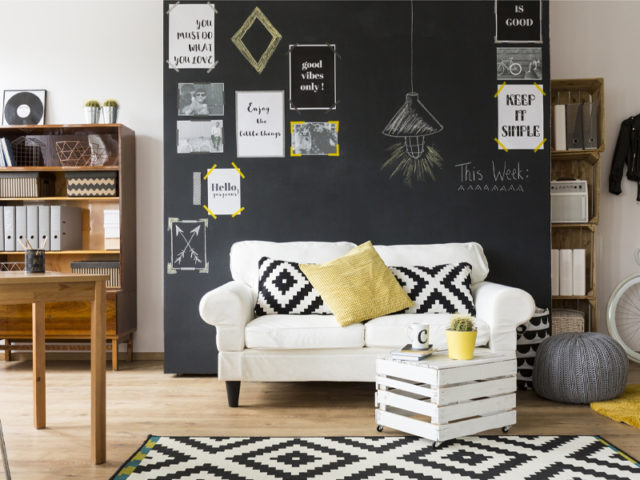 Another option for people finding answers to how to fix painting on wall is magnetic paint. This paint is relatively inexpensive and gives you an opportunity to hang as much art on the wall as you deem fit, without affecting the wall. All you have to do is paint the section of the wall you want to use for an art display with magnetic paints (you could also paint the entire wall). Next, buy magnets which have adhesive on their backs and use the adhesive side for hanging your paintings safely.
7. Put Wall Moulding To Good Use: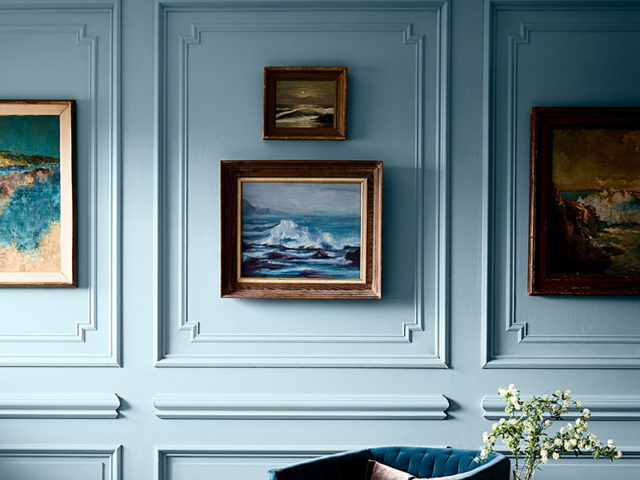 Most rooms have some kind of moulding on the walls. These mouldings can be very effectively used for hanging artwork and paintings. All it takes for you to display your artworks on the walls using this method is some craft store materials. Start with tying a string to an S shaped hook. Now rest the hooks on the wall moulding and attach your art to the loose end of the string. You can use as many hooks as you like, depending on the number of paintings you have. Strategically placing hooks with different string lengths can also be done to create a fun and artsy wall.
8. Place A Ladder: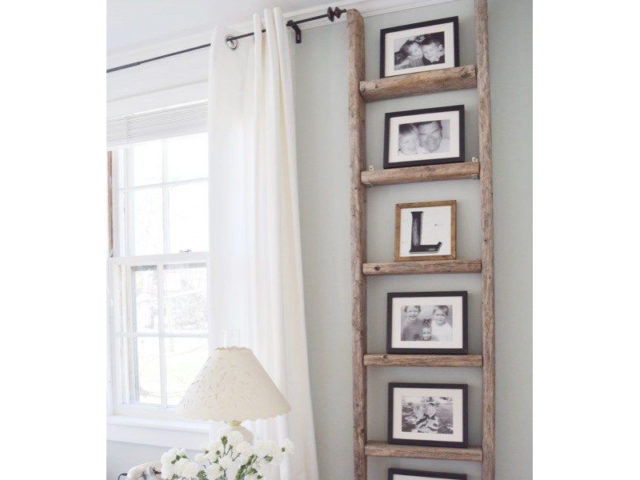 Placing ladders in different areas of the house has become relatively common these days. People are always adding them to their room and bathroom decor. This new element adds a nice twist to the room, while allowing an individual to make use of the extra space for storing or hanging things. In this case, the ladder can be used for hanging art pieces and paintings.
9. Start With The Floor: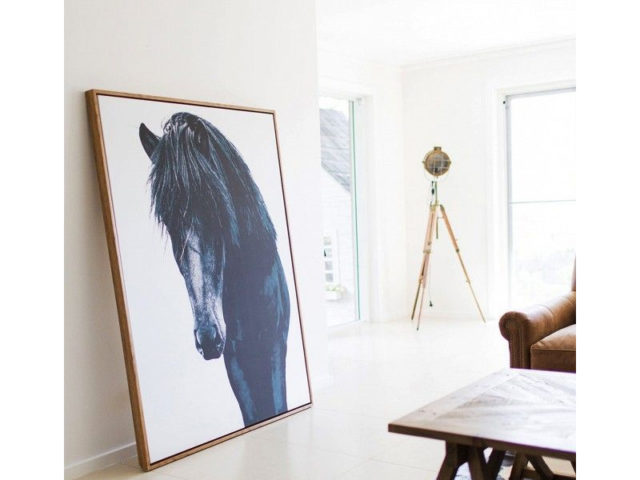 Larger paintings can easily be placed on the floor, against a wall. This method requires zero amount of effort and looks great too. However, it must be noted that this solution to the problem of how to fix painting on wall works only for very tall pieces of art. Place your paintings on the floor only if the painting is taller than the surrounding pieces of furniture.
10.Buy Smart Furniture: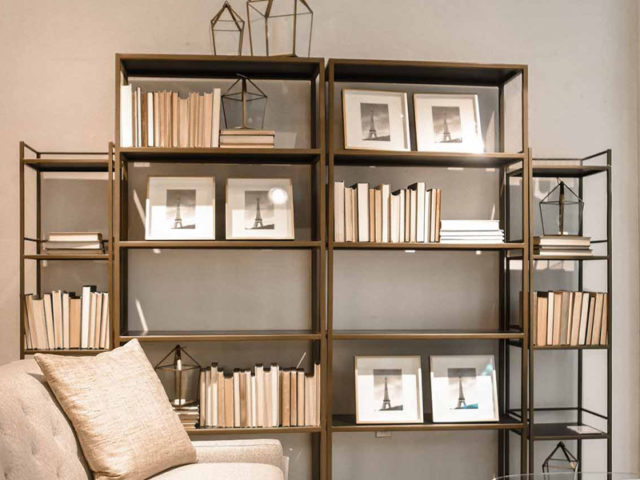 Contemporary pieces of furniture are created in such a way that they have multiple uses. Investing in a piece which resembles a grid is a great choice because they look great almost anywhere in the house. When a grid-like structure is placed behind the couch, it works as a convenient structure to place the art on, or hang the art from.
Key Takeaways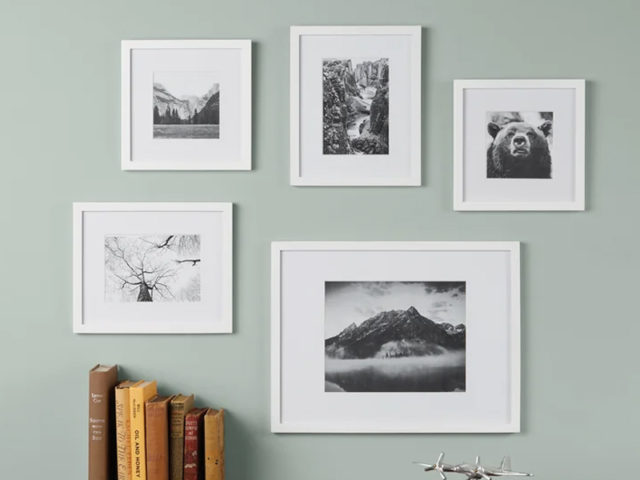 When hanging a painting using adhesive strips, it is crucial to ensure that the adhesive strips are in accordance with the weight of the painting. Using adhesive strips that are too small can cause the painting to fall.
Always stick adhesive strips on dry and clean walls to help them stick properly.
While buying grid-like furniture, but something that can be used in a variety of ways so that you get the maximum value for your money.
While figuring out how to fix painting on a wall without drilling holes, keep the size and weight of the painting in mind so you choose the option that is most feasible.
If you intend to hang an expensive painting, choose your method carefully to avoid any damage to the painting.
There is no end to the creative ways that can be used to display your paintings without using a drill machine and screws. When in doubt about how to fix painting on wall, always consider all your options before you choose the right solution for your needs. It is always a good idea to visualise the placement of paintings and artwork in the room and then find a solution that makes it easy to showcase all of them.