Has your bedroom life turned boring? Do you think it's time to spice things up? Why not take charge of it and get on top instead?
Giving more control to the receiver can be a fun and interesting way to upgrade your sex life. Whether you're bilkul new to the scene or you're just looking for more options, here's how you can go about it.
Woman riding on top is one of the sexist positions but, besides your classic cowgirl magic, there are so many other ways you can get on top and control your own pleasure. Want to hear more, don't you? Read on to find out the 10 best women on top positions that will give you maximum pleasure.
10 Women On Top Positions That You Must Try Out
1. Seated Wheelbarrow
Kicking it off with a hot and sensational position, Seated Wheelbarrow allows the receiver to experience a range of sensations that are otherwise often unusual in traditional positions. Get all the power in your hands and move it as you like it. You, as the receiver, will have control over the tempo and the depth of penetration. This also gives your clitoris exposure to maximum stimulation, leading to greater pleasure.
How to do it: Ask your partner to sit at the edge of the bed or a chair. You can hop into their lap and get comfy. Now plant your hands on the floor, slowly stretch your legs behind their waist and go for it.
Read 9 Rasile Spooning Tips For More Intimacy During Cuddle Time, Foreplay Or Sex
2. Upstanding Citizen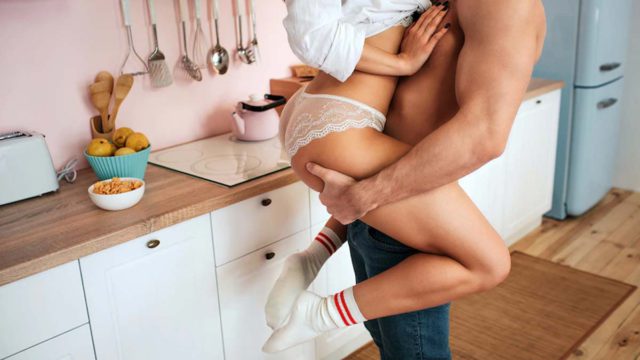 An outstanding position for when you're feeling extra kinky. Even though you're not in too much control as your partner is lifting your weight, it would nonetheless be an exhilarating experience for both of you. The extra friction created by the grinding can lead to phenomenal orgasms.
How to do it: Have your partner take a comfortable seat. Now straddle them and wrap your legs around their waist firmly. Ask your partner to stand up. Stand near a wall for better support.
Watch This Fun Video On How To Wash Your Vagina
3. Lazy Man
Exactly as the name sounds, your man does not have to do much here. This is one of the best sexual positions for women as you have pura control in this situation. Bored of your cowgirl position and want to experiment more? This is the perfect choice for you. You have plenty of leverage and you can speed up or slow down as per your liking. Your partner will have the oh-so-sexy sight of you and themselves as they enter you.
How to do it: With their back supported by pillows, have your partner seated on the bed (legs outstretched). Settle into their lap and bend your knees to slowly lower yourself. You can use your hand to guide the penis or strap-on.
4. Wrapped Lotus
Wrap yourself and your partner in love and experience the hot atmosphere by getting up close. This position feels like an extended hug (a sexy one). You have the control of penetration and speed, which you can do easily by leaning back. Along with physical, there's emotional intimacy too in this position.
How to do it: Ask your partner to sit with their legs crossed. Climb on their lap facing them and wrap your legs around their waist. Then, have your partner enter and you can grind against them.
5. Face-Off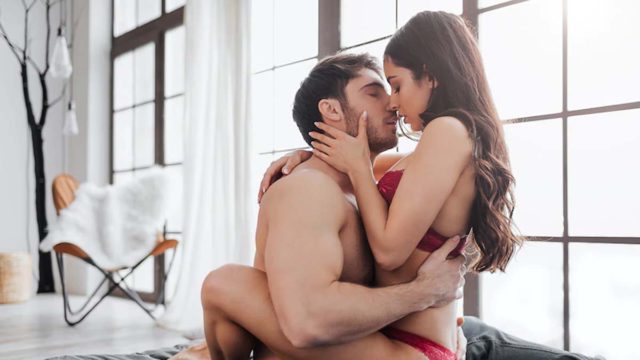 Because your bodies will be so close, you'll have greater control over the depth of penetration and tempo. You're also in complete control of how you're being entered. In addition to the intimacy of this position, the external friction against your clitoris will take your pleasure to another level. And oh! Your hands are completely free to do as they please. So please yourself or your partner, be handsy and have fun! Thrust your hips forward to stimulate your clitoris and hit your G-spot at the same time.
How to do it: Have your partner sit at the edge or on a comfortable chair. Get on their lap facing them and come closer.
Read 10 Sex Positions To Hit The G-Spot Baar Baar
6. Cowgirl's Helper
A modified version of your classic cowgirl, this position helps you reach the Big O faster and give your legs less strain (that's a score!). If you're not sure how to ride your man, you can start with shallow thrusts by leaning forward and progress to deeper penetration by sitting up straighter. He will not only target your vagina but will also hit the sweet G-spot.
How to do it: Similar to the cowgirl position, you kneel on top, pushing off your partner's chest and sliding up and down the thighs. Your partner, on the other hand, can help you by bearing some of your weight and gripping your hips or thighs as they rise to meet each thrust.
7. The Om
Enough with the fast rocking, want to try something more sensual and intimate? The Om rocking sex position is one best sexual positions for women and it's just what you need. Instead of the intense thrusts, the slow rocking back and forth will slowly build up the pleasure that will rise to an epic orgasm (for both of you). Bonus sexy points for long eye contact as you both get into the rhythm and let your bodies work together.
How to do it: Have your partner sit cross-legged (yoga style). Now climb onto their laps and wrap your legs around their waist tightly. Hug your partner for extra support and intimacy.
8. Magic Mountain
Okay, being all technical, you're not exactly on top. But wait! You're so in control. You get to decide how you want your clitoris stimulated. And since you will be facing your partner in this one too, you get the extra benefit of emotional connection over sexual pleasure. This position helps you and your partner both experience what's happening at the moment and focus on the present.
How to do it: Have your partner sit with their knees bent upward and their back arched supported by their hands and forearms. You do the same, then move closer until you're a breath away and can touch each other.
9. Golden Arch
The position is indeed golden. You'll have complete control over the partner's thrusts' depth, pace, and angle. This posture is ideal for figuring out which strokes and penetration depths work best for you. You can also lean back further for more G-spot stimulation, and you (or your lover) have easy access to your clit from this position. Easy access equals more pleasure, duh!
How to do it: For this, you both lean back while your partner sits with their legs straight and you sit on top of them with bent knees on top of their thighs.
10. Woman Astride
How to ride your man that will blow his (and your) mind? Try this as you get to maintain control over the speed and depth of thrusts while aiming for your sweet G-spot. It's also an obvious invitation for your partner to rub your clit and play with your breasts from this reclining position.
How to do it: This position is similar to Cowgirl but with a tiny twist. Climb onto your partner's lap. Then, lie back and hold yourself with your hands on the bed, forming a 45-degree angle with your partner's legs.
That was 10 of the best female on top positions for you! To make everything more comfortable for you and your partner, you can try adding lube and getting pillows under your back (you'll thank us later). Communication goes a long way, so #BeALittleMore bold and unafraid to ask for what works for you and get the pleasure you so deserve.
Take This Quiz On How Much Do You Know About The Mystical Big O
How do you and your partner make bedroom adventures more fun? Share some tips and tricks you've learned along the way in the comments below!
Open up like never before and participate in conversations about beauty, entrepreneurship, mental health, menstrual & sexual health, and more. Desi women, join our community NOW!