Quickies kabhi kabhi kafi exciting ho sakte hai, but things might become boring and repetitive if that's what you are doing most of the time. Foreplay is a great way to warm up to your partner, physically, psychologically, and emotionally.
To put it simply, any sexual activity that you indulge in before intercourse can be called foreplay. Consider it a way to ease into the main event while building anticipation and excitement, and arouse your partner before you dig deep (wink wink). But that doesn't mean that it is ALWAYS followed by sex! When you use the right foreplay tricks, this pre-sex ritual can sometimes be enough on its own. Besides, it comes with tons of benefits. Read on to find out why you must indulge in foreplay and which foreplay techniques you can use to spice things up in the bedroom.
4 Surprising Benefits Of Foreplay
Foreplay can spice up your sex life in ways you couldn't have imagined! It triggers both physical, physiological, and emotional reactions that make sex more pleasurable. Here are a few reasons why you must #BeALittleMore explorative with foreplay and indulge in it before the real deal!
It is a great way to build emotional intimacy and can strengthen your connection with your partner both in the bedroom and out of it.
Foreplay can reduce inhibitions and lead to hotter sex!
Foreplay can help boost your libido.
It also increases sexual arousal.
10 Foreplay Techniques That Can Make Sex More Pleasurable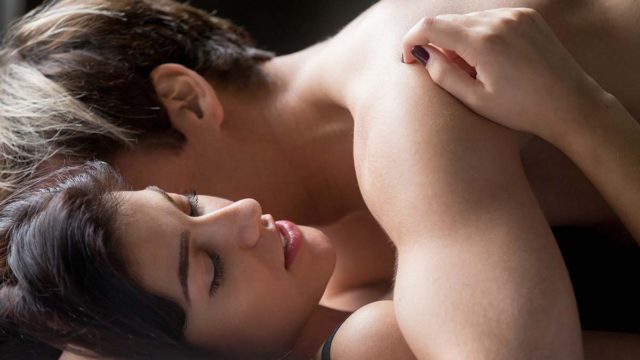 Still not sure about how to include foreplay in your next sex sesh? Here are 10 hot tips and foreplay techniques to help you out.
1. Let It Rain!
First up on our list of foreplay tips for women is getting wet with your partner! The shower or your bathtub can be the perfect place for foreplay! A steamy bubble bath or a shower is nothing short of a fantasy. Set the mood by stripping by together before you step into the shower or maybe take turns to underdress each other before you jump right in…whatever suits you the best.
2. A Kissing Game
Start by asking your partner to lie down on the bed or sit on the couch. Now slowly kiss them on the cheeks, the mouth, the forehead, the neck, the ears or wherever they like to be touched. But the catch is, that your partner has to stay absolutely still (which is going to be much harder than it seems!). They can't kiss you back or touch you. This little game is a great way to build anticipation and have great sex afterwards!
3. The Magic Of Touch
If you and your partner are new at foreplay, it's better to start easy. Some light touching and caressing are the best foreplay techniques to set the mood. Run your fingers through your partner's hair, caress their face or gently rub their thighs, arms and stomach. Lightly tickle each other or gently rub against each other. There are no rules. Do whatever makes them (and you) feel good.
4. Toe Play
Toe play can be a great way to get some pre-sex action. But before you do this, make sure to ask your partner whether they are comfortable with it. Toes are sensitive and your partner may find it quite erotic when you suck or lick on them.
5. Earlobes
Playing around with earlobes is one of the best foreplay tips because a lot of people have very sensitive ears and earlobes. If you or your partner are among those, then include this generally overlooked part of the body in your foreplay. Licking behind the ear and gently nibbling the earlobes can be great turn-ons. Or you can whisper dirty or naughty things into your partner's ear to get them going.
6. Neck & Shoulders
Another area that is sensitive and can be easily stimulated is the back of your neck and shoulders. Some kissing and light tickling can be magical for you and your partner. Gently nibbling on the area or giving love bites can also be super arousing.
7. Use Flavoured Products
This is probably one of the best foreplay tips to spice things up. If you and your partner are up for it, use massage oils and flavoured products during foreplay. Oils can be used for giving each other foot rubs, back rubs and massages. Put some whipped cream or chocolate on your partner's skin and then lick it as sensually as you can.
8. Strip, Strip, Strip!
This move may seem right out of a movie but this works like a charm in the bedroom. Give your partner a little strip tease and leave him wanting for more. If dancing isn't your strong suit, stick to safe moves that you can't go wrong with. No matter how many times your partner has seen you without clothes, this little show will leave him turned on and how!
9. Try A Vibrator
Sex toys are a great way to spice up your sex life. Use a vibrator around your partner's erogenous zones and ask them to return the favour! For ladies that will be up and down the labia, the inner thighs, the mons and around the clitoris. For men, it can be used on the tip of the penis, the balls and the perineum.
10. Some Light BDSM
This foreplay tip is for couples who often indulge in foreplay but are looking to take things to the next level. When you have had some experience with other (easier) foreplay techniques, you can move on to some light BDSM. But before you get to it, make sure to have a detailed discussion about limits, boundaries, safe words, etc. Share what turns you on and ask your partner to do the same. Start with something easy like some erotic spanking!
8 Tips To Spice Up Your Sex Life
One of the best ways to keep your relationship going strong through the years is to give your sex life the attention it deserves. Try out new things, indulge in new techniques and keep discovering different ways to love each other. Here are a few tips that can help you spice up your sex life.
Talk dirty with your partner whenever you get the chance. You can even drop them dirty little messages when they are away.
Another reason to hit the gym is that it can help improve your sex life! Building some stamina can help you increase enjoyment in the bedroom.
Communicate well. Whether it is looking for new ideas for foreplay or discovering what you guys like. Ask your partner what they want and let them know how you like to be touched.
One of the best foreplay tips for women is to keep trying new positions.
Tell your partner about your fantasies and see if they are up for it.
If your living condition allows, begin foreplay before you actually get into the bedroom. Start by getting a little frisky with each other and let the anticipation build-up.
You can start the foreplay in the morning and then continue it all through the day. Knowing that you are not going to have sex until later can ramp up the anticipation!
Instead of going straight for the genitals, explore your partner's entire body and let them do the same for you.
While movies and media can give you a few great ideas for foreplay, do not let them be your sole inspiration when it comes to some pre-sex action. Different things work for different people. And the best judges to decide what works for you are you and your partner. However, it is important to keep exploring and trying new things. So, let your imagination go absolutely wild while you discover all the kinks of foreplay with your partner.
Open up like never before and participate in conversations about beauty, entrepreneurship, mental health, menstrual & sexual health, and more. Desi women, join our community NOW!