Endometriosis is a common condition in young women of reproductive age. It can cause infertility and pain. It reduces the fertility potential of a woman. In endometriosis, the tissue which is usually present in the uterus lining is present in the ovaries, fallopian tubes, abdomen and ligaments supporting the uterus. This often causes internal bleeding and scarring, thus, damaging the reproductive organs. It damages the eggs and reduces the ovarian reserve. Cysts formed because of collected blood and inflammation are called an endometrioma, which is usually present over the surface of the ovary.
In collaboration with The Channel 46 on Endometriosis Awareness Month (March), Dr Santosh Gupta, Fertility Consultant at Nova IVF Fertility, Bengaluru, lists the causes and symptoms of Endometriosis and advises whether IVF can be successful among women diagnosed with this medical condition. 
Causes and Symptoms Of Endometriosis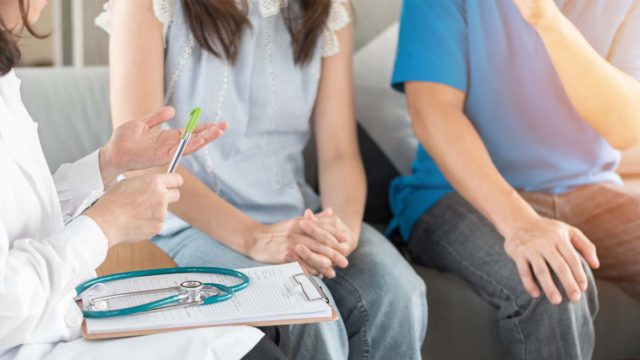 While the exact cause of endometriosis is not certain, some of the possible causes include:
Retrograde Menstruation – Retrograde menstruation is common and occurs in most women during menstruation. It happens when blood flows backwards through the fallopian tubes into the pelvic cavity and inside the body instead of out of the vagina. These cells stick to the pelvic walls and continue to thicken and bleed during periods.
Surgical Scar Implantation – Endometriosis may occur due to the cells getting attached to a surgical incision after surgery.
Embryonic Cell Transformation – Female hormones such as oestrogen can transform embryonic cells into endometrial-like cell implants during puberty, causing endometriosis.
Weak immune system – Weak immune system may make it difficult for the body to destroy endometrial-like tissue growing outside the uterus.
The most prominent symptoms of endometriosis include pelvic pain, painful periods, painful sexual intercourse, irregular menstrual cycle, irritation in urination, and infertility. Other signs and symptoms include bloating, fatigue, diarrhoea, nausea, and constipation.
Read All You Need To Know About The Impact Of Endometriosis On Your Health
Endometriosis And Infertility
Endometriosis can cause infertility because of various mechanisms:
Distorted pelvic anatomy due to adhesion and endometriomas can cause the failure of egg release and impaired tubal function
Altered peritoneal function and the presence of an inflammatory environment around the tubes and ovary, have a damaging influence on egg, sperm and developing embryo
Failure to have sexual activity if endometriosis causes pain while having sexual intercourse
Read Maternal and Fetal Medicine Specialist Dr Hemavathi Srinivasan On The Impact Of Endometriosis On The Health Of Women
What Is IVF?
IVF, or In Vitro Fertilisation, means fertilisation of egg and sperm outside the human body. Eggs are taken out from the ovary by a transvaginal needle prick procedure and the husband is asked to collect a sample of his semen. Selected sperm is injected into the eggs by a procedure called IVF/ICSI. The embryo is allowed to divide and develop in the lab for three to five days. One or two embryos are selected and transferred to the woman's uterus. IVF is a technically advanced procedure to assist a couple with infertility.
There are other fertility treatment options that a couple can try such as fertility drugs, to boost the production of eggs and intrauterine insemination. However, IVF is the best option. It is one of the most effective fertility treatments and it reduces the time to achieve a successful pregnancy.
Read Gynaecologist Dr Suhasini Inamdar Lists Signs You Have PCOS, Endometriosis (Or Both!)
Can IVF Help In Conception If You Have Endometriosis?
If you have endometriosis and you wish to start a family, it is completely safe to undergo IVF treatment. IVF is a hope for women with endometriosis who have been disappointed by not being able to conceive, despite trying out other options several times. IVF is recommended in women with severe endometriosis. Endometriosis is usually associated with low egg reserve and ovaries are usually adhered to the uterus and pelvic wall. Tubes could also be adherent. Therefore, getting pregnant or IUI (Intrauterine Insemination) is difficult. IVF success rates are good in patients with endometriosis if you start treatment on time.
If treatment is successful, pregnancy will cause no periods for 9 months. Post-delivery, another 6 to 9 months of no periods can reduce the progression of the disease and make patients more symptom-free.
The side effects of endometriosis can be exhausting and can take a toll on one's physical and mental health. It can become a challenge if you add the agony of infertility. If you suspect that you have endometriosis, it is vital to visit a doctor and get diagnosed. Getting a better understanding of the disease and the possible treatment options will help to put your mind at ease.
Nowadays, various fertility treatments like IVF can help you conceive and start a family of your own, even with endometriosis. It is necessary that you seek professional help because your doctor will give you proper support and guidance. Moreover, sharing your feelings with your family, friends, and loved ones will make you feel better. Now that you have some knowledge that endometriosis can cause you no harm in your way to starting a family, it's time to do more and #BeALittleMore in your life.

Open up like never before and participate in conversations about beauty, entrepreneurship, mental health, menstrual & sexual health, and more. Desi women, join our community NOW!