Every year 28th May is observed all around the world as Menstrual Hygiene Day. Even though increasingly more people today are talking about periods openly, ye kehna galat nahi hoga that plenty of menstruators suffer because of the stigma around menstruation. International Menstrual Hygiene Day aims to break the bubble of stigma and educate people about the importance of hygiene during periods.
History Of Menstrual Hygiene Day
In 2013, a Germany based NGO, WASH United, ran a social media campaign that promoted health management and menstrual hygiene for women. Campaign itna successful raha ki they decided to make this an annual event. Thus came into being: World Menstrual Hygiene Day. Soch rahe ho why 28th May? That's because the average menstrual cycle lasts 28 days and usually happens for around 5 days. Hence, the 5th month of the year, May, and the 28th day of the month was chosen.
The number of menstruators using sanitary products such as pads and tampons have drastically increased in the last decade or so. But there are still families who think periods are "impure" and, therefore, menstruators are not allowed to enter the kitchen, worship or partake in the day to day activities. A study in 2016 revealed that almost 50% of schoolgirls who got their period didn't know what it was and how to deal with it. This lack of education gives fire to misinformation and myths surrounding menstruation.
So many among the menstruating population go through periods chupke chupke. But it's time ki ye parda uthe, and we learn more about maintaining a hygienic period and also helping others as well. As we close towards International Menstrual Hygiene Day (28th May), here are 10 menstrual hygiene tips and 5-period products that you must know about.
10 Menstrual Hygiene Tips That You Must Follow
1. Choose Your Sanitary Product
There was once a time (and still is) when menstruators used old rags, newspapers, sawdust, sand, leaves, etc. to absorb period blood. You already know how hazardous it can be for your health. Today, the market provides you with a plethora of options to choose from. There are menstrual cups, tampons, and sanitary napkins available in a variety of sizes and customisations to suit your needs. Pick a brand and product you trust and stick to it.
2. Change Your Sanitary Product Regularly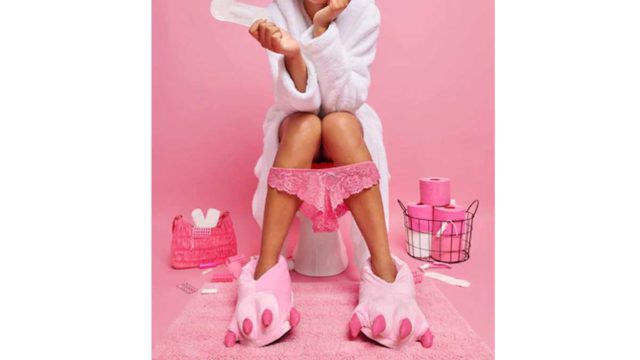 Every product will have a different absorbing capacity but still needs to be changed or cleaned at regular intervals. The product which absorbs your period blood becomes the breeding ground for many bacterias and disease-causing organisms if you don't change them at regular intervals. In such cases, you could be exposing yourself to vaginal infections.
Read Period Queries, Myths & Home Remedies
3. Clean Your Vaginal Area Thoroughly
While your pad or cup collects most of the blood being discharged, some of it is left behind in tiny crevices of the folds. Always take care to wash away these extra flecks of blood to prevent them from crusting over and causing bad odour. Not only that, it can also cause infections. Therefore, make sure to either wash or wipe your genital region clean frequently.
4. Stop Using Soap
Your vagina cleanses itself naturally and this mechanism is controlled by a fine and delicate balance of good and bad bacteria. When you use soap, you disturb that balance. And in disturbing this balance, you open up the gates to problems. While it is necessary to wash on a frequent basis during this time of the month, all you need is some warm water. You can use soap on the outside of your vaginal or vulva, but not within.
5. Remember How To Wash The Area
Always remember to clean your vaginal area in the vagina-to-anus direction. Doing the opposite will invite in bacteria from your anus leading to infections. Also, make sure to not use scented products for your vaginal care.
Watch This Fun Quiz On How Much Blood Do You Actually Lose During Your Period?
6. Throw Away Used Sanitary Products Properly
It is very critical that you dispose of your used pads and tampons the correct way. They are carriers of infections and can spread foul smells. The correct way to get rid of your sanitary napkins is to wrap it well in paper and then discard it into the dustbin. Please never flush your pads down the toilet, they can lead to blockage of your toilet pipes. Also, make sure you wash your hands with soap after changing pads and other period products.
7. Take Care Of The Pad Rash
A very common problem if you have been cursed with heavy flow. It usually happens after you've worn your pad for an extended period of time and it scrapes against your thighs, causing the sensitive skin to chaff. To prevent this from happening, stay as dry as possible during your periods. If you do get rashes, make sure to replace your pads on a regular basis and stay clean. After a bath and before night, apply an antibiotic ointment to the rash to help it heal and prevent future chafing.
8. Do Not Use Multiple Sanitary Products
If you're getting heavy flow during your period and think using two different sanitary products will make it more convenient, think again. Using two products will make you less inclined toward changing your period products at regular intervals. This, in turn, can cause you to have rashes, catch infections or in the worst case TSS (toxic shock syndrome).
9. Take A Bath Regularly
A no brainer, of course. Some societies, still hold the belief that menstruators should not bathe during their periods. A warm shower can help you de-stress and relieve back and abdominal pain as well.
Read 5 Home Remedies For Period Skin
10. Have An Emergency Period Kit
Even if you know when your period is going to arrive, it is critical to be prepared. Extra sanitary pads or tampons, a soft towel, some paper tissues or towels, hand sanitiser, some candy, and a tube of antiseptic medication – keep all these items in a small pouch in your bag and always be ready for it, lest it decides to appear on an unexpected day.
Periods also mean giving your body rest and all the care in the world. Cramps can get really bad and it's okay to take some time off and look after your body. Here are some period hygiene and care products that you can try out:
5 Recommended Menstrual Hygiene Products That You Can Try
1. Hot Water Bag
Having stomach aches is one of the most common issues women face during their periods. Forget work, you can't even sleep at ease. That's where hot water bags come in. They are effective to help relieve your period cramps and soothe the pain in your abdominal region.
2. Period Underwear
Oh! the constant worry of ruining your favourite pair of jeans on period. We've all been there before, but there's something that can keep you chinta-mukt. Period underwear! Yes, they just look and feel like your normal panties but they prevent excess blood from seeping through the cloth. How convenient, right!?
3. Over The Counter Meds
Got your period in the morning? But have plenty of office work to finish? Ye dard khatam hone ka naam hi nahi leta. When cramps get unbearable, over-the-counter pain relievers can work wonders. Meds such as Advil, Motrin IB and others are easily available in your nearby pharmacy.
4. Intimate Wash
Just as mentioned before, your vagina is self-cleansing. But other intimate areas require washing, right? Intimate washes help you maintain a clean and dry vaginal area and, most importantly, balance the Ph level taki infections rahe door.
5. Panty Liners
The week before you get your period is filled with constant worry and anticipation. Pata nahi kab aa jaye? For this problem, panty liners are your boon. They work like pads but are thinner and more comfortable. You won't even feel like you're wearing one. They also absorb vaginal discharge keeping your intimate areas clean and dry.
On this World Menstrual Hygiene Day, ensure that you have a healthy and hygienic period experience with these period hygiene tips and products. Whether you've yet to get your first period or you've been getting them for years and never really knew how to take care of yourself, let's #BeALittleMore educated and not shy away from talking about periods.
Take This Period Quiz: Do You Know All The Reasons Why You Might Have Missed Your Period?
Were you already following these tips? What nuskhe do you frequently use during "those days" of the month? Share them in the comments below!
Open up like never before and participate in conversations about beauty, entrepreneurship, mental health, menstrual & sexual health, and more. Desi women, join our community NOW!