The last few years have been all about functional on-the-go foods that fit into your bag, just as easily as they fit into your lifestyle. It's common knowledge that protein is important not just for building muscle, but to keep your organs healthy, and your immune system fighting fit. So, if you thought that protein shakes and protein bars were for those who workout only, think again!
What's also interesting is that studies suggest since Indians primarily have a carbohydrate-rich diet (sabzi+ roti + rice), the protein component (dals, rajma, chhole) isn't adequate to meet the daily requirements of our body. And that's why we've seen a surge in new snacks dedicated to delivering substantial quantities of protein in small packages. Think protein drinks, protein bars, protein brownies, protein smoothie bowls, protein shakes… the list goes on.
WHEY Is The Buzzword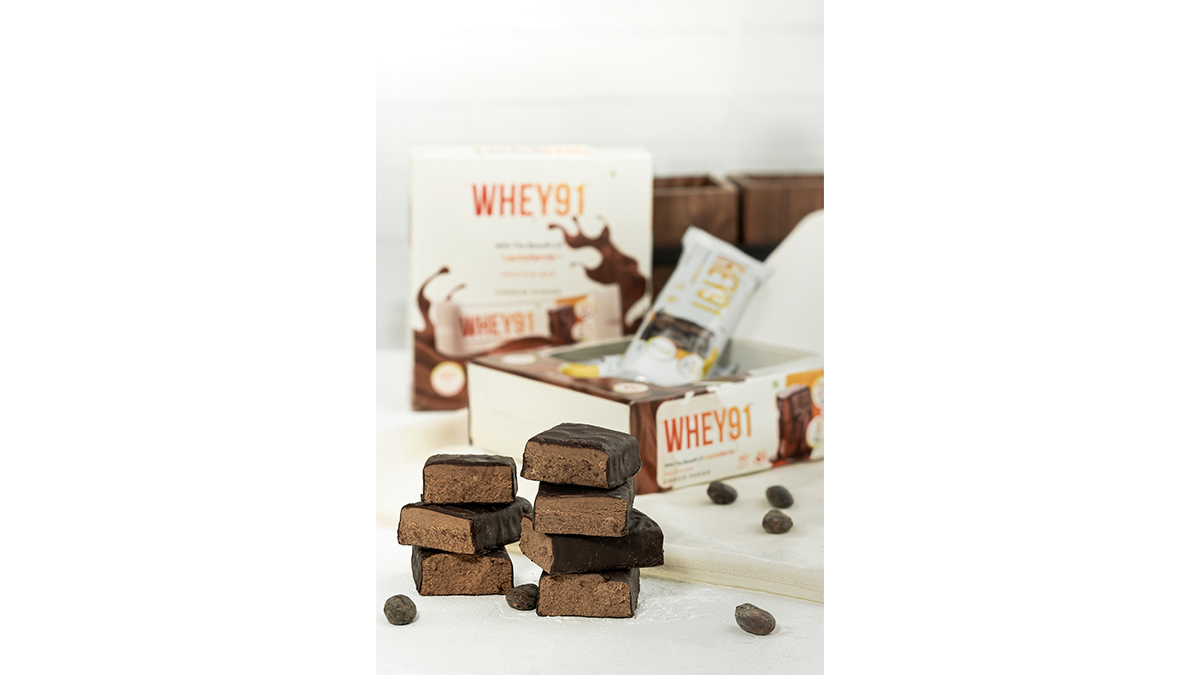 A type of protein, whey is among the better forms of protein you can eat. It gets absorbed and utilised by the body very quickly–a lot faster compared to other proteins.
Here are some other benefits of whey protein that make it the preferred choice for your daily diet:
☑ Whey is a high-quality protein as it contains all the essential amino acids
☑ It promotes muscle growth and can also help you lose weight because you feel fuller for longer after consuming whey protein
☑ Whey is better for people with lifestyle conditions like high blood pressure, Type 2 diabetes, stress, and depression
☑ It is anti-inflammatory which makes it great for your muscles and also can be helpful if you have inflammation in the bowel
Whey Protein Bars: The Healthy Choice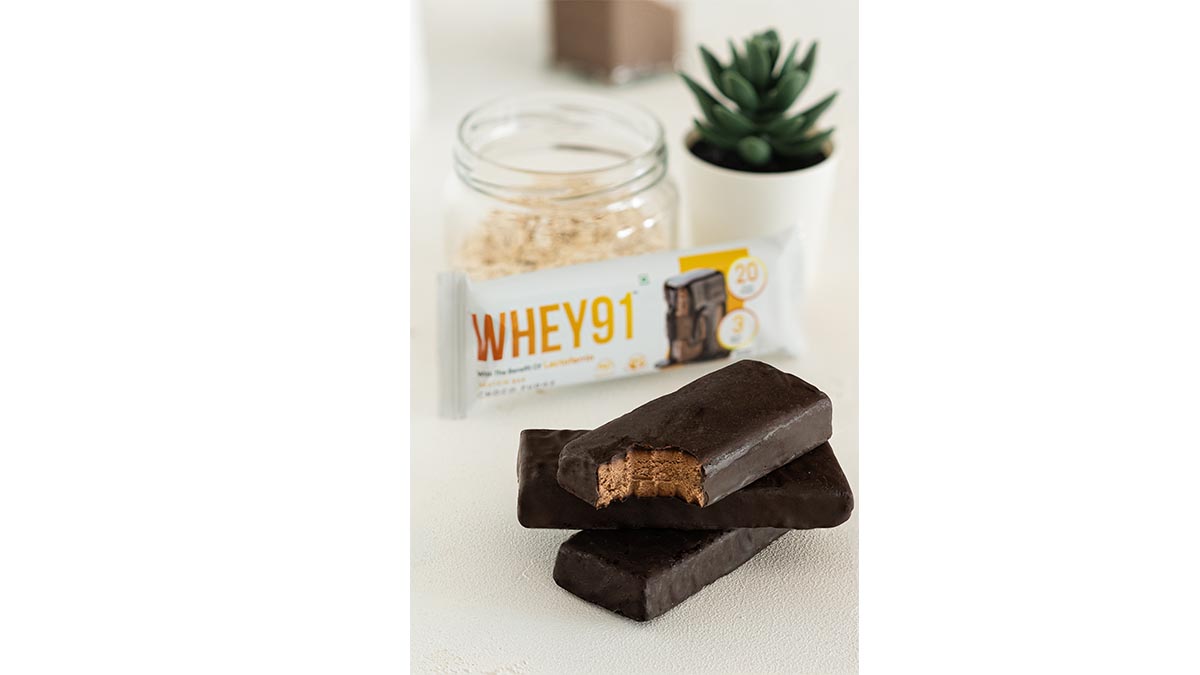 Experts say that a sedentary adult should consume 0.8 grams of protein per kilogram of body weight. Now, eating 12 eggs a day to meet your daily requirement isn't exactly palatable for everyone. And that's where protein bars can come to your rescue.
Protein bars are not only a great source of protein but also other essential superfoods. They can be incorporated into your diet, right through the day–as a workout snack, as a filler in between meals, and like a meal in itself. These on-the-go snacks can pack as much as 30g of protein per 100g.
Now, whey protein bars are preferable because of all the benefits we've listed of whey already, but also, whey protein bars have a better texture than other protein bars. They tend to have a smooth and silky texture and are easy to chew. And they're usually available in flavors that can fix your sweet tooth craving the healthy way. Think chocolate, dark chocolate, berry, coconut, peanut butter, caramel, nougat, black currant – delicious!
Read How To Choose The Right Protein Bar To Supercharge Your Health
TC46 Loves The Whey91 Choco Fudge Protein Bar
With 20g protein in a 60g bar, the Whey91 bar is the best in its category. It is 100% vegetarian, has no added preservatives or sugars, and is made using Lactoferrin, which is a lesser-known endogenous and multifunctional protein that helps build immunity. Lactoferrin is also antibacterial and anti-fungal and is also interestingly found in a new mother's first milk. It is the most dominant whey protein in human milk, but the most concentrated form of Lactoferrin depletes from the body with aging and due to diseases. Another significant source of Lactoferrin is actually cow's milk.
Other Benefits Of Lactoferrin:
Antibacterial
Anti-inflammatory
Promotes bone growth
Antiviral
Antifungal
Boosts natural immunity
Supports oral health
Supports skin health
US FDA, European Food Safety Authority and FSSAI approved
Now imagine having a fudge-flavored whey protein bar with high quantities of quality protein per serving, nourished with the goodness of Lactoferrin, packaged as a handy snack you can take with you on the go. This is why we love the Whey91 Choco Fudge Protein Bar.
It ticks all the boxes. Health: Check. Taste: Check. Protein: Check. Nourishment: Check.
5 Foods You Can Pair With The Whey 91 Choco Fudge Protein Bar To Take It From A Snack To A Complete Meal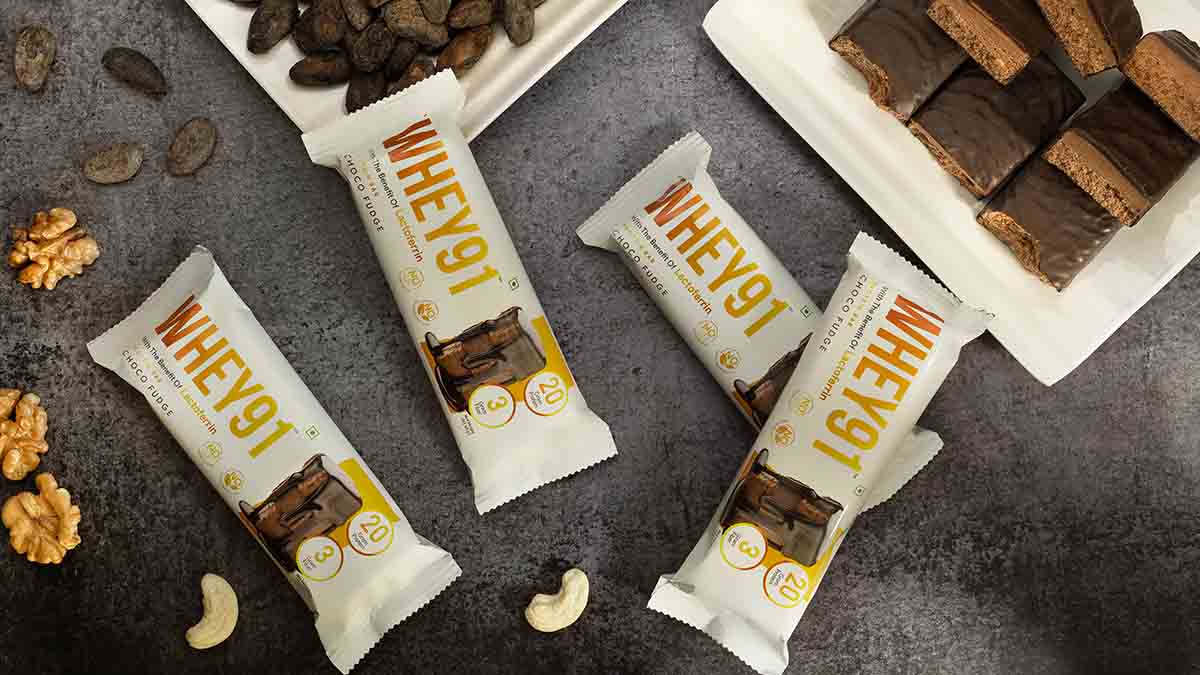 1. Protein Bar With A Fruit Smoothie
Smoothies made using fruits and vegetables have an array of essential vitamins, minerals, fiber, and antioxidants. When paired with a protein bar, the duo can prove to be a fulfilling meal and a great balance of good fiber and protein.
2. Protein Bar With Greek Yoghurt
Greek yogurt, in itself, is a great source of protein with 20g protein per 1 cup (224g) serving. It has been shown to be more filling than regular yogurt. Yogurt is also a great source of calcium and is packed with probiotics which are good for your gut health. Pair it with the Whey91 bar to supercharge your protein intake after a workout.
3. Protein Bar With Overnight Oats
Looking for a healthy way to start your day? This food pairing is a must on your list. Oats for breakfast are the new choice of kickstarting your day because they can be assembled the previous night and are so much more nutritious than regular cereal. You can add some fruits and nuts to your oats bowl and simply enjoy it with a whey protein bar for that burst of energy in the morning.
4. Protein Bar With A Side Of Toast
Whether you like avocado toast, peanut butter toast, or even eggs and toast, a great way to end your meal is with a whey protein bar that satiates your sweet tooth (like the Whey91 Choco Fudge bar). You get your dose of protein, and your taste buds are happy too.
5. Protein Bar With Apple & Peanut Butter
Apples and peanut butter are a great food combination already. Add a whey protein bar and you've tripled your nutrition! The fiber and carbs from the apple, the good fats from the peanut butter, and the protein from the bar help you get a good balance of macronutrients in one meal.
Click to buy the most nutritious and healthy protein bar by Whey91 today!