If you're here, you may already be on your way to embracing motherhood soon or are planning one actively. So, congrats and all the best to you while you're taking the first few steps towards a new life experience. As you prepare yourself to bring a new life into this world, you must take care to follow a well-balanced diet that not only provides essential nourishment to the baby but gives you much-needed strength throughout the pregnancy. Because, now, you're eating not just for yourself, but for your baby as well. 
The Channel 46 has collaborated with Dr Anjali Kumar, MBBS, MD & Former CEO at Just Diabetes, who advises you on the diet you should follow during your pregnancy.
6 Reasons Why Your Diet Should Be Different During Pregnancy
What you eat during pregnancy is the source of protein, calories, vitamins, minerals, and fluids for the developing foetus. So, your diet determines not just your health but that of your baby's as well. Here are different aspects of your baby that receive nutrition and nourishment through the diet that you follow during this time:
1. Development Of The Brain
Your baby's brain will gradually develop throughout your pregnancy and most specifically in your last trimester. This needs adequate intake of omega-3 fatty acids, protein, and other essential nutrients.
2. Development Of The Organs
How wonderful to imagine that all of your baby develops inside you! Right from the nervous system, brain, and the heart to lungs, liver, kidneys, and all the rest. And proper growth and development of these organs require calcium, vitamin D, among other nutrients, for its formation and for them to start functioning.
3. Mental Health
Mental health conditions are not always something that your baby can get diagnosed with only later in life. Your diet during pregnancy has an essential role to play in determining his/her behaviour. Studies have shown that high intake of unhealthy foods during pregnancy can cause behavioural problems and adversely affect his/her emotional faculties as well.
4. Weight At The Time Of Birth
If your diet does not meet the required daily calorie requirements, there are chances that your baby will be born with a low birth weight. It goes without saying that a low birth weight may be harmful for your baby's health. On the other hand, being born overweight also comes with its own set of challenges. Being too big during birth may lead to problems during delivery, raising the chances of a Caesarean section. Your baby's birth weight may also be high if you become overweight during your pregnancy.
5. Eating Habits
Studies show that babies are partial to foods that they were exposed to while they were in the womb. The food that you eat during pregnancy is the same food that serves as nutrition for your developing foetus too through the amniotic fluid. So, the newborn would be inclined towards eating foods that he/she had been introduced to before birth – foods whose taste and smell seems familiar from the days before he/she was born.
6. Health In The Long Run
Studies indicate that insufficient diet during pregnancy, especially in the first trimester, when the placenta and embryo develops rapidly, may increase the risk of chronic health conditions over the long term. These illnesses include diabetes, coronary heart conditions, stroke, and hypertension in the baby.
Not only your baby's health, your diet affects your health and wellbeing as well, as discussed earlier in the article. And without it, you will be more susceptible to health conditions like heartburn, fatigue, leg cramps, digestive problems, etc. The list does not end there. Poor diet during pregnancy can also raise the risk of serious medical conditions like anaemia and other iron deficiencies, preeclampsia, high blood pressure, etc. Without a well balanced diet, pre-term labour, gestational diabetes also may not be far away. That apart, you may also pay the price for a poor pregnancy diet through postpartum depression, which is the fallout of nutrition that did not comprise enough zinc, vitamin D, and selenium.
Read: 16 Lifestyle Tips To Control Stress-Induced Diabetes, By Dr Anjali Kumar
7 Superfoods To Include In Your Pregnancy Diet With Their Portion Sizes
1. Vegetables (1 Helping / Day)
Vegetables like spinach, sprouts, cabbage, cauliflower, bell pepper, squash, are rich in calcium, iron, and vitamin K – all of which are necessary when you are pregnant. Besides that, they are also high in fibre and nutrients, and low in calories and carbs. Broccoli is another vegetable that you can include in your diet because it contains magnesium, manganese, vitamin C, and fibre.
2. Fruits (2 Helpings / Day)
Fresh, seasonal fruits are a great way to treat your body to the goodness of vitamin A, vitamin C, vitamin E, vitamin K, and fibre. So, include papaya, mango, pineapple,grapefruit, apples, pears, strawberries, blueberries, raspberries, and blackberries. You can add fruits to your lunch or dinner or eat them as a snack between meals.
3. Yoghurt (1 Helping / Day)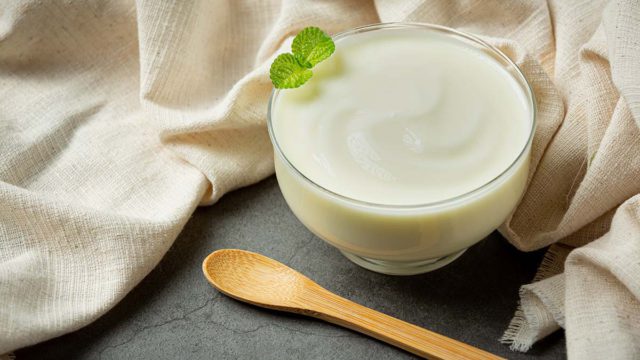 Yoghurts are a rich source of probiotics, vitamin D, protein, calcium, omega-3 fatty acids, and vitamin K2. It aids in digestion, apart from contributing to your overall health. What's more, it is an important source of iodine that prevents neurological disorders and birth defects in the developing foetus.
4. Nuts & Seeds (A Few Spoons / Day)
Seeds like chia seeds and flaxseeds are a necessary source of fibre and protein. They support your digestive tract and colon during pregnancy. They also contain a kind of omega-3 fatty acids that isn't found in fish. This benefits your hair, nails, and skin during pregnancy. Include a handful of nuts everyday, along with a tablespoon of chia seeds, and half a tablespoon of flaxseeds.
5. Lentils (1 Bowl / Day)
Dal or lentils are a rich source of folate, which is essential for development of the foetus. Research shows high consumption of folate during pregnancy reduces the risk of the foetus developing urinary tract and cardiovascular complications, cleft lip, and neural tube defects.
6. Beans (4-5 Portions / Week)
Kidney beans are replete with nutrients like iron, copper, zinc, and vitamin K. black beans are as important as kidney beans as they both are nutrient-dense and keep you feeling full for longer.
7. Grains (1 Portion / Day)
Brown rice, oats, barley and quinoa are complex carbs that are important during pregnancy. To top that, they are also rich in zinc, chromium, selenium, and vitamin B, which are vital for the baby's development.
Read: 8 Effective Foods To Improve Gut Health, By Dr Anjali Kumar
5 Supplements For A Wholesome Pregnancy Diet
Here are some pre-natal supplements that your doctor may prescribe you. Don't take them unless they have been recommended by a medical practitioner.
1. Iron
Iron has an important role to play in transferring oxygen to tissues. Pregnant women are at a comparatively higher risk of iron deficiency because of an increased demand of the nutrient in their body. You are not just meeting the orin requirement of your own body, but that of your foetus as well.
2. Calcium
Calcium is excellent for helping your baby develop strong bones. It also decreases the risk of pre-term labour, bone loss, high blood pressure, and low birth weight. To top that, calcium is also essential for the muscular, circulatory, and nervous systems to function smoothly. Your doctor may prescribe supplements that provide you with 1,000 milligrams of calcium per day.
3. Folate (Folic Acid)
Folate keeps neural tube defects at bay, along with serious abnormalities of the spinal cord and brain. Folate-enriched supplements generally contain 0.8 to 1 milligrams of folic acid. It should ideally start 3 months before pregnancy.
4. Vitamin D
Vitamin D supplements control the risk of preeclampsia, gestational diabetes, respiratory infections, impaitred skeletal development, and allergic diseases in the early years of your baby's life. It also reduces the risk of low birth weight. A safe dose of Vitamin D is usually considered to be between 2,000 and 4,000 IUs per day.
5. Probiotics
A low count of good bacteria in your gut can cause complications during pregnancy. And this is exactly what probiotics helps with. It maintains the right balance of microbiome in your gut, reducing the risk of health conditions like preeclampsia, vaginal infections, gestational diabetes, allergic diseases, and maternal and infant body weight.
Make diet one of your priorities during your pregnancy days for your wellbeing and to gift your baby the boon of good health over the long run. All the best!
Open up like never before and participate in conversations about beauty, entrepreneurship, mental health, menstrual & sexual health, and more. Desi women, join our community NOW!