Pongal festival also known as Thai Pongal is a four-day harvest festival. If you're wondering – Pongal is the festival of which state, let us enlighten you on the same. It is widely celebrated in Tamil Nadu, as well as in other parts of south India like Andhra Pradesh, Telangana, and Karnataka. The festival is typically celebrated in the Tamil month of Thai (January-February), which falls during the mid-winter season. Importance of Pongal for the Tamil community dates back to ancient times and is celebrated with great enthusiasm and fervour.
The significance of the Pongal festival or Thai Pongal can be traced back to ancient Hindu mythology. According to legend, Pongal festival or Thai Pongal was first celebrated by the Tamil god Lord Shiva to honour his son, Lord Murugan. Importance of Pongal is also closely associated with the sun god, Surya, and is seen as a way to thank the sun for its warmth and light, which are essential for the success of the harvest season.
Pongal festival food includes a variety of dishes one of which is Pongal itself, which is a savoury rice and lentil dish cooked with milk and sweetened with gur (jaggery) or sugar. Other popular dishes include Vadai and Appam. In addition to these, Pongal festival food serves a number of sweet treats like Payasam, a sweet dessert made from milk and jaggery, is a must-have at any Pongal feast. Other popular sweets include Murukku and Ladoo.
4 Days Of Pongal: Significance, Rituals, & Festive Delicacies
Each of the 4 days of Pongal have their own distinct rituals and traditions. Let's have a detailed look at the celebrations unique to each of these days.
Day 1: Bhogi Pongal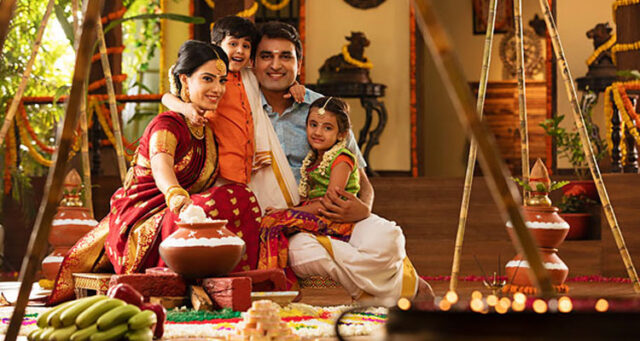 The first day of Pongal, known as Bhogi Pongal, is dedicated to Lord Indra, the god of rain and thunder. On this day, people clean and decorate their homes, and offer prayers to Lord Indra to seek his blessings for a bountiful harvest.
As part of the Bhogi Pongal celebration, people also make a bonfire, which is called the Bhogi Mantalu, and throw old clothes, household items, and other materials that are no longer useful into the fire as an offering to Lord Indra. This ritual is believed to signify the letting go of old habits and welcoming new beginnings.
In the evening, people gather around the bonfire and perform traditional folk dances, such as the Bhogi Kattu, which is a dance performed by young men carrying sticks.
Day 2: Surya Pongal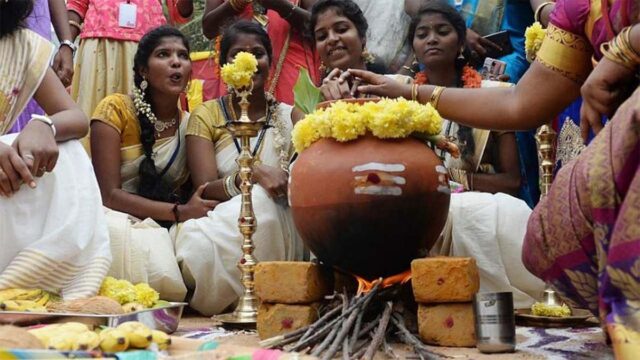 The second day of Pongal, known as Surya Pongal, is dedicated to the sun god, Surya. On this day, people offer prayers to Surya and thank him for his warmth and light, which are integral to the success of the harvest season.
As part of the Surya Pongal celebrations, people prepare a special dish called Pongal, which is made from rice, lentils, and milk, and is sweetened with jaggery or sugar. The dish is cooked in an earthen pot, which is placed outside in the sun, and is allowed to boil over as an offering to the sun god.
In the afternoon, people decorate their homes with kolams, which are intricate designs made using rice flour. Kolams are believed to bring good luck and prosperity to the household.
In the evening, people perform the Karagaattam, a traditional dance in which performers balance a pot on their head and dance to the rhythm of the music. The Karagaattam is a popular attraction during the Pongal celebration.
Day 3: Mattu Pongal
The third day of Pongal, known as Mattu Pongal, is dedicated to cows, which are considered sacred in Hinduism. On this day, people decorate their cows with colourful garlands and paints, and offer them special treats as a sign of gratitude for their role in the harvest season.
As part of the Mattu Pongal celebrations, people also perform the Jallikattu, a traditional bull-taming sport in which trained bulls are released into a large arena, and participants attempt to grab a flag that is tied to the bull's horns. Jallikattu is a controversial sport, and has been banned in some parts of India due to concerns about animal welfare.
In the evening, people gather for community feasts, called Pongal Vizha, where they enjoy a variety of traditional Tamil dishes, such as Vadai, Appam, and Payasam.
Day 4: Kaanum Pongal
The fourth and final day of Pongal, known as Kaanum Pongal, is a day of relaxation and socialising. On this day, people visit the homes of their friends and relatives, and exchange gifts and sweets. It is also a time for people to reflect on the past year and make resolutions for the new year.
As part of the Kaanum Pongal celebrations, people also visit temples and offer prayers to their ancestors. In the evening, people participate in cultural programs, such as plays, music performances, and traditional dance performances.
Pongal festival is a time of great celebration and joy for the Tamil community in India. It is a time to offer thanks for the blessings of the harvest season, and to pray for a successful and prosperous year ahead. The 4 days of Pongal celebrations are marked by a variety of rituals and traditions, including prayers, feasts, and cultural programs, which are enjoyed by everyone in the communities. Now that you know Pongal is the festival of which state, you may want to know whether the festival is celebrated in other states in India as well. Yes, it is. It is called Sankranti in Andhra Pradesh and Telangana, and Makara Sankranti in Karnataka and West Bengal. Here's wishing all of you on this auspicious occasion.
Open up like never before and participate in conversations about beauty, entrepreneurship, mental health, menstrual & sexual health, and more. Desi women, join our community NOW!