Cannes 2022 is in full swing, starting 17th May. And, needless to say, India is on seventh heaven with Deepika Padukone, who needs no introduction, being adjudged as a jury member this time. That makes her the first Cannes jury member from our country. No mean feat, isn't it? Until last year, she had been gracing the occasion as the face of L'Oreal, the brand that she endorses.
Although the actor believes that an Indian should have been chosen as a jury member of Cannes a long time back, the desi film industry has started enjoying the spotlight. It is finally being recognised for its contribution to world cinema. And that calls for celebration. Deepika has also been recently quoted as saying that the focus at the event should be on cinema rather than fashion. However, it is quite a challenge to overlook what the divas sashayed down the red carpet in. Especially the way Deepika carried herself right on the first day of the gala event.
Deepika Padukone At Cannes 2022
Deepika looked drop dead gorgeous in a Sabyasachi retro saree with broad stripes in black and gold. The shiny sequined ensemble felt like it was meant to be draped by no one else other than her. To keep up with the magnitude of the event, the star accessorised the saree with a golden headband in true retro style. An ornate pair of earrings caressed her shapely shoulders. With her hair tied up into a carefully careless bun, her shimmery bronze makeup and heavily kohled eyes complemented the colours of her saree perfectly. It gave her the impeccable sun-kissed look.
What You Can Do?
Experiment with georgette, chiffon, sheer – anything that meets your unique sensibilities and yet gives you the 70s retro look. If shimmery is not your style, don't worry, you can totally give that a miss and instead go for a monochrome saree or one with floral prints. As for the makeup and the accessories, align it to the time of the day and the occasion that you are going for. For a daytime event, it is often best to keep it to the minimum, especially with the scorching summer sun high up in the sky. So a classic no makeup look or minimal makeup look is the way to go. If you are going for an evening event, the sky's the limit to your experimentation when it comes to your ensemble and makeup. Whatever you choose to do, don't forget the winged eyeliner and kohl eye makeup that are typically reminiscent of 70s fashion.
Read Deepika Padukone Best Movies Of All Time
Other 3 Bollywood Divas Who Graced The Red Carpet In A Saree
1. Aishwarya Rai Bachchan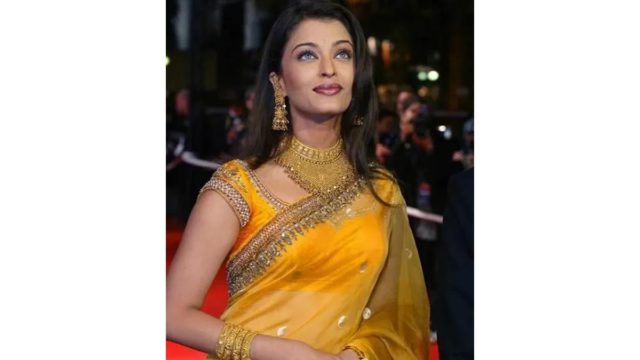 Aishwarya is the first actress to represent India at the French Riviera. And not starting this list with her will be quite unfair to her and the cinema-loving audience. This diva has taken the saree to the red carpet and rocked it every time she adorned it, each time surpassing her previous saree looks. Out of all the times Aishwarya put the saree on the global map, the mustard yellow Kanjeevaram saree that she appeared in on her very first time at Cannes definitely stands out from the rest. Designed by the ace designer Neeta Lulla, she had worn it with a matching blouse. The saree was accessorised with an elaborate gold neck piece and earrings, maroon lipstick and a bindi. She had chosen to keep her hair loose.
What You Can Do?
There are majorly two types of Indian traditional sarees that make it to the top two in terms of their ornate embroidery work. They are Kanjeevaram and Benarasi. If such heavy embroidery work is not your style, you can choose from a myriad of other traditional weaves like Paithani, Tussar, Dhakai/Jamdani, to name a few. Zero in on the colour as per the time of the day and the occasion – light colours for the day and dark hues for the evening. Accentuate the ensemble with gold or other traditional jewellery like jadau or even diamond. Yet again, your makeup will be decided by the time of the day, the occasion, and of course your unique style. Wear your hair loose or tie it up into a bun and complete the look with a bindi.
Read 5 Times Aishwarya Rai Made India Proud On The World Stage
2. Sonam Kapoor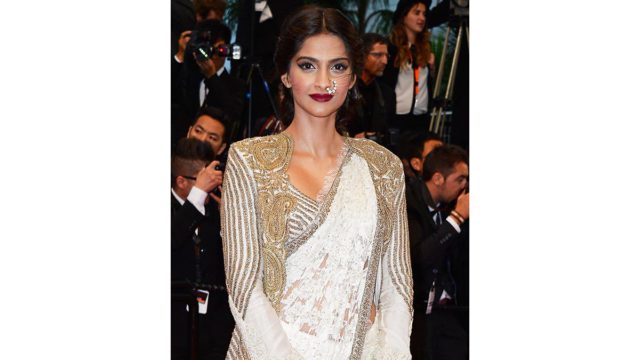 The list here would remain incomplete without a mention of Sonam Kapoor's saree looks at this international film festival, considering the fashionista that she is. With her evolved and experimental sense of fashion, she has transformed the traditional ensemble many a times, lending it a completely different look. From structured pallus to fusion drapes, she has explored it all. However, one of her saree looks at the Cannes that has left an everlasting impression is the Anamika Khanna fusion gold and white saree because of the way she styled it. She looked a class apart teaming the saree with a jacket and no accessory other than a nath. Bold dark lips and detailed eye makeup balanced the whiteness of her saree. She wore her hair in a careless low bun.
What You Can Do?
Pick up any saree of your choice and drape it in a manner that it looks beyond recognition. Make sure that the saree is of a light fabric that can be folded and pleated as per your whims. If you are opting for a white or light coloured saree, go all out with your makeup and vice versa. Create a fashion statement by giving all accessories a miss other than your nath. Or, if you want to be less experimental, go for a chunky neck piece and skip wearing earrings. And, ta-da, you'll be all set to be the talk of the town.
3. Kangana Ranaut
Like Deepika this year, Kangana had rocked the retro look in a Sabyasachi black hand-cut sequinned saree in 2018, matched with a sleeveless of the same colour. Ah, black again! There is something about this classy colour that B-town celebs cannot seem to have enough of. A pearl choker with an emerald green centrepiece, a black potli, and vintage-inspired hairdo made her look nothing short of a bombshell. With a dewy makeup and nude lips, she allowed her saree to do all the talking.
What You Can Do?
Choose a sequinned saree of the colour that makes your personality shine. If not a sequinned saree, don a monochrome saree of the hue of your choice and the event you are wearing it for. While the saree accentuates your curves, opt for a vintage hairstyle to carry off the retro theme. Keep your makeup minimal for a morning occasion and experiment with different looks, if it is an evening occasion. For jewellery, you can consider pearls, diamonds or gemstones that complement the colour of your saree. Pick up your potli, and go ahead and conquer the world!
Can you remember any other B-town celebs who rocked in a saree at the Cannes? List the names down in the comment section below.
Open up like never before and participate in conversations about beauty, entrepreneurship, mental health, menstrual & sexual health, and more. Desi women, join our community NOW!