So, what does your skincare kitty consist of? You're in your 20s and your skin still gives off a natural glow. We get that. But the reality is, like it or not, your skin will soon show subtle signs of ageing with those fine lines appearing out of nowhere. Sooner that you expect, sooner than you realise. However, the reality isn't so discouraging provided you start taking care of your skin, the largest organ of your body, while you're still in your 20s. Before you reach the stage when you can say, "Haye, mere jhuriyan aa gaye!", act in time, so you can postpone the onset of fine lines and wrinkles on your skin.
Here are 8 products that your daily skincare routine must include, to give your skin the TLC that it deserves.
1. Gentle Facial Cleanser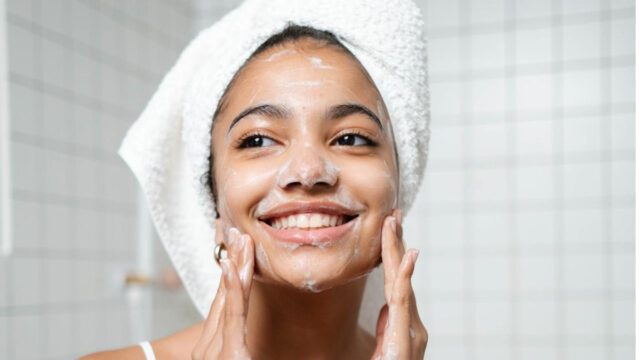 A face wash or cleaner is meant to be the first thing you use on your face after waking up in the morning and the first thing you put on your face for your PM skincare routine before bedtime. It is also an integral part of your skincare regimen while removing makeup, probably right after cleaning your face with an oil-based makeup remover. It cleanses the dirt, grime, sweat, and makeup off your face as well as the oil secretions (sebum) that is of no use for your skin health. So, do a thorough research and choose a facial cleanser or face wash that is best suited for your skin type, rather than one that catches your eye or is recommended by a friend.
2. Gentle Exfoliator
Are you aware of the difference between physical and chemical exfoliants? This you must know if you really want to take care of your skin. The primary difference between the two is that, while chemical exfoliants tend to be comparatively less harsh and take more time to show results on your skin, physical exfoliants bring immediate soothness to your skin, although they can be aggressive, especially for sensitive skin. Select a chemical exfoliant while you're still in you're 20s and your skin will thank you for it later.
Read: 11 Winter Skincare Tips For A Healthy-Looking Twacha
3. Gentle Retinol
Retinol is known for controlling visible signs of ageing like spots, fine lines, and wrinkles. It replenishes the deeper layers of your skin with collagen, which gets depleted with age. The end result? Smoother, glowing, and healthier-looking skin. But wrinkles don't really show in our 20s, not even in our late 20s. Point taken. However, you'd rather start the process of cell turnover early than after pressing a panic button while you're well into your 30s.
4. Vitamin C Serum
A skincare product enriched with Vitamin C, which is known for its antioxidant properties, will do your skin a lot of good, if you pack a few drops of it every day while in your 20s rather than later. Would love to flaunt a glowing skin for as long as you can? It's best that you start early and remember to include this vitamin in your daily skincare routine.
5. Hyaluronic Acid (HA)
Enriched with a substantial dose of moisturising properties, Hyaluronic Acid keeps your skin hydrated from deep within for hours on end. To top that, it is laden with anti-ageing properties that help you maintain a glowing, supple, and smooth skin and an even skin tone. Yet another skincare product you cannot do without starting in your 20s.
6. Moisturiser
If you needn't know already, there are two types of moisturisers based on their texture – one, heavy-duty creams that are best suited for dry skin, and second, water-based moisturisers that are meant for oily skin types. Now that you know what's best suited for your skin type, get your hands on the appropriate one and make sure never to let go of it for your AM and PM skincare routine.
Read: 5 DIY Body Oils For Your Wintercare Routine If You Have Khushk Twacha
7. Anti-Ageing Hand Cream
Huh! – did we just hear you say? We bet most of you had thought that your body moisturisers can double up as your hand cream as well. But you cannot be further away from the truth. That said, hand creams are there for a reason and it's time that you realise its importance and include it in your everyday skincare. The reason being, the texture of the skin of your hands is different from the rest of your body, the skin on your hands being softer and far more sensitive.
So, make a reliable anti-aging hand cream a go-to-product for keeping your hands hydrated throughout the day. Being small makes them handy, which means you can pack a tube of it in your bag and use it every time you wash your hands or feel like your hands need to be moisturised.
8. High Spectrum SPF Lip Balm
Notice that the emphasis isn't just on lip balm, but on one that comprises high spectrum SPF. This not only gives your pout the moisturisation it needs to look hydrated and plump, and devoid of flakiness, chaps, and cracks, but also protects it from getting tanned. Invest in a good one that will also keep wrinkles at bay. The versatile product that it is, you can get your hands on a tinted one, so that it can double up as a lipstick for you, especially during the day.
Open up like never before and participate in conversations about beauty, entrepreneurship, mental health, menstrual & sexual health, and more. Desi women, join our community NOW!