Most people can't imagine going a day without using soaps, face wash or face cleansers. But are these chemical-laden products really good for our skin? The past few years have seen a dramatic shift in preferences when it comes to beauty and skincare. Consumers are going back to our roots! More and more people are opting for safe and natural skin care products and remedies. And no other desi nuskha is more beneficial to your skin as good old ubtan! Ubtan is a traditional Ayurvedic body cleanser that is prepared from minerals, herbs, essential oils and other ingredients that can help you attain healthy, fresh and glowing skin. Use rose water on face overnight and see the results next day. You'll be surpirsed.
India & The History Of Ubtan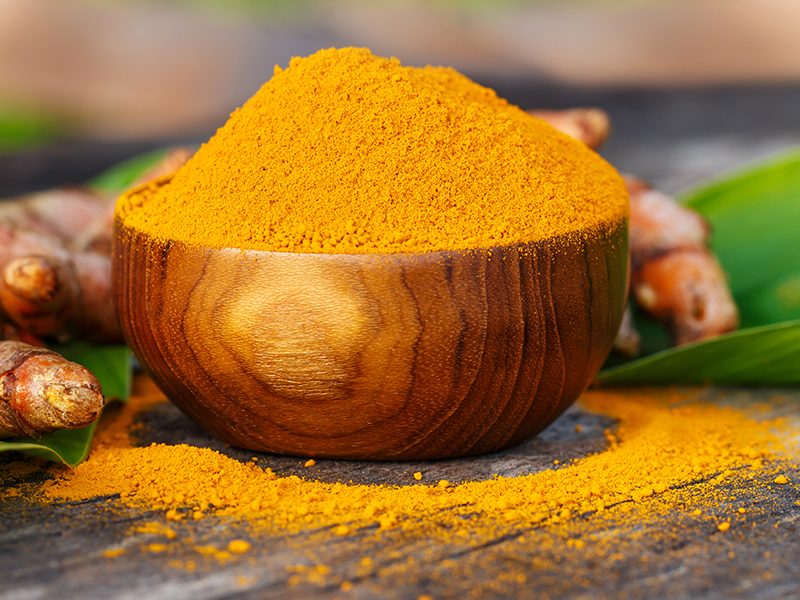 A concoction of pulses, spices, cereals and nuts, ubtan face wash deeply cleanses the skin, brightens the complexion and combats various common skin issues. This all-natural face pack is probably one of the oldest and purest forms of a cosmetic and has been passed down from one generation to another through centuries! According to Ayurveda, a person must make and apply ubtan in accordance to their dosha or the imbalances in the body that lead to skin damage. Back in the day, ubtan was considered an ideal cleansing agent, and those who use this remedy swear that it still is! Haldi ceremony, which is an important part of Indian weddings, is dedicated to this amazing remedy for skin and body detoxification. But do you know why ubtan is applied to the bride and groom before the wedding?
It is believed that exfoliating the body with this yellow paste prepares the bride and groom to get ready for a new life by detaching from the old one (through the removal of dead skin cells). Earlier, ubtan recipes usually consisted of coarsely grounded legumes. However, things change with time and now there is a different ubtan recipe for every skin type!
Benefits Of Ubtan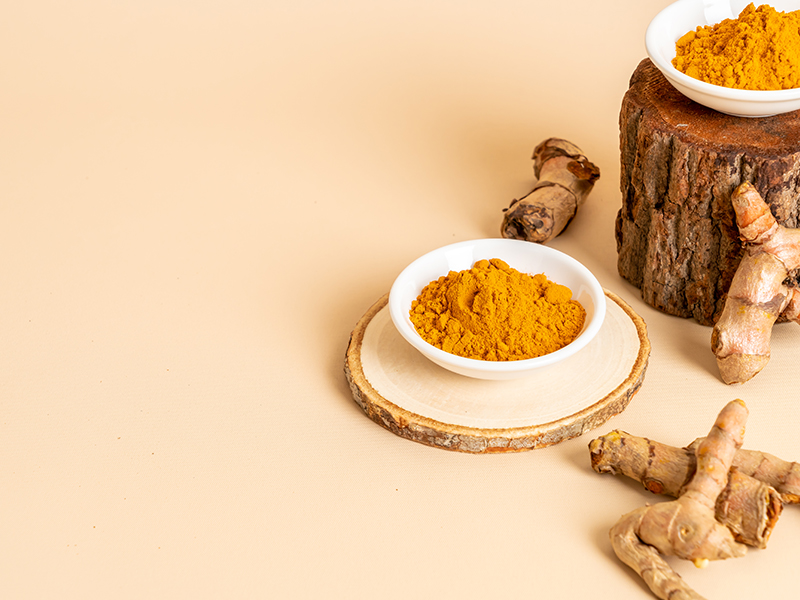 Ubtan is a magical remedy that can take care of all your skin problems. Here are a few ubtan benefits you must know about!
1. Provides Clear & Radiant Skin
Skin problems like pigmentation, uneven skin, acne scars, dark spots, etc can make your skin look dull. Ubtan is a one-stop solution for all your skin woes! All you have to do is choose the right ingredients. Ingredients like turmeric, gram flour and chickpea flour can help get rid of pigmentation. For better results, add in a small amount of lime juice as it acts like a bleaching agent. Sandalwood is believed to be effective in brightening the skin and improving complexion. Raw milk can also help lighten dark spots.
2. Helps Cleanse The Skin
No skincare routine is complete without deep skin cleansing! Bid adieu to expensive and (often) harmful chemical-based commercial products and switch to ubtan. There are several natural and safe ingredients that you can add to your ubtan recipe to get rid of dirt, grime, excess oil, impurities etc.
3. Gives You Younger Looking Skin
Several ubtan ingredients can potentially help you get youthful, healthy and radiant skin. Turmeric, an essential ubtan ingredient, can effectively reverse signs of ageing and restore your skin's moisture and radiance. It also aids in healing the skin from damage. Other ingredients like sandalwood powder are also effective in delaying signs of premature ageing.
4. Helps Remove Unwanted Facial Hair
Using methods like waxing or threading for removing facial hair is nothing short of excruciating. Ubtan provides a natural and safe method to get rid of facial hair. When used regularly, ubtan weakens the hair from the root and reduces its growth.
5. Helps You Get Rid Of Tan
That's right, ubtan can also help you get rid of skin tan! Several ingredients used in ubtan possess tan removal and coolant properties that can be effectively soothe and cool the skin as well as get rid of tan. Turmeric, lemon juice, oatmeal, almond and wheat flour are a few of the many ingredients you can add to your ubtan to remove tan.
6. Helps Prevent Acne
Many ingredients commonly used in ubtan recipes possess antibacterial, anti-inflammatory, antifungal and medicinal properties that can help combat acne and skin infections. Ubtan deeply cleanses the skin and unclogs pores, thus reducing the instances of acne breakouts.
5 DIY Ubtan Recipes You Must Try At Home
1. Ubtan For Daily Use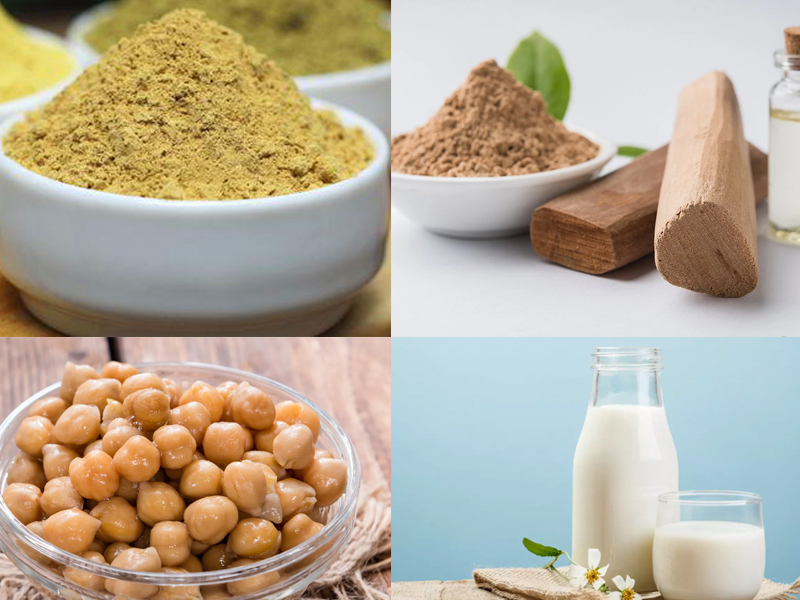 Here is an ubtan recipe that is suitable to be used on a daily basis! While sandalwood possesses astringent, antifungal and antibacterial properties, chickpea is loaded with nutrients that'll give you a healthy complexion and a natural glow. Raw milk acts as a toner, moisturiser, cleanser, and an anti-tanning and anti-acne agent. Just a little haldi to the recipe for that radiant glow, and your ubtan is ready! You can use this ubtan face wash every day! Use it at least 3 times a week for best results.
You Will Need:
1 tablespoon sandalwood (chandan) powder
½ tablespoon turmeric powder (haldi)
2 tablespoons of chickpea powder (chane ka atta)
2 tablespoons of raw milk
Method:
Put turmeric, sandalwood, and chickpea powder in a bowl and mix.
Add milk and mix well. Make sure the paste is not too lumpy or runny.
Use an applicator to apply the ubtan to your skin.
Let it sit for 15-20 minutes until it has dried.
Wash the mask off with lukewarm water.
2. Ubtan Recipe For Acne Prone Skin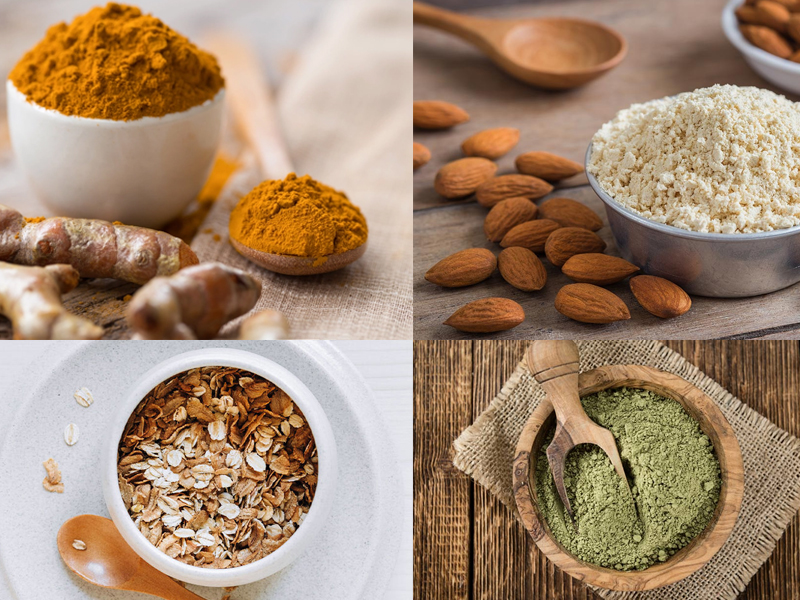 This recipe comes with ubtan ingredients like neem, fennel, oatmeal and gram flour and works like a charm for acne-prone skin. Let's find out why! Packed with antibacterial properties, neem effectively reduces breakouts and acne marks. Fennel deeply cleanses the skin while gram flour helps fight infections, control excess sebum production and soothe inflamed skin. The recipe also contains almonds, which gently exfoliates your skin, reduces acne and replenishes lost nutrients. Oatmeal offers anti-inflammatory, antioxidant, moisturising and healing benefits and works well for sensitive skin. The recipe also contains turmeric, which comes packed with anti-inflammatory and antiseptic properties. If you have dry skin, you may add milk instead of rose water or water.
You Will Need:
Almond powder (take 8-9 almonds, soak them overnight, remove the peels and ground)
½ cup oatmeal
1 cup gram flour (besan)
A pinch of turmeric powder (haldi)
½ tablespoon of fennel powder (saunf)
1 tablespoon of neem powder
Water/rosewater/milk
Method:
Put all the ingredients together in a bowl.
Add water to make a paste. You may also add rosewater instead.
Mix well to make a thick paste.
Apply this homemade ubtan all over your body.
Let it sit until it's dry.
Gently scrub and remove the paste from your skin.
Rinse with water.
Another acne fighting face mask would be a turmeric (haldi) and dahi face pack. Combining them into a smooth paste and applying on your face helps fight acne and acne marks. Here is a video on how to make the face pack.
3. Ubtan For Dry Skin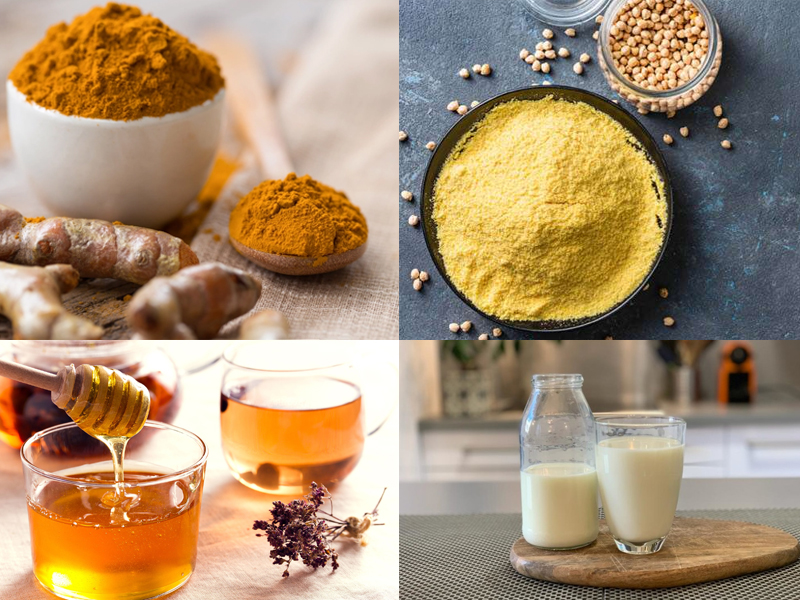 This ubtan face pack contains gram flour, rose water, lemon juice, sandalwood powder and honey. Gram flour works well to resolve many skin issues including tanning, pigmentation, oiliness, pimples, acne scars, facial hairs and more. It is also used to improve dry skin condition. Raw milk or milk cream can be used as a mild exfoliating agent, hydrating agent, cleanser and toner for dry skin. Lemon juice is loaded with vitamin C and can be used for reducing pigmentation, dark spots, skin damage and fighting signs of premature ageing. Rosewater helps by maintaining the skin's pH balance and refining the skin pores without causing dryness. Mix it up with other ingredients and it can keep your skin feeling hydrated for longer as well as improves its texture.
You Will Need:
3 tablespoons of gram flour (besan)
2 teaspoons of lemon juice
1 tablespoon of sandalwood powder (chandan)
1 tablespoon of milk or milk cream (malai)
1 tablespoon of honey
A few drops of rosewater
Method:
Put all the dry ingredients in a bowl.
Add the rose water.
Mix well to form a thick paste.
Apply the paste to your face and body.
Gently scrub it off when dry.
Wash with lukewarm water.
4. Ubtan For Oily Skin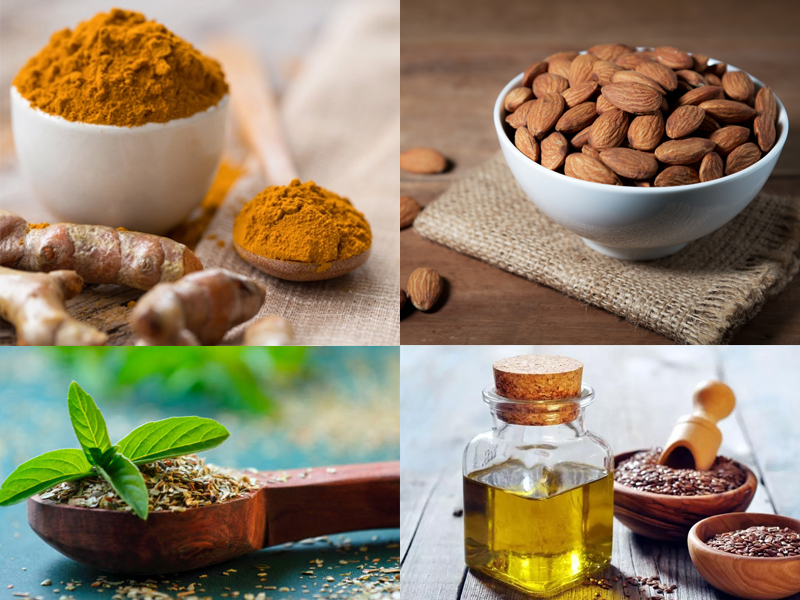 This ubtan recipe contains tulsi, sesame oil, chickpea powder, almond, and sandalwood and is perfect for oily skin. Tulsi comes with medicinal properties and helps remove dirt, impurities, grime, and excess oil from the skin. Sesame oil has antimicrobial, antioxidant and anti-inflammatory benefits, and can help reduce pimples, acne, rashes, dryness, redness, and signs of premature ageing. Unlike most oils, it is suitable for oily or acne-prone skin. Ingredients like chickpea powder and sandalwood powder help thoroughly cleanse the skin while fresh milk keeps it moisturised and hydrated. For best results, use this ubtan face pack twice a week.
You Will Need:
6-7 almonds
Fresh milk or milk cream (malai)
2 tablespoons of sandalwood powder (chandan)
3 tablespoons of chickpea powder (chane ka atta)
1 tablespoon of tulsi powder
½ tablespoon turmeric powder (haldi)
1 tablespoon of sesame oil
Method:
Soak the almonds in fresh milk or cream overnight. Take just enough milk to cover the almonds.
The next morning, peel off the skin from the almonds.
Now grind the almonds, milk/milk cream, tulsi powder and sesame oil together to make a paste.
Apply this paste to your face. Let it sit for 10-15 minutes.
Wash your face with lukewarm water.
5. Ubtan For Glowing Skin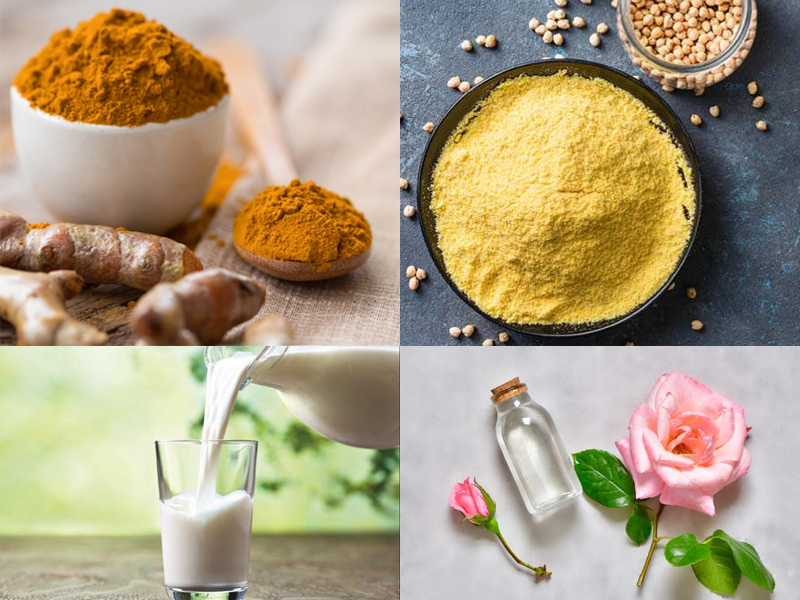 If you want to keep it simple, try out this traditional besan ubtan recipe that works well for most skin types. It contains turmeric that comes with healing properties and antiseptic benefits. It can also help clear out pigmentation and improve complexion. If you are looking for a natural way to get smooth and radiant skin, sandalwood is your best bet. The hydrating properties of raw milk, the astringent properties of rose water and the cleansing properties of gram flour make this ubtan face wash a complete skincare recipe! You can use this ubtan two times a week for healthy and glowing skin! It can be applied to the face, neck or whole body. Alternatively, you can use masoor dal ubtan for healthy and glowing skin.
You Will Need:
Gram flour (besan)
Turmeric powder (haldi)
Milk
Rosewater
Sandalwood powder (chandan)
Method:
Put all the ingredients in a mixing bowl.
Mix well to form a thick paste.
Apply the paste and leave it on for a few minutes.
Once it has dried, wash off the paste using lukewarm water.
If you are looking for another face mask for glowing skin, this 2 ingredient mask will be your next favourite. Get glowing skin with the goodness of haldi and ghee. Check out this video to know more.
Possible Side Effects Of Ubtan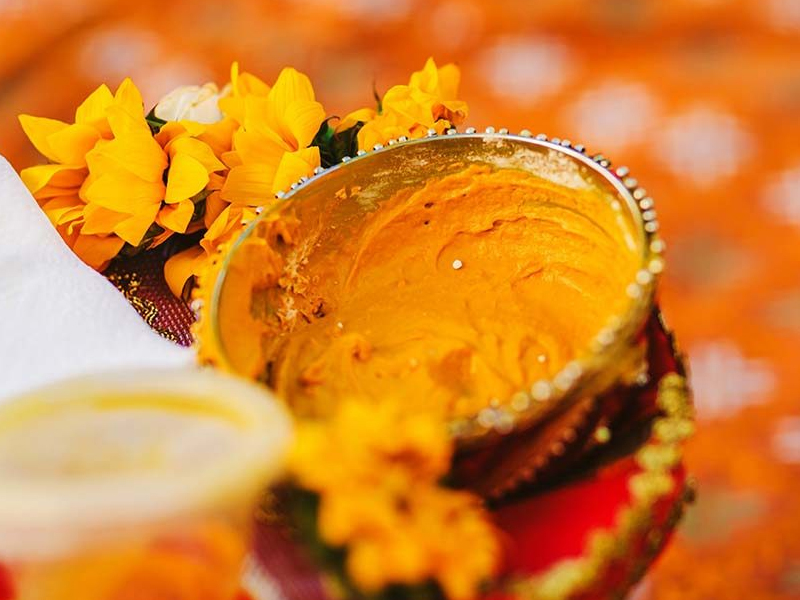 Since it is made from natural ingredients, ubtan usually does not have any side effects. Here are a few things you need to take care of while including ubtan in your skincare routine.
It is possible that a certain ingredient may not suit your skin type. For instance, honey-based ubtan are not the best option for people with oily skin.
Tulsi powder and sesame oil may not suit every type of skin.
Make sure you are not allergic to any ingredient you are about to put in your ubtan. Look out for symptoms like rashes, bumps, itching and redness.
A patch test is highly recommended for people with sensitive skin. Avoid using ubtan on kids below 10 since they have delicate skin.
It is also recommended to avoid using ubtan on active acne as it may end up irritating the skin and making the condition worse.
Make sure to carry out a patch test before applying ubtan to your face or body.
Top Ubtan Product Recommendations
Skincare takes precedence and if ubtan is not for you, use organic, natural products from brands you can trust. Buy reliable skincare at the Red Dot Shop! No time to gather ingredients and make your own ubtan? Here are 4 ready-made ubtan powder you can use for healthy skin!
1. Kama Ayurveda Ubtan Soap-Free Body Cleanser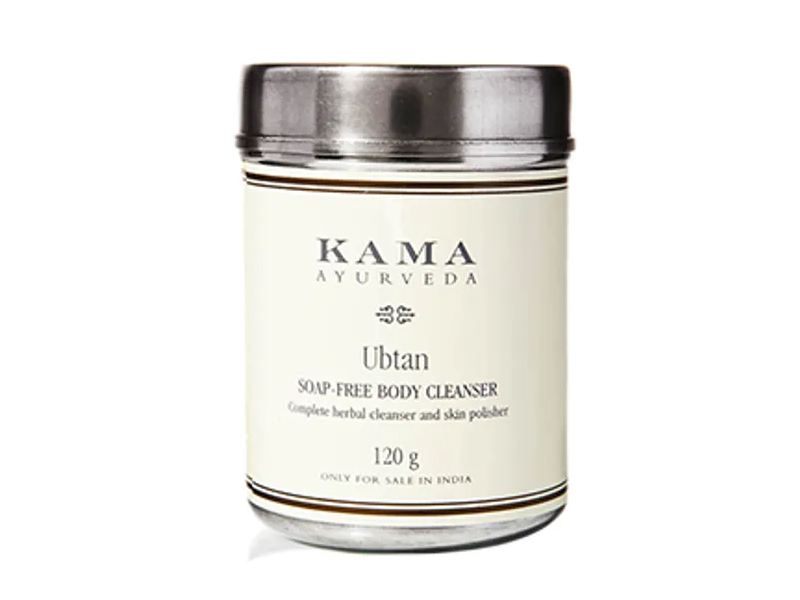 Packed with the power of natural nutrients and herbs, Kama Ayurveda Ubtan can be used on a regular basis for fresh and healthy skin. The recipe contains green gram, oatmeal, turmeric, neem and funnel. All these ingredients work together to make your skin noticeably smoother and radiant. This ubtan for the face gently cleanses and exfoliates the skin without causing dryness. Benefits include even skin tone, soft and supple skin and reduced appearance of cellulite. It can be used for oily and sensitive skin types.
2. Plump Skin & Hair Food Bridal Ubtan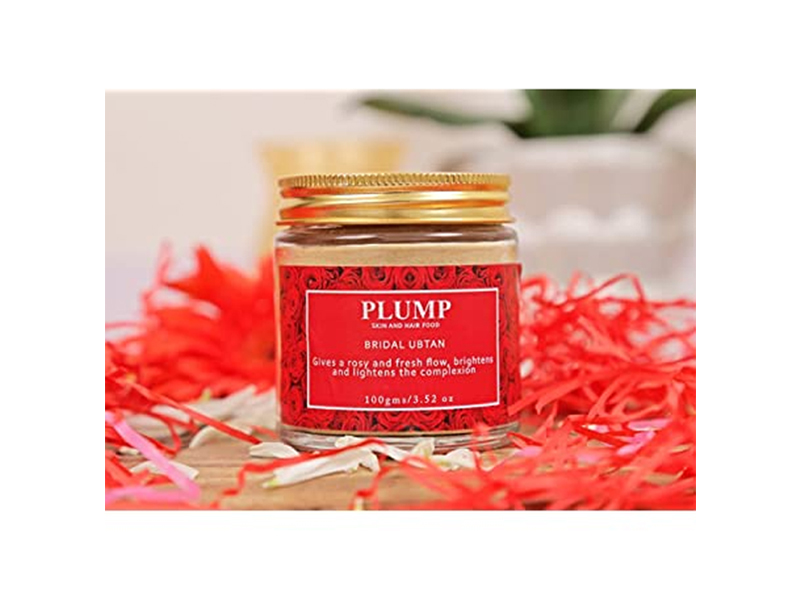 An ideal choice for special occasions, this all natural ubtan by Plump comes with antioxidants. It replenishes and repairs the skin and gives you a healthy skin and natural glow! It is perfect for sun-damaged skin and contains no additives or fillers.
3. Aloe Veda Turmeric Facial Ubtan Pack Clarifying & Deep Pore Cleansing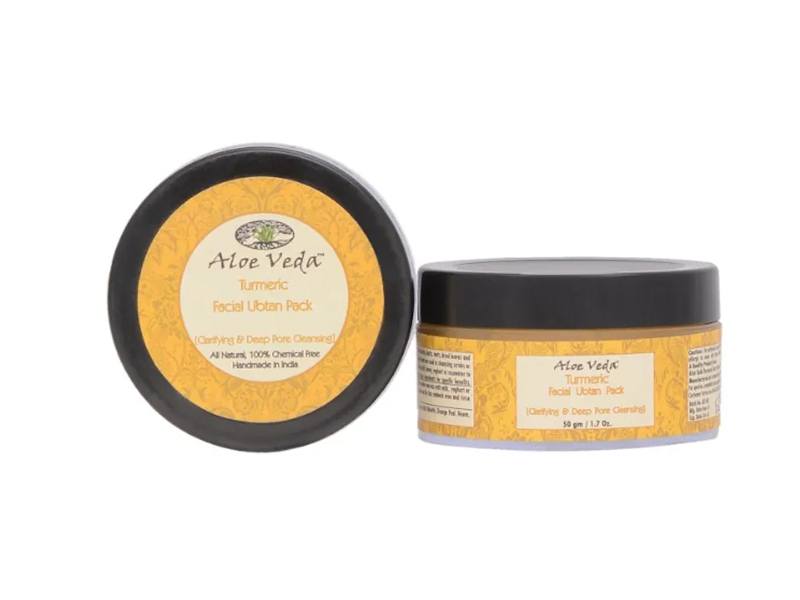 This amazing ubtan by Aloe Veda packs several powerful natural ingredients such as multani mitti, rose powder, anantmul, orange oil, rosehip oil, neem powder and mulethi. It lives up to its name and gives your skin a deep cleanse after every use.
It suits all skin types and is free from chemicals. Customise your ubtan recipe by adding milk, rosewater, honey or yoghurt and enjoy a fresh and glowing skin.
4. Forest Essentials Facial Ubtan Multani Mitti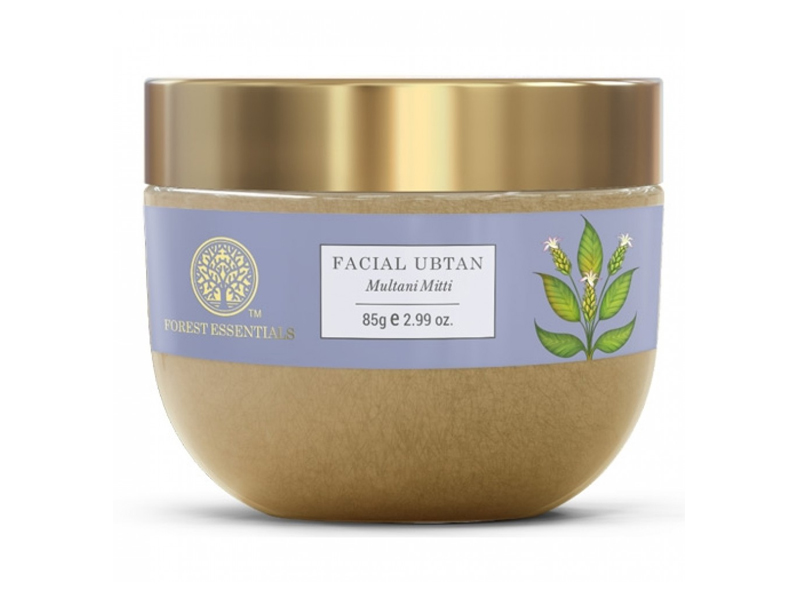 This gentle exfoliating treatment contains neem, turmeric, multani mitti (fuller's earth) and fenugreek. It purifies and cleanses the skin, helps clarify acne, reduces blemishes, reduces pigmentation, tightens skin pores, removes tans and improves skin texture. This product is a great option for acne prone skin. The best part is, this ubtan by Forest Essentials is free from petrochemicals, chemicals, and parabens.
When it comes to skincare, nothing beats the effectiveness of ubtan. No matter what type of skin you have, there is an ubtan for face recipe that will meet your requirements perfectly. Since there are no side effects of using this au natural remedy, you can use it on a regular basis. If you want to avoid the hassle of preparing your own ubtan, there are several ready-made ubtan powders available in the market for you to choose from. Give your skin the love and pampering it derives with this tried and tested Ayurvedic remedy!
FAQs – Frequently Asked Questions
Q. Can ubtan remove facial hair permanently?
A. Ubtan acts as a gentle scrubbing and exfoliating agent that thoroughly cleanses your skin of dirt and impurities and can even help in removing facial hair. Add ingredients like turmeric, gram flour and tea tree oil to your ubtan. If you start using it on a regular basis, ubtan may noticeably slow down the hair growth. It may eventually stop the hair growth permanently.
Q. What should I apply after ubtan?
A. Since ubtan acts as an exfoliating agent, it is vital to moisturise your skin once you have removed the ubtan. Make sure you don't apply soap or face wash after using this remedy. Simply scrub off the ubtan, wash your face with water and follow with a moisturiser. Using a moisturiser post applying ubtan becomes more important if you have dry skin.