Cleansing is hardly the most glamorous step in a skincare routine. Yet, in many ways, it's the most important. Whether your skincare regimen consists of a basic wash, tone and moisturise 3-step routine or it is a long-drawn 10-step ritual, starting with a fresh, clean face is always step 1.
Now, if you just look at the ingredients list on the back of your favourite face wash, you might find some pretty impossible to pronounce ones. Make the switch to a natural face wash that boasts of a simpler formula and naturally occurring ingredients. From plant-based ones to vegan options, there's enough and more for every skin type and skin concern.
It is hardly surprising that the best face wash has zero chemicals and harmful ingredients. While the choice for your favourite face wash may depend on factors such as skin type, issues and goals, a natural face wash that suits both your skin and your budget shouldn't be so hard to find—not with our list, at least!
5 Natural Face Wash Options Suited To The Tropical Climate In India
Whether you are on the hunt for the best face wash for dry skin or the perfect skin cleansers, this list has you covered. Here is TC46's top 5 list of some of the best face washes for women that are natural (plant-based) and budget-friendly.
1. Plant Powered Ultra-Rich Face Wash – Mother Sparsh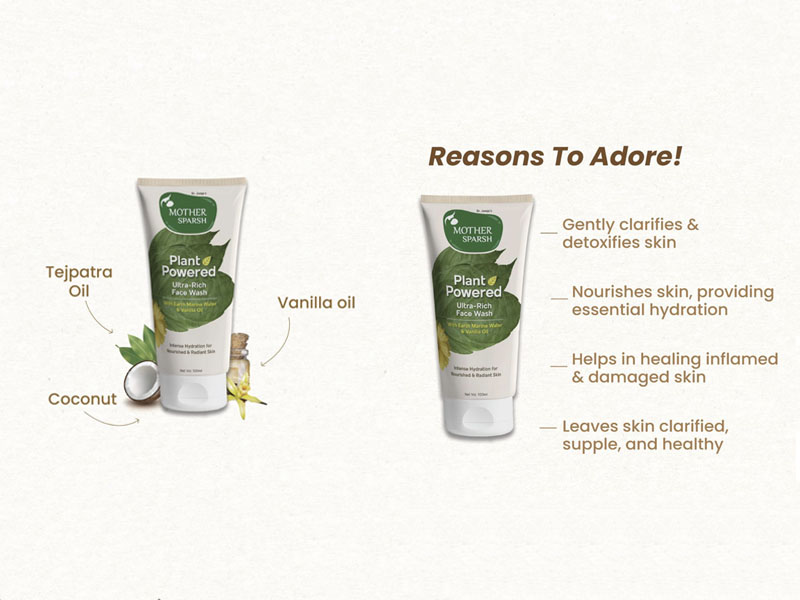 Re-mineralize your skin with the vitamin-rich blend of Earth Marine Water and the aromatic essence of vanilla oil. Mother Sparsh has a variety of natural products, but the plant-powered ultra-rich face wash tops the list. This face wash is fortified with unique components like Earth Marine Water, vanilla oil, and tejpatra oil that aids to provide nutrient-rich balanced hydration to the skin. Environmental stressors and factors like the current pandemic anxiety can make the skin appear aged and dull. Adding the Mother Sparsh Plant Powered Ultra-Rich Face Wash into your skincare routine can help give you younger, fresher looking skin. With every rinse, Mother Sparsh ensures that your skin receives the essential hydration and nourishment which imparts youthful radiance, making it a must-have for 2021.
TC46 Loves: The Mother Sparsh Plant Powered Ultra-Rich Face Wash is an all-natural product that provides balanced hydration, remineralises and nourishes, and is suitable for all skin types. It expedites the skin renewal process and helps accelerate the skin-cell turnover process, leaving you with a radiant and illuminated appearance. The face wash fights free radicals that attack healthy skin cells so that you can prevent the appearance of ageing. The face wash is a great way to hydrate your pores while stripping away impurities and excess oil without drying out the skin. Basically, the hydration based skin cleanser helps the skin retain essential moisture. The Mother Sparsh face wash lands on the prime slot of the best facial cleanser list for a variety of reasons; its ingredients are what make it a great choice.
Price: Rs 349
2. Rose Jasmine Face Cleanser – Kama Ayurveda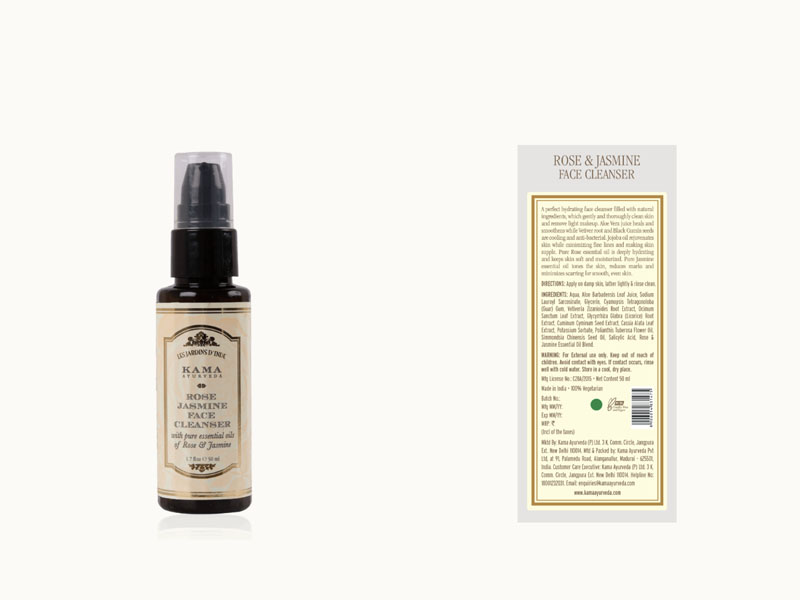 The best cleanser should be mild on the skin and tough on skin issues. The Kama Ayurveda Rose Jasmine Face Cleanser is a gentle foaming cleanser with a rich blend of Ayurvedic ingredients. It effectively cleans and lifts away makeup and impurities. Often seen on the 'best facial cleansers' list, it smells of rose and jasmine. The salicylic acid helps control breakouts while making the skin feel fresh and nice.
TC46 Loves: The aloe vera leaf juice heals and smoothes skin while antibacterial vetiver root and black cumin seeds protect from pollutants. It also contains a deep conditioning ingredient—jojoba seed oil. This softens and rejuvenates skin, minimizes fine lines and promotes skin suppleness. The pure essential oil of rose has excellent emollient and hydrating properties keeping the skin soft, young and moisturized. The pure essential oil of jasmine is an effective toner and helps reduce skin marks and scarring with regular usage.
Price: Rs 450
3. Vitamin C-Glow Natural Face Wash – Bella Vita Organic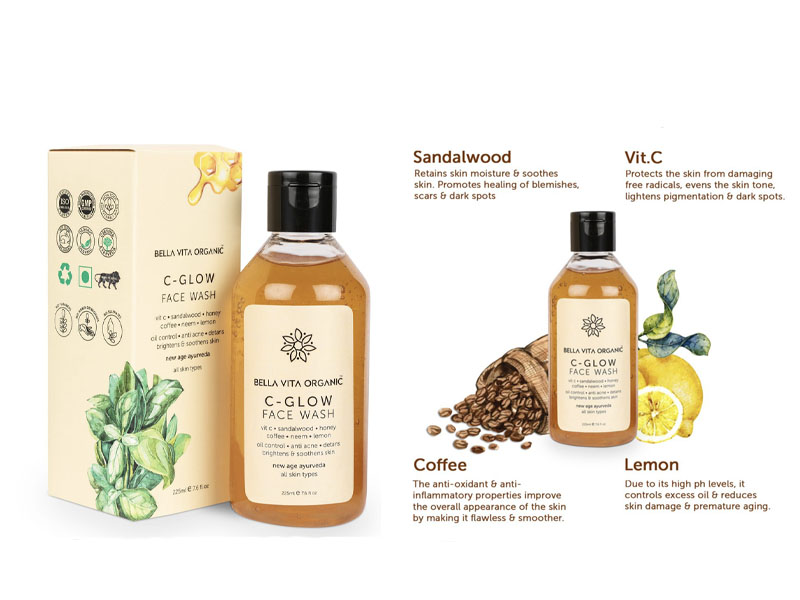 A great face cleanser or face wash is the first step to glowing skin. If you're looking for radiance, try the Vitamin C-Glow Natural Face Wash by Bella Vita Organic. It is a blend of natural and ayurvedic ingredients that help even out your skin tone and reduce the appearance of dull, dark patches. It controls excess oil secretion, de-tans, and brightens your face, making it appear smooth.
TC46 Loves: Made with wholesome natural ingredients like sandalwood, coffee, lemon and honey, this Ayurvedic skin cleanser is in the running for the best face wash for all the right reasons. The vitamin-enriched face wash solves major face concerns. Vitamin C helps to reduce the stress caused on the skin by pollution, UV rays, or smoking and it boosts collagen production in your skin that makes it glow and look younger. Sandalwood, well known for its radiance-boosting qualities, reduces any damage caused by sun-tanning or pigmentation. Lemon is antibacterial and antifungal, making it great at combatting acne. Combined with honey, it also reduces blackheads. Honey fades scars and marks and spots and is used mostly to reduce blemishes and acne scars. Neem is an ayurvedic herb that helps in making your skin soft and supple.
Price: Rs 299
4. Herbal Face Wash – Khadi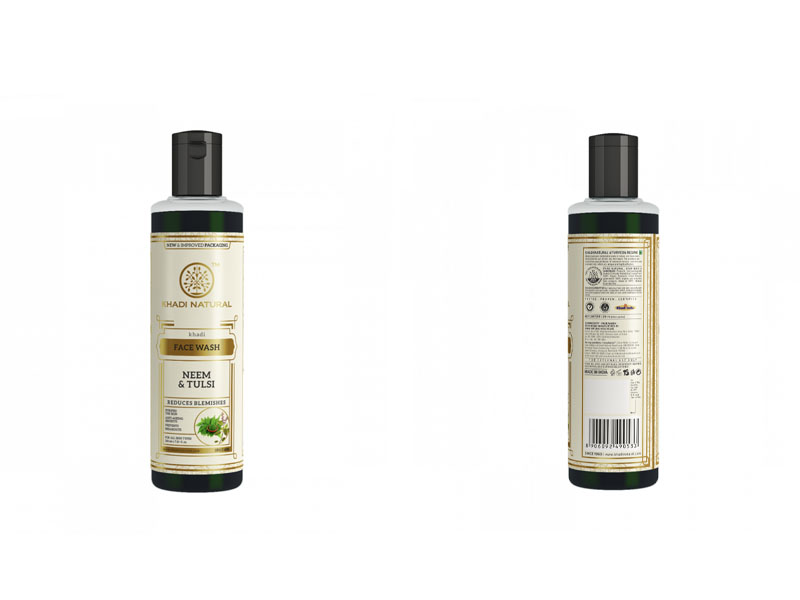 Most women dread how dry their skin can get after using a face cleanser. With the Khadi Herbal Face Wash, dry skin is no longer an issue. It gives you clear and clean skin by removing the dirt from your pores without sapping the natural moisture barrier of your skin. It is perfectly suitable for sensitive skin and it's made of all-natural ingredients. The cleanser has a mild and refreshing aroma and it is paraben-free. Perfect after a long day of dirt and pollution, this natural face wash removes all traces of oil and maintains balance throughout the day.
TC46 Loves: A great face wash for dry skin, sensitive skin, and oily skin, it has aloe vera extract that helps boost blood flow, kills harmful bacteria, and reduces the appearance of acne and redness. Ingredients like rosewater extract improve your complexion, the wheat germ oil helps in building collagen, and the tea tree oil prevents and reduces acne scars.
Price: Rs 185
5. Refreshing Face Wash – Arata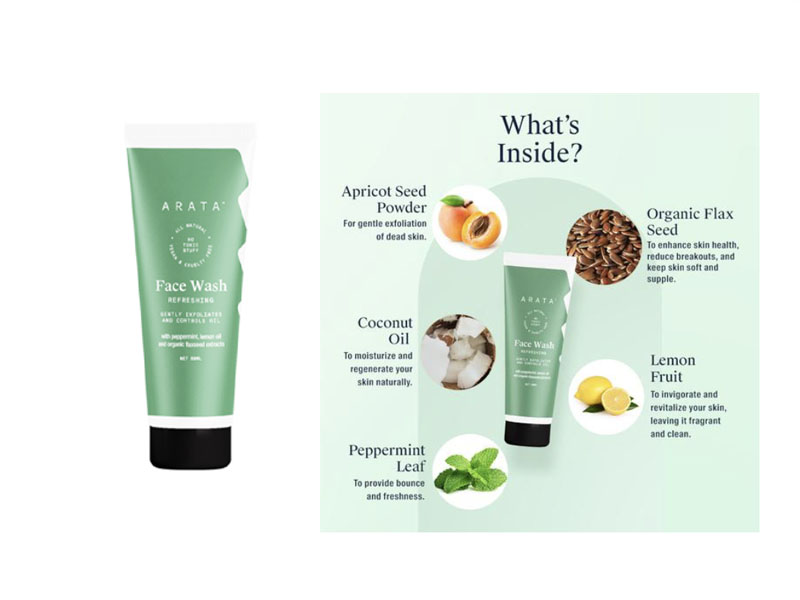 This is a refreshing face cleanser that offers mild exfoliation and gently controls oil build-up. Created with peppermint oil, lemon oil, organic flax seed extract, and apricot seeds, the balancing blend gives you radiant, supple skin while also removing excess oil. This face wash has cooling properties that soothe irritation and inflammation. It is suitable for all skin types but is especially great for those with oily skin, and those who live in polluted environments and require a deep cleansing experience.
TC46 Loves: Arata is a 100% nature-derived wellness brand that creates plant-based, vegan products with soothing, toxin-free ingredients that feel fantastic on your hair and skin. The Arata Refreshing Face Wash is made with flax seeds, coconut oil, apricot, peppermint oil, lemon oil, beetroot extract and more such wonderful, natural ingredients.
Price: Rs 299
The market is flooded with skincare products and an endless carousel of face cleansers. But while cute packaging and fancy words are eye-catching, it's best to choose all-natural, plant-based skincare products, especially when it comes to your face wash. And the reason these 5 products make it to our list is obvious, we can't help but pick a favourite. Mother Sparsh takes the cake with its infusion of Earth marine water, astringent properties and for being the perfect fit for any and all in terms of budget and effectiveness!