Ghee for your twacha, ghee for chapped lips, and ghee for your luscious zulfein. And then, of course, ghee for all round health. The health benefits of this ever-ready kitchen ingredient are immense – both inside and outside.
Know more about its benefits as a skin moisturiser, especially during winters, and make the most of it with the 5 DIYs that we will discuss later in the article.
5 Benefits Of Ghee For Your Skin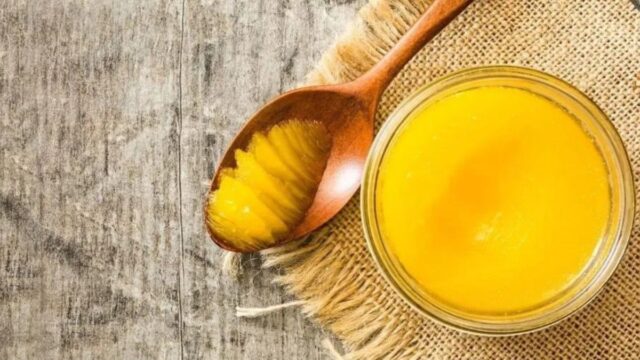 1. Hydrates The Skin
Ghee is enriched with vitamin A and fatty acids, both of which are natural moisturisers. They work wonders in keeping your skin hydrated for a long time, even during winters.
2. Provides Necessary Nourishment
Ghee comprises antioxidants and fatty acids, which may be beneficial for neutralising free radicals and keeping the skin nourished. It enables nutritional ingredients to permeate through the skin and ensures the absorption of herbals concentrates into the deeper layers of your skin. This removes dullness, which becomes evident through the natural glow on your skin.
3. Aids In Pigmentation & Brightening
As mentioned above, ghee imparts glow and brightness to the skin, which in turn, may activate collagen production. Apart from that, antioxidants also prevent and control damage from oxidative stress.
4. Improves Skin Elasticity
Ghee, when applied on the skin, permeates into the tissues, which strengthens collagen and ensures elasticity.
5. Eliminates Cracks On The Lips
Ghee contains phospholipids that is a natural remedy for cracked lips. It provides your pout with the hydration that it requires to prevent dryness, itchiness, redness, and scaliness.
DIY Ghee Masks For Well Hydrated Skin During Winters
1. Ghee & Besan (Gram Flour)
Not just an exfoliator, the combination of ghee and besan is great as a moisturiser as well. They remove all the dead skin cells, leaving your skin feeling and looking thoroughly cleaned, while at the same time, providing it with the hydration that it needs.
Ingredients
2 tsp of ghee
1 tsp besan
How To Use
Combine the two ingredients together in a bowl to get an even mix.
Apply it liberally on your face and leave it on for 20 minutes.
Wash it off with water.
Read: Anti-Ageing Ghee Face Masks To Treat Fine Lines & Wrinkles
2. Ghee, Haldi (Turmeric), & Neem (Basil)
Turmeric has antibacterial properties that contribute to skin nourishment and moisturisation. At the same time, it also ensures a smooth, supple, and clear skin. Neem protects your skin against the visible signs of ageing.
Ingredients
1 tsp neem powder
½ tsp pure haldi
1 tsp ghee
How To Use
Mix all the 3 ingredients together to make a smooth paste.
Through cleanse your skin before applying the above mix.
Leave it to dry for 15 minutes and then wash off with water.
3. Ghee & Shahad (Honey)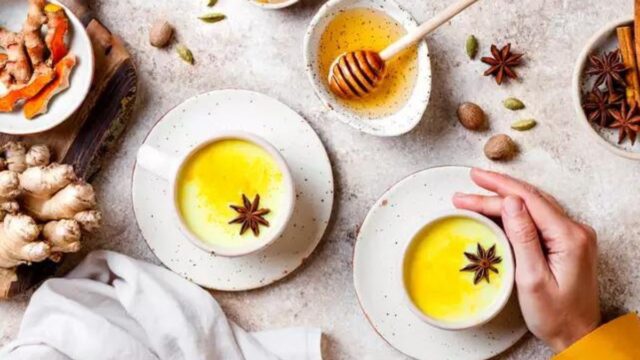 Honey is a humectant and, hence, known for its deep moisturisation properties. Mixing ti with ghee enhances its hydration properties, keeping dry and dull skin at bay
Ingredients
How To Use
Mix both the ingredients together.
Massage on your face for 20 minutes.
Wash off with warm water.
Read: 10 DIYs Using Ghee For Chapped Pout
4. Ghee & Multani Mitti (Fuller's Earth)
Multani mitti has long been known for its exfoliating and cleansing properties, thanks to the magnesium chloride that it contains. Besides, it also eliminates other skin impurities and blackheads. Ghee helps in balancing out the dryness of multani mitti and also keeps your skin supple.
Ingredients
1 tsp Multani Mitti
1 tsp ghee
How To Use
Blend the ingredients together to form an even paste.
Let it dry for 20 minutes before washing it off with warm water.
5. Ghee & Aloe Vera
The pulp of aloe vera leaf is brimming with moisturisation properties, which compliment the hydrating quality of ghee.
Ingredients
2 tbsp ghee
2 tbsp aloe vera gel
How To Use
Mix ghee with aloe vera gel.
Apply to a clean and dry face.
Let it dry for 10 to 15 minutes.
Wash it off with lukewarm water.
Open up like never before and participate in conversations about beauty, entrepreneurship, mental health, menstrual & sexual health, and more. Desi women, join our community NOW!