Proper skincare is anything but simple. You need a product to keep your skin bright and soft, another to fade pigmentation and scars and perhaps another one to reduce sun damage and fight signs of ageing. But what if you get all these benefits (and then some more!) with just one ingredient? Almond oil is a single solution for possibly every skin problem out there.
Almond oil comes packed with the goodness of vitamin A, vitamin E, zinc and omega 3 fatty acids, among other things. It's highly nourishing and can be used to heal and repair the skin as well as improve its texture. It is to be noted that when it comes to almond oil for skin, sweet almond oil is more popular than its bitter counterpart.
Want to know more about almond oil benefits for skin and how you can include this ingredient in your skincare routine? Keep reading.
9 Almond Oil Benefits For Skin That You Must Know
Almond oil offers an array of benefits for your skin and hair. Here is why you must use this incredible ingredient for flawless, gorgeous skin:
It is an excellent moisturiser and works wonders for dry skin
You can use almond oil for pigmentation and lightening marks and scars
It can help reduce dark circles and puffiness.
It is a great skin cleanser.
Almond oil can also be used to remove tan.
Almond oil is a natural and safe treatment for skin rashes.
It can effectively reduce signs of ageing.
You can also use almond oil for acne reduction and prevention.
Almond oil is a great remedy for itchy and flaky scalp
7-Step Process To Make Almond Oil At Home
If you do not want to invest in store-bought almond oil, here is a simple way to prepare almond oil for skin at home.
Things you need:
Almonds – a handful
Olive oil – 2 to 3 tablespoons
Method:
Put the almonds (dry and fresh) in a grinder jar and start blending at a slow speed.
Stop and check for buildups on the side of the jar. Remove and mix the buildup with the rest of the blended almond before you start blending again.
Increase the speed of the blender once the almond is of smooth consistency.
Now add one teaspoon of olive oil to the jar. Add more oil if the almond is not properly blended.
Continue to blend until you get a smooth paste.
Put the mixture in a glass jar and store for about 14 days.
During this time, the solid particles will settle down below the oil. Strain the oil and your almond oil is ready to use.
5 Easy Ways To Use Almond (Badam) Oil For Face & Skin
Here is how you can use almond oil regularly for a smooth, well nourished, and blemish-free skin:
1. Almond Oil As A Moisturising Oil
Dry skin bringing you down? No problem. Just a few drops of almond oil for dry skin is all you need for moisturised and healthy skin. Here is how you can use almond oil as a moisturiser.
Method:
Wash and dry your face.
Now take a small amount of oil and dab it on your face, using your fingertips.
Let your skin absorb the oil.
No need to wash off the oil when you are using it as a moisturiser.
2. Almond Oil As A Cleanser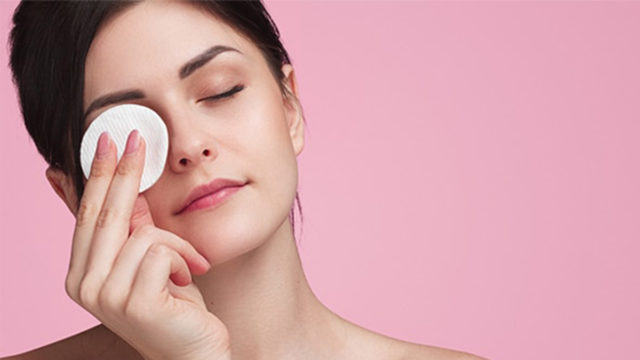 Almond oil can also be used as a super effective face cleanser. It will help get rid of any remaining traces of makeup, grime, dirt or any other impurity and give you clean and clear skin. It is the perfect first step to your nighttime skincare routine.
Method:
Take a few drops of almond oil and rub them between your palms.
Now gently massage the oil into your skin for a few minutes.
Rinse your face with water.
3. Almond oil As Makeup Remover
Almond oil can be used to get rid of pigmentation, tan, scars…basically, anything that's standing between you and bright and flawless skin. Here is how you can use almond oil for face to get rid of tan.
Method:
Mix a few drops of almond oil and lemon juice (in equal quantities).
Add in a teaspoon of honey,
Use this mixture on affected areas.
Wait for 15 minutes before washing it off.
Use it a few times until you see results.
4. Almond Oil For Massage (Abhyanga)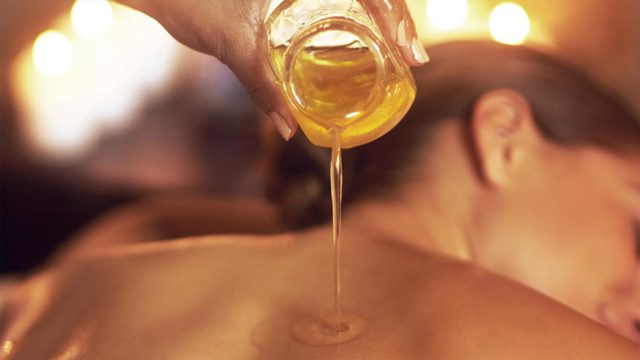 Badam oil for skin possesses excellent warming qualities and helps soften, soothe and repair the skin. This makes it the perfect choice of oil for abhyanga or ayurvedic self-massage. This massage is highly recommended for dry and damaged skin.
Method:
Warm about ½ cup of sweet almond oil. Do a patch test and make sure it's not too hot. You will also have to choose a massage technique. Use long, slow and steady strokes for calming the hyperactive energy linked with Vata dosha.
Begin by massaging your arms, legs and back. Gradually move towards your abdomen. Use counterclockwise, circular motions for massaging your body.
Now move to areas where you suspect stress build-up. This could be your shoulders, chest or lower back. As you massage these areas, focus on taking deep, relaxing breaths.
After that, move on to your feet. The pressure points located at your feet can help relax the body. After properly massaging your feet, put on a pair of socks and let the oil absorb.
Let the oil stay on your skin for some time. Avoid washing immediately after the massage.
The best time to perform abhyanga is before bed. This will help relax your body and ensure a good night's sleep. Also, this will allow ample time for your body to absorb the almond oil for massage.
5. Almond Oil To Fight Dark Circles
Almond oil can also help reduce the appearance of eye bags and dark circles. All you have to do is apply this miracle ingredient below your eyes every night before bed. You will see noticeable differences in a matter of days.
5 Almond Oil Product Recommendations
1. Hamdard Roghan Badam Shirin
This multipurpose almond oil can be used on your skin and your hair. It is also fit for consumption. It is packed with an array of beneficial minerals and nutrients including vitamin E, zinc, potassium, protein and unsaturated fats.
2. Dabur Almond Hair Oil
If dull and damaged hair is preventing you from keeping it stylish, then this product is just what you need. Loaded with the goodness of Vitamin E and almond protein, it will help nourish your scalp, prevent hair damage, soften your tresses and make them shine like never before.
3. Morpheme Remedies Pure Sweet Almond Cold Pressed Oil
This cold-pressed sweet almond oil is suitable for hair as well as skin. It contains zinc, vitamin E, proteins, potassium, and monounsaturated fatty acids among other nutrients. The best part is, that this almond oil for face contains no artificial ingredients or mineral oil.
4. Forest Essentials Organic Cold Pressed Almond Virgin Oil
Another great almond oil for skin, this product by Forest Essential is extracted using natural methods, thus retaining its essential fatty acids content. It absorbs quickly and possesses emollient properties. Regular usage of this product will give you bright, nourished, soft and healthy skin.
5. Indus Valley 100% Pure Sweet Almond Oil
This pure, unrefined, cold-pressed badam oil for skin helps nourish the skin, softens the skin and improves complexion. It is suitable for all skin types and can also be used along with other essential oils as a carrier oil.
FAQs
Q. Does almond oil have any side effects?
A. Almond oil for face massage comes loaded with excellent properties that are great for the skin. However, using almond oil may cause a problem if you are allergic. It is recommended to carry out a patch test before including almond oil in your skincare routine.
Q. Is it okay to leave almond oil on the face overnight?
A. Sweet almond oil works as an effective hydrating agent for dry skin. You can apply it every night before bed and leave it on overnight. In case you have oily skin, it is better to wash off the oil before bed. You can let it stay for about 30 to 40 minutes before washing your face.
Q. Is it okay to apply almond oil to face every day?
A. Almond oil usually works for all skin types and can be used on the skin daily. You can also combine it with other essential oils to boost its effectiveness. However, just to be sure you are not allergic to it, do carry out a patch test before using almond oil for face.
Open up like never before and participate in conversations about beauty, entrepreneurship, mental health, menstrual & sexual health, and more. Desi women, join our community NOW!