At 6 years of age, Alia made her first screen appearance in the 1999 thriller film Sangharsh. From playing a kidnapping victim in the road drama in Highway to winning awards for her role in Udta Punjab, she has nailed ranging characters, proving her calibre as an actor. Fast forward to 2022, at 28 years, Bhatt's recent film Gangubai Kathiawadi, a mega blockbuster hit, has already crossed the 100 crore mark in the box office collection and is all set for an OTT release on 25th March 2022.
You may not know about her success secrets on the big screen or about the actress's beauty and skincare mantras. To mark the young star's birthday (15 March), here are the top 8 skincare and beauty tips from her personal routine after scourging the deep ends of the internet. So bring out your notepads and start jotting down!
1. Eye Cream Is A Must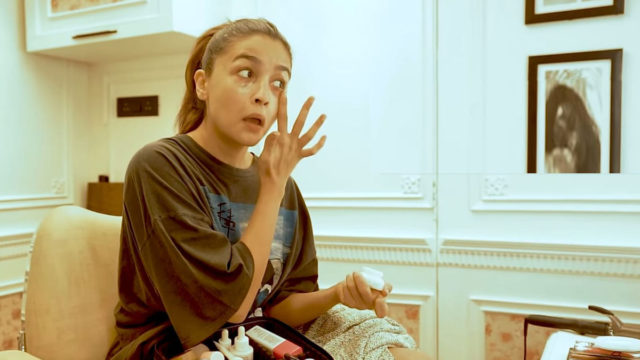 The delicate skin around the eyes requires all the tender loving care it can get. "Eye cream is very important," Bhatt said, adding that she uses an under-eye cream to combat dryness and improve the appearance of dark circles. Eye creams are thicker since they are made specifically for the delicate skin around the eyes. They include a lot of active components and contain more oil than a conventional facial lotion, to help with specific eye problems. "I apply it because my under-eye looks a little puffy in the morning and I'm about to go face the camera," she shared.
2. Niacinamide Is Your New Vitamin Friend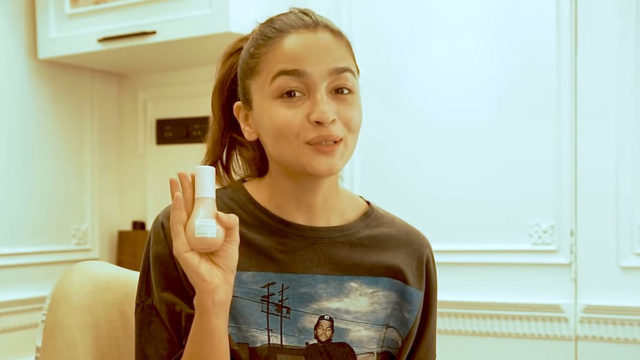 Niacinamide, Bhatt's favourite ingredient, "gets rid of any fine lines, protects from pollutants, hydrates and regenerates," she explained. She also applies it on her neck and hands, which is a great way to keep certain areas of your body from ageing. Niacinamide, also known as nicotinamide, is a type of vitamin B-3 that is an essential nutrient. According to certain studies, niacinamide concentrations of 5% can help lighten black patches. It's also recognised for balancing oil production, improving collagen formation, and fighting free radicals, making it a one-stop shop for all things skincare.
3. Add A Roller To Your Skin Routine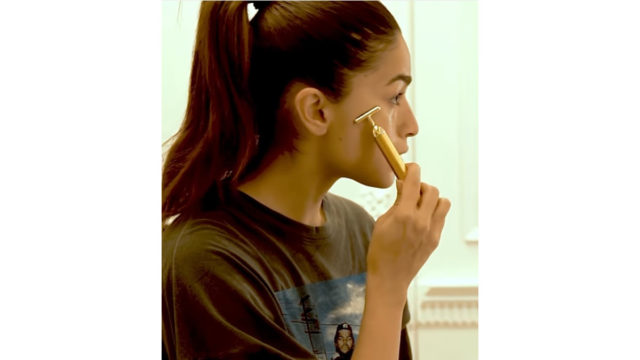 To reduce water retention and enhance circulation, Bhatt spritzes on a mist and then uses a vibrating gold face roller in upward and outwards motions. She explained, "It instantly wakes me up." Not only is it relaxing and reduces stress, but it also helps improve blood circulation in your face. The rolling motion of the cool metal, according to those who swear by its skincare advantages, can boost collagen, reduce inflammation, and erase fine wrinkles. One of the more popular stones found in rollers is jade. But they're also available in gold, rose quartz, obsidian, etc.
4. Moisturising Is The Key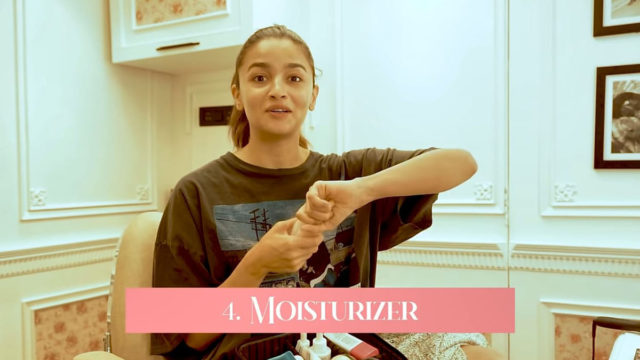 A moisturiser is an important part of her routine. "Because I spend so much time in front of the lights, my skin becomes really dry. Your skin needs to consume water just as you do," she explained. Moisturising your face will make you look and feel younger by making your skin softer and more elastic, as well as keeping it nourished. You should only use a moisturiser that is specifically designed for the face and that contains SPF 15 or higher sunscreen. You'll be thanking yourself for getting into the habit of moisturising every day when you're older.
Read 5 Alia Bhatt Movies That Made An Impact On Aspiring Actors
5. Seal Everything With A Sunscreen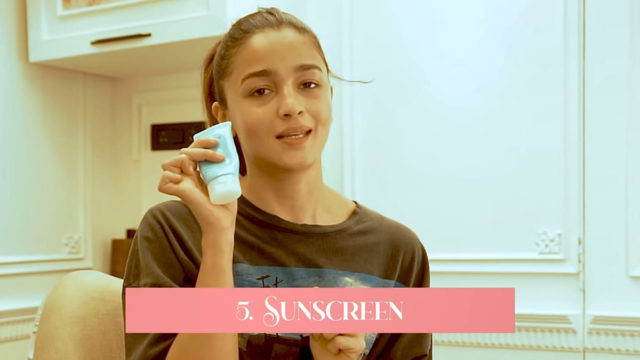 Sunscreen is the last step in her routine. "I can't emphasise enough the importance of sunscreen." Sunscreen is required even if you are near a window. She applies sunscreen with her makeup. Sunscreen protects your skin and lowers your chances of skin cancer and precancerous lesions. By absorbing, reflecting, or scattering sunlight, sunscreen protects the skin from harmful UV radiation. By incorporating SPF into your regular skincare routine, you can protect yourself from the early signs of ageing with little effort.
6. Homemade Face Pack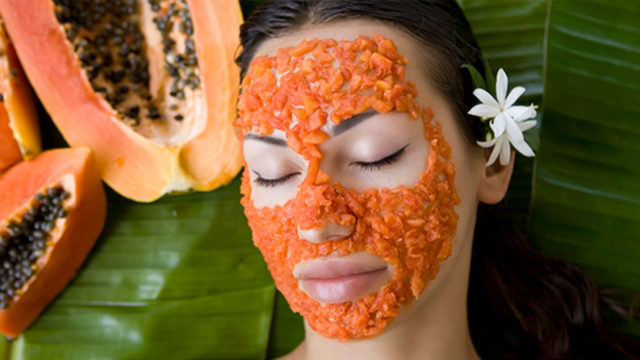 To avoid any negative effects on her skin, she generally uses herbal products. Alia Bhatt starts her day with a face pack. She treats her skin as though it were a child's. "If I have time, I combine honey with either papaya or orange powder and apply for 15 minutes," Alia Bhatt confessed. "I apply a small quantity of moisturiser and get on with my regular chores," she added. These ingredients can be found in your kitchen and are one of the healthiest things you can put on your skin and give it natural nutrients and a fresh glow.
7. Flaunt Those Kohl Eyes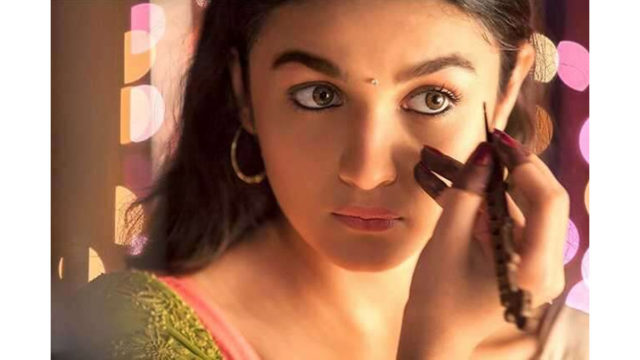 Nothing compares to it. Kohl is capable of performing all the feats of magic. This natural makeup enhances your no-makeup look significantly. The smouldering kohl eye makeup is a classic that never goes out of style. The best thing about this ensemble is that it can be worn with both traditional and western attire. It's also appropriate for both day and night outings. "During my childhood, I was told to stay away from applying makeup," she recalled. "I was 15 or 16 when I went to a birthday celebration and my mom applied makeup for the first time" (So it wasn't just our mothers). 
Read about Alia Bhatt's Hollywood Debut
8. No Night Routine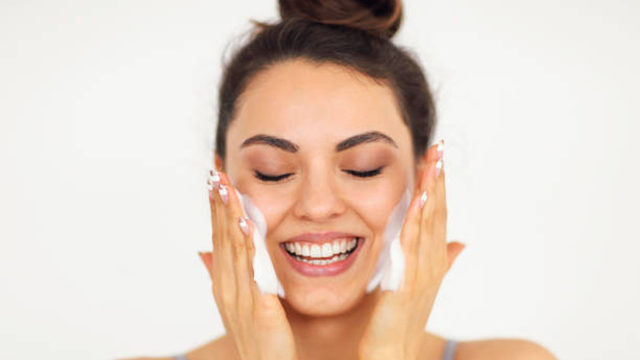 What does she use to prepare herself for sleep? Nothing! Yes, you read that correctly. Her nighttime skincare routine isn't exactly a closely guarded secret. Before going to bed, most people apply toners, moisturisers, or night creams. Alia Bhatt, on the other hand, has a different story to tell. "Applying anything at night will make your skin dry, so I wash my face with a decent herbal face wash and sleep," she says when questioned. Do you want to have beautiful skin? Get rid of your nighttime skin care products in favour of a more natural approach. Try this homemade toner recipe and see the amazing results.
Alia Bhatt has been spotted multiple times without a trace of makeup rocking her all-natural skin. If you too want to step out confidently just like her and flaunt your no-makeup face, #BeALittleMore, add these tips to your beauty routine today and see the results for yourself! Want amazing skin? Use this chandan face pack and see the results yourself.
Open up like never before and participate in conversations about beauty, entrepreneurship, mental health, sexual health, and more. Desi women, join our community NOW!