How many times have you hit the bed bina makeup hatake? Innumerable times for most of you, isn't it? And how many times have you promised yourself – agli baar pakka makeup hatake soungi? Innumerable times again! The makeup kheechofies the natural sheen of your skin if you wear it overnight and even leads to various skin conditions.
So here are 9 DIY makeup-removing hacks for you to #BeALittleMore caring towards your skin and remove makeup jhat se.  
1. Honey & Baking Soda
The combination of honey and baking soda is perfect as a cleanser and exfoliator for removing long-lasting makeup. Baking soda is known for being a natural cleanser, while honey is enriched with antibacterial and humectant properties. However, this is considered to be best suited only for those who do not have sensitive skin. It is also not supposed to be used around your eyes to protect delicate skin. 
Ingredients:
1 tsp baking soda
1 tbsp honey
How To:
Mix the ingredients together thoroughly.
Apply it evenly all over your face and let it stay for 10 to 15 minutes
Wash it off with warm water and pat dry with a soft, fresh cloth
Read: Shopping Guide For Quality Skincare & Makeup Products
2. Honey Face Wash
The enzymes in honey are efficient in removing dead skin cells, while the antibacterial properties present in it control acne. Without baking soda, the honey face wash is suitable for all skin types. 
Ingredients:
How To:
Apply honey on your face in a gentle, circular motion
Let it stay for about 5 to 10 minutes
Remove it with warm water or with a warm, wet cloth
3. Brown Sugar & Vegetable Oil
This is one of the Holy Grails of facial scrubs for removing makeup aasani se. However, steer clear of it if you have acne-ridden or dry, sensitive skin. Vegetable oil is a strict no-no for those with oily skin since it may aggravate the acne breakout. On the other hand, brown sugar is a mechanical exfoliant may prove to be too harsh for dry, sensitive skin types. Take care not to over-exfoliate with this facial scrub. Some visible signs of over-exfoliation are skin dryness, redness, repetitive breakouts, inflamed skin, flakiness, etc. 
Ingredients:
2 tbsp coconut oil
1 tbsp brown sugar
How To:
Apply all over your face in gentle, circular motions with your hands or using a brush
Wash it off with water
4. Baby Shampoo, Olive Oil & Castor Oil
Not meant for oily and sensitive skin and those who experience acne flare-ups, it works out perfectly fine for all other skin types, especially dry skin.
Ingredients:
2 tbsp baby shampoo
1 teaspoon olive oil
1 teaspoon castor oil
½ cup water
Cotton pads/cotton wipes
How To:
Take water in a bowl and pour shampoo in it. Mix it thoroughly.
Add castor oil and olive oil, and mix well again.
Dip cotton wipes in the mixture and clean your face with it gently.
Read: Makeup Hacks You Need To Try
5. Coconut Oil
Another oil-based facial cleanser and another effective makeup removal hack for dry skin. However, it may be a bit heavy for sensitive skin. You can add castor to coconut to enhance its effectiveness.
Ingredients:
1 tsp coconut oil
1 tsp castor oil (optional)
How To:
Blend the two oils evenly, if you choose to use both of them.
Apply it to your skin in a gentle, circular motion for a few minutes
Let it sit for about 5 minutes
Cleanse it thoroughly with water
6. Shea Butter
Nothing like shea butter to hydrate your skin. Now make the most of its cleansing benefits as well. Powered with the goodness of vitamin A, vitamin E, vitamin F, and anti-inflammatory and antioxidant properties, it removes stubborn makeup without irritating the skin. It is especially useful for moisturising dry and sensitive skin.
Ingredients:
Just a bit of shea butter on your fingertips
How To:
Apply shea butter all over your face
Use a cotton pad or wool to remove the makeup gently
7. Aloe Vera Gel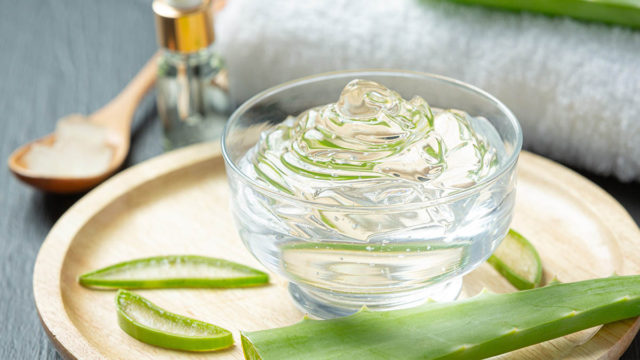 The non-greasy formula of aloe vera is a friend of oily skin. It is gentle on the super-sensitive skin around the eyes and is effective for removing stubborn mascara from your precious eyelashes. What's more, aloe vera also protects the skin from redness, inflammation, burning and itching that is often the result of aggressive rubbing of your skin while removing makeup. 
Ingredients:
How To:
Slit an aloe vera leaf through the middle to extract the gel.
Mix it with water to make a smooth paste of it
Apply it on your skin in a gentle, circular motion
Clean off with water after about 5 minutes
8. Rose Water & Glycerin
The combo of rose water and glycerin not only removes makeup but also tones and hydrates the skin. While glycerine leaves your skin nourished, rose water works as an astringent. Jojoba oil, on the other hand, is laden with antioxidants and anti-inflammatory properties. 
Ingredients:
1 tsp rose water
1 tbsp glycerin
Jojoba oil (optional)
How To:
Take a bowl and blend rose water and glycerine together
A drop of jojoba oil would do wonders if you have sensitive and/or dry skin. You can also try out other oils of safflower, sunflower, coconut, and avocado.
Apply the oil mixture on your face for a couple of minutes
Take a clean, soft cloth and dip it in hot water. Take it out and wring it out completely before spreading it out on your face.
Keep the cloth this way for 1 minute to steam your face
Then wipe your skin gently without the intention to wipe the oil clean
Let the oil soak into your skin and nourish it
9. Grapeseed Oil
Yet another oil that is a saviour for your skin with makeup on. It is especially gentle for the sensitive skin around your eyes.
Ingredients:
How To:
Wash your face with water to enhance the effectiveness of the oil in removing makeup
Gently apply the oil on your face with your fingertips
Wash it off with water
The above DIY makeup-removing hacks are all you need to clear your skin of makeup, irrespective of how stubborn or long-lasting they are. So choose the hack that suits your skin type and say 'hi' to makeup-free healthy skin. 
Open up like never before and participate in conversations about beauty, entrepreneurship, mental health, menstrual & sexual health, and more. Desi women, join our community NOW!