You cannot miss out on deciding on how you want your hair to look on your wedding day. Or, if you have been invited to one. You would rather do your research and get a few ideas on what suits your face shape, personality, and theme of your wedding, rather than leave it all to your hairstylist, won't you? Especially if you want your hair to look hatke and not the usual traditional buns that you see brides adorning on their D-Day. But then, the variety of hairstyles may make it a challenge for you to put your finger on just one of them. Side braid hairstyles, side French braids, side twist hairstyles, two-side French braid hairstyles, the list is endless. 
So, here are 8 braid hairstyles for you to make the task easier for you.
8 Braid Hairstyles You Can Pick from For Your Summer Wedding
1. Messy Fishtail Side Braid Hairstyle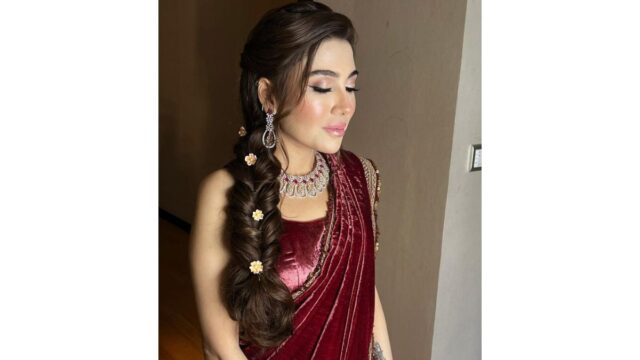 For this side braid, brush your hair gently, detangle, and get the entire bunch of locks over to one side.
Segregate your hair into clear sections.
Take a few hair strands from the bottom of one section and merge it with the top of the second section of hair.
Repeat the same with the other bunch of hair.
Keep doing steps 3 and 4 alternatively until your entire hair has been loosely braided.
Let loose a few strands here and there.
Tie up the braid with the rubber band securely.
You may want to flatten the braid by pressing the palms over and below the braid.
You can also curl the end of your hair below the rubber band for that casually careless vibe to the messy side braid.
2. Milk Maid Braids
For this side braid hairstyle, start by brushing and detangling your hair as usual and make a parting in the middle of your hair.
Put a clip or rubber band on one side, so you can start working on the other without strands from both sides intermingling with each other.
Braid your hair on the side that you've left open and secure with a rubber band, to complete making the two side braids.
Take the clip or rubber band off the other side and make a braid.
Gently tug on either side of the braids with nimble fingers to slightly loosen the braids, making them look thicker.
Place the left braid under the right and the right braid under the left simultaneously, and secure with a few bobby pins. Better still, crisscross the pins, so they have a tiger grip on your hair.
Loosen up a few small strands of hair from the front, curl them with an iron if you prefer them that way, and voila, you're done with the side French braid.
3. Pull Out Braid
Brush your hair gently to detangle the knots.
Make a ponytail, leaving a small section of your hair below the ponytail, and tie it up securely with an elastic band to start with this side braid ponytail turned into a bun. Make sure to keep some volume over your crown.
Take the section of strands you've let loose and tie it up around the ponytail and use two bobby pins to secure the ends.
Pick up two thick bunches of hair from the left and the right of the ponytail, and pull them together in the centre. Tie them together, leaving a space of 1 inch between them.
Pull some hair from this 1-inch area, to make your hairdo appear fuller.
Repeat the above step with two more sections of hair taken from either side of your ponytail.
Pin them over the strands you've pinned in the last step, and you'll notice the ponytail slowly taking the appearance of a braid.
Keep repeating this step till you reach the end of the ponytail. Keep tugging at the end strand of hair, to give the hairdo an illusion of volume.
4. Braids With Twists
For this side twist hairstyle, pull up the hair from your crown and tie it together into a neat ponytail.
Divide the remaining hair into three equal horizontal sections.
Take the tresses of the top-most section into a ponytail, tie it up with a rubber band, and pin it up, so it becomes easier to focus on the sections of hair below it.
Repeat the same for the next section of hair and tie up the third section of hair into a ponytail too.
Make a braid out of these three ponytails and continue doing so till you reach the bottom of the third ponytail, and then secure it with a hair tie.
Pull the sides of the braid gently to loosen the strands a bit, to make the braid look thicker.
Secure the topmost braid at the crown of your head with a bobby pin, so the hair tie does not show. 
Roll the bottom of the braid and then clip it up.
If you've planned a very last-moment wedding and don't have the time for a quick hair wash, this is one hairdo that you can manage all by yourself.
5. Hippie Braids
Make a middle parting and take small portions of hair from either of the sides, about 2 inches from the hairline. Make braids on either side and secure them with small elastic tied a few inches above the tip of the strands.
Next, take the hair in front of the braid and an equal portion of hair from its other side and secure them at the back of your head with bobby pins.
And, ta-da, the simple yet magical hairdo is done.
6. Neat Curved Braid Bun
A messy bun from all the braids and ponytails, and a neat one out of the casual messiness of most of the other hairdos, start with making three clear sections.
Make one braid with the hair from all three sections. Not in the middle like you usually do but a little to the side of your choice, for this one-side braid hairstyle.
Secure the braid with a hair tie and put it up into a bun and keep it in place with bobby pins.
7. Fishtail Braid Updo
Part your pair – in the middle or on either side – whatever suits the shape of your face the best.
Divide each side into two clear sections.
Take one section from either side of the parting and make a side fishtail braid. Secure the braid with a hair tie.
Make a bun with this braid and keep it in place with a few bobby pins.
Repeat the same with the two other hair sections on either side of the parting. And once you've made the braid, wrap it around the first bun and secure it with pins again.
Create a messy look by gently tugging at the side of the braid and you're good to go!
8. Strand Side Braid Hairstyle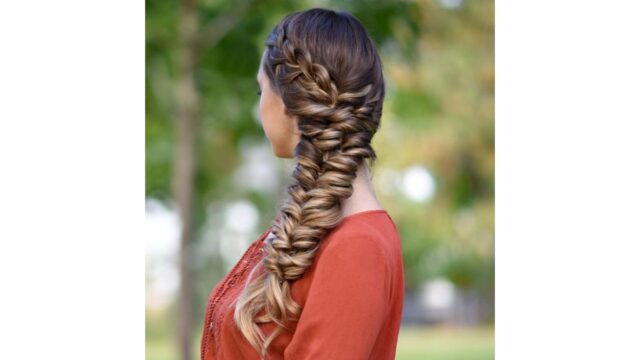 For this side braid, make a deep parting, leaving one-fourth on the left and the rest, to the right.
Make a section near your left hairline and break it down further into three parts.
Braid each one of them and tie each of them up separately with an elastic band.
Again, make three sessions on the right side and repeat all the above steps.
Lastly, pull each of the braids gently from either of their sides to make them appear broader and a little messy.
Looking for ideas for side braids for long hair or short tresses, this versatile hairstyle suits every hair length.
6 Additional Hair Styling Tips For Summer Weddings
First of all, wash and condition your hair thoroughly for most hairdos to take shape and not look limp.
Use a hair serum to avoid frizz, add shine to your tresses, and make your hair smooth enough to detangle easily.
Hire a hairstylist well in advance and finalise the hairdo, as per your wedding dress, face shape, and how you visualise your look.
If you plan to make the hairdo yourself, plan in advance yet again, talk a stalk of hair accessories, and get yourself the ones that you'll require – clicks, elastic bands, bobby pins, and other fancy accessories like pearls, flowers (fresh or synthetic), etc.
Preferably, go for a demo and see whether what you and your hairstylist have in mind works well for you. If the final result is what you have in mind, you're all sorted. Otherwise, you two can make changes and seal the final look, so there is no last-minute panicking.
Consider the weather and venue before deciding on the hairdo. Just in case you're going to have an outdoor wedding, tie your hair up, so the nape of your neck remains free of perspiration. For an evening wedding, you can go for a more elaborate hairdo than you can for a morning event. 
Weddings are called D-Day for a reason. So, of course, you would want to look perfect on the day. And your hairdo is an integral part of your wedding look, so much so that it can make or break the final look. Do your research unless you've been dreaming about your wedding hairdo for ages, make sure your hairstylist knows exactly what you're looking for, and wait to see it turning into reality. Happy wedding to you!
Open up like never before and participate in conversations about beauty, entrepreneurship, mental health, menstrual & sexual health, and more. Desi women, join our community NOW!