Hair serums are such a saviour when it comes to making your hair look tame and manageable. The humid weather conditions, typical to India, makes your hair unmanageable the moment you leave home. The frizz, dryness, dullness, lifelessness, and sikura hua baal become a reality. Hence, a hair serum is just the right solution to keep all these hair problems away, while imparting much-required hydration to your tresses and protecting it from harsh, harmful elements like UV rays and pollution.
7 DIY Hair Serums
While there is a myriad of hair serums available at arm's length, know more about these 7 DIY hair serums that you can easily make at home with natural ingredients, as per your hair type. 
1. DIY Hair Serum For Growth For All Hair Types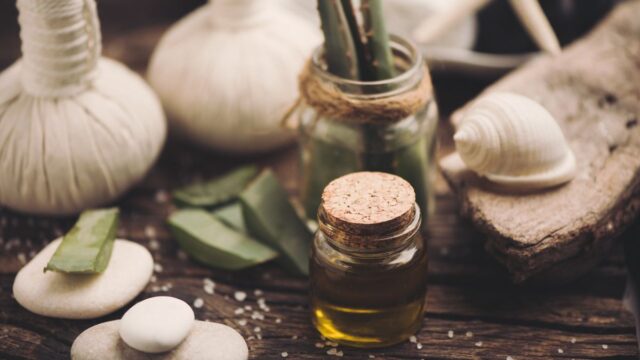 Nettle leaf tea is enriched with sulphur and silica, both of which are known for boosting hair growth. On the other hand, aloe vera gel imparts smoothness to your mane, making it look shiny and healthy. A blend of these ingredients encourages hair growth by controlling hair loss. 
Ingredients
1 cup distilled water
2 tbsp dried nettle leaf
2 tbsp aloe vera gel
10 drops of clary sage essential oil
10 drops of rosemary essential oil
10 drops of lavender essential oil 
Technique
Take distilled water into a saucepan and add the nettle leaf.
Bring it to a boil and turn off the heat.
Allow the leaf to sit for 10 minutes and then strain the tea out into a container.
Add the aloe vera gel to the tea, along with the clary sage, and lavender and rosemary essential oils. 
Whisk all the ingredients together with a hand blender.
Pour this mixture into a bottle through a funnel. You can keep this refrigerator for 3 to 4 months.
2. DIY Hair Serum For Glossy Hair
The oils of jojoba, avocado, argan, almond, and grapeseed are all known for nourishing hair strands, which contributes to their glossiness. This serum is especially beneficial if you have dull and lifeless hair.
Ingredients
4 tbsp avocado oil
2 tbsp jojoba oil
2 tbsp argan oil
1 tbsp almond oil
2 tbsp grapeseed oil
Technique
Take almond, jojoba, avocado, and argan oil in a bowl.
Pour 1 tbsp of jojoba oil into a mixing bowl.
Next, add 2 tbsp of avocado oil and 1 tbsp each of argan and almond oils, followed by grapeseed oil and whisk thoroughly.
Mix the oils together with a hand blender and store them in a dark bottle.
Use this serum from the root to the tip of your hair strands 1 hour before you wash your tresses, to get that visible glow.
3. DIY Hair Serum For Hair Smoothness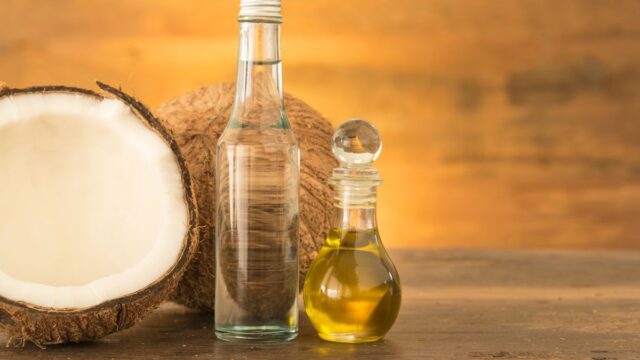 When it comes to imparting sheen to dull and dry here. Castor and coconut oils can do wonders to get you the results that you want. Enriched with ample moisturising qualities, the combination of these oils is ideal for ensuring hair smoothness.
Ingredients
4 tbsp castor oil
2 tbsp coconut oil
Technique
Mix castor and coconut oil and whisk together, so the oils blend evenly.
Pour into a dark-coloured bottle through a funnel to avoid spillage.
Use this all over your dry and damaged hair every day to prevent dryness, to keep your tresses well hydrated at all times. Preferably, leave the serum on overnight for best results.
Read: 7 Heat Protectant Serums Under Rs 810 To Prevent Hair Damage
4. DIY Serum For Hair Strength & Volume
If you have dry and brittle hair that is prone to breakage, this homemade serum is one of the most appropriate for you.
Ingredients
8 tbsp grapeseed oil
10 drops of lavender oil
2 Vitamin E capsules
Technique
Combine grapeseed and lavender oils.
Add the powder of vitamin E capsules into it and mix it into the oils thoroughly and evenly by shaking it.
Use the serum on your limp and dry tresses for it to look strong and voluminous. 
5. DIY Serum For Straightening Your Hair
A combination of olive, jojoba, soy, and coconut oils contains properties that contribute to straightening your hair while nourishing it at the same time.
Ingredients
2 tbsp soy oil
2 tbsp coconut oil
2 tbsp jojoba oil
2 tbsp olive oil
Technique
Take all 4 natural oils in a mixing bowl and blend thoroughly.
Warm this up and then apply it to your hair, right from the roots to the tips.
Run your fingers gently through the strands to separate and straighten them.
Let this stay for 15 to 20 minutes, and then wash off with a gentle shampoo.
6. DIY Serum For Wavy Hair
Nothing like a blend of jojoba and peppermint oils to ensure strength and straightness to wavy and curly tresses.
Ingredients
5 drops peppermint oil
2 tbsp jojoba oil
Technique
Mix peppermint and jojoba oils, and stir with a spoon, so they blend evenly and thoroughly.
Pour into a bottle through a funnel to avoid wastage.
Dampen your hair slightly before you apply this serum.
Let this stay on your hair for 30 minutes before you wash it off with a gentle shampoo in cold water.
Read: 7 Zabardast Actives You Should Look Out For In Your Hair Care Products
7. DIY Serum For Dry Hair
Castor oil is known to nourish hair follicles, while avocado oil unclogs them. Sandalwood essential oil soothes the scalp, and lavender oil and sweet almond oil controls loss of hair.
Ingredients
1 tbsp castor oil
2 tbsp avocado oil
6 tbsp sweet almond oil
8 drops of lavender essential oil
7 drops of sandalwood essential oil 
Technique
Take the almond oil in a bowl.
Add avocado and castor oils.
Next, pour lavender oil and sandalwood essential oils, and blend them thoroughly with an electric hand blender.
Pour them into a bottle through a funnel for storage.
To apply this as a leave-on conditioner, rub 2 to 3 drops of this serum between the palms of your hands and dab it onto your freshly-washed, damp mane. You will notice a visible difference because your hair will look moisturised and also become manageable. 
Refrigerate this serum for no more than 6 months.
Open up like never before and participate in conversations about beauty, entrepreneurship, mental health, menstrual & sexual health, and more. Desi women, join our community NOW!