One of the most common skin conditions, dandruff has occupied the position of a lifestyle disorder. It is a result of internal and external stressors, which arise from an unhealthy, sedentary lifestyle and underlying physical and mental health conditions. However, there's no need to get so worked up because the black and white duniya on your head is about to change provided you try out the desi nuskhe listed below.
So, here's your opportunity to learn more about these home remedies for dandruff and #BeALittleMore conscious of your scalp and hair health.
1. Tea Tree Oil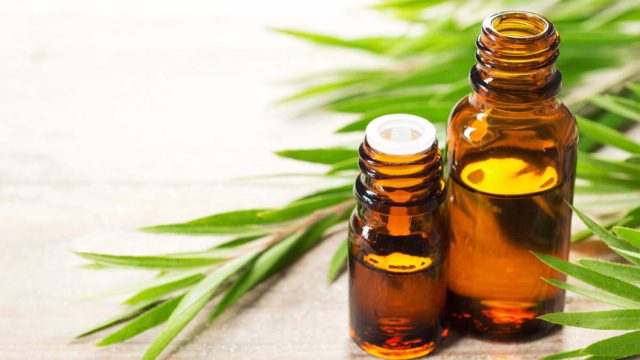 Tea tree oil is widely known for its anti-inflammatory and anti-microbial properties. No wonder, it has been a desi nuskhe for treating acne and pimples for time immemorial. As a result, it works well for combating dandruff as well, which manifests through symptoms like inflammation, itchiness, and redness – very much like acne. It also controls greasines, proving to be effective for those who have dandruff along with excessive sebum production.
2. Coconut Oil
Our dadis and nanis have depended upon coconut oil as a desi nuskhe not for no reason at all. It improves scalp health due to the anti-microbial properties present in it. It works wonders to keep your skin hydrated and alleviate dryness, which often aggravates dandruff. Coconut oil also helps in preventing signs of eczema, a leading cause of white flakes on your scalp, apart from controlling inflammation and itchiness.
Read: 8 DIY Hair Care Recipes With Sesame Oil
3. Apple Cider Vinegar
Apple cider vinegar's acidity proves to be a natural remedy for dandruff as it forces the scalp to shed the loose flakes. It is also believed to maintain the required pH balance of your skin to keep fungal growth under control, thus, fighting dandruff. You can pour a few tablespoons of apple cider vinegar into your shampoo whenever you want to wash your hair or blend it with essential oils before spritzing it on your hair.
4. Aloe Vera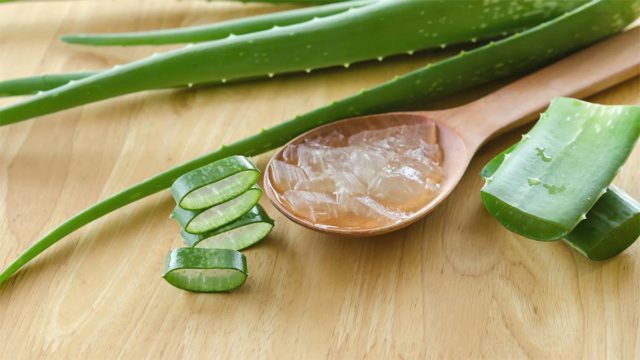 The cooling effect of the pulp wrapped within the leaves of this plant works its magic on sores, burns, and skin redness and irritation. The anti-fungal and anti-bacterial properties are effective in controlling dandruff as well, which also causes inflammation, irritation in the scalp, itchiness, and redness.
5. Omega-3 Fatty Acids
The importance of omega-3 fatty acids for the human body cannot be emphasised upon enough. They are not only an integral part of cell membranes surrounding the cell but are also essential for the health of your heart, lungs, and immune system. That apart, they also play a role in keeping the scalp hydrated and keeping excessive sebum production under check. A lack of sufficient omega-3 in your body can lead to dry skin and hair, which can in turn cause the scalp to dry up and flake. The list does not end there! This nutrient also arrests inflammation and relieves irritation. Fish like trout, salmon, and mackerel are rich in omega-3. Alternatively, you can take supplements like walnuts, chia seeds, and flaxseeds.
6. Probiotics
Other than the known benefits of lowering cholesterol levels, protection from allergy, and encouraging weight loss, probiotics improve immune function as well. This aids in fighting fungal infections like dandruff. They are found in fermented foods like cottage cheese, yoghurt, and buttermilk.
7. Lemon Juice
The acidic properties in lemon control the oiliness of the scalp and remove the dead skin cells from its roots. Squeeze in a few tablespoons of lemon juice on your scalp and massage for a few minutes. After some time, wash your hair off with a mild shampoo.
Read: 7 Home Remedies To Treat Dandruff With Lemon
8. Fenugreek Seeds
Not just reducing flaking on the scalp, fenugreek also works its magic on the overall quality of your hair. Take about 100gms of fenugreek seeds and mash it into a fine powder. Mix it with coconut oil or olive oil and then apply it on your scalp and hair. You can keep the powder soaked in the oil for a few hours before massaging your hair with it for better results.
9. Neem Oil & Olive Oil
Neem has been known for its anti-fungal and anti-bacterial properties since ages, weaving its magic in arresting dandruff. Mix one tablespoon of neem oil with olive oil and massage your scalp and hair gently yet thoroughly with it. Let it sit for 15 to 20 minutes before washing it off with a mild shampoo. Leave it on overnight for maximising the benefits of this desi remedy. Expect to experience a noticeable change in your scalp health in a few weeks.
10. Baking Soda
This home remedy for dandruff is believed to work as a gentle exfoliant for removing the dead skin cells, thus, reducing itchiness and scaling. For making the most of its anti-fungal properties, you can apply baking soda to your hair directly and gently massage it into your scalp. Let it sit for a few minutes and then proceed to shampooing your hair.
11. Fuller's Earth
Fuller's earth absorbs excess sebum on your scalp and even dirt from your scalp and hair. Absorbing oil and grease makes it an effective nuskhe for dandruff as these are the side-effects of this skin condition. What's more, it also fights irritation and improves blood circulation, soothing the scalp and keeping it clean. Add fuller earth to water and squeeze a few drops of lemon juice. Apply this paste on your scalp and hair and leave it on for 30 minutes and then wash it off with water.
Open up like never before and participate in conversations about beauty, entrepreneurship, mental health, menstrual & sexual health, and more. Desi women, join our community NOW!