Ayurveda has known the benefits of castor oil for a long time and in India, it is used for healing the skin and getting the digestive system back on track. Castor oil is now used for a wide range of cosmetic and medical products. Extracted from the castor bean or Ricinus Communis plant, castor oil is used for a variety of purposes right from laxative to hair growth. The castor beans are known to have a toxic enzyme called ricin which is deactivated during the heating process of creating castor oil and hence is considered safe for use on skin and hair. What's surprising is that this less-known oil has many benefits for hair, right from texture to volume to size. Discover the benefits of castor oil for hair and indulge in castor oil in 8 different ways to get healthy hair.
5 Castor Oil Benefits For Hair Health & Nourishment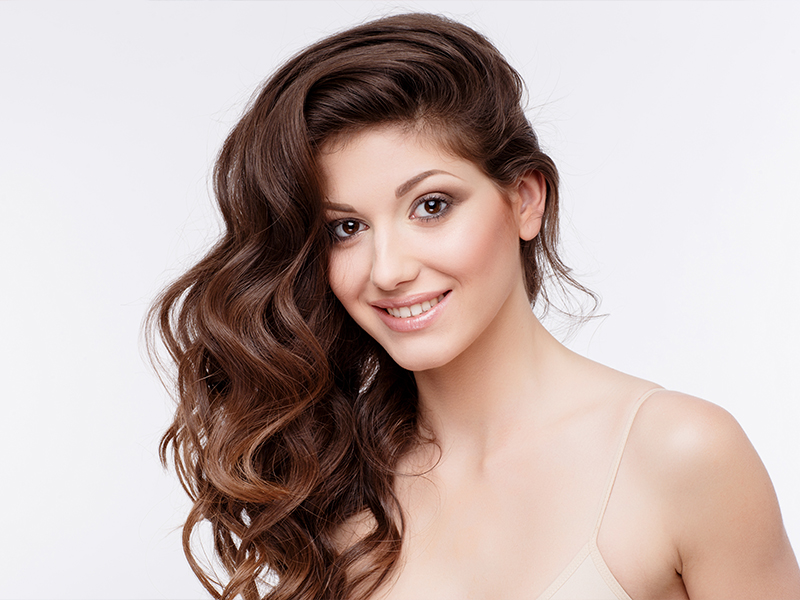 1. Reduced Hair Fall
Castor oil for hair fall works miraculously. It triggers and stimulates hair growth from dormant hair follicles. 
2. Antibacterial & Antifungal Properties
Uncared scalps often make perfect homes for fungus. This fungus eventually results in a flaky scalp and dandruff. Castor oil for hair scalp is a great way to protect against this fungus. It arrests the growth of several bacterial and fungal infections that may affect scalp health. It also helps keep the scalp clear of any form of eczema.
3. Balances pH
Since castor oil is thick, it penetrates well enough into the scalp. The fatty acids present in this oil ensure that the pH of the scalp is maintained well.
4. Reduces Hair Frizziness
Oleic and linoleic acids restore the normalcy of the hair that has been affected by dust and pollution. Castor oil for hair also reduces split and damaged ends.
5. Shiny & Healthy Hair
Ricinoleic acid and omega-6 fatty acids in castor oil are great for hair health. Thus, when massaged into the scalp, they improve blood circulation and the overall looks and health of the hair.
These castor oil benefits for hair make it the perfect choice of product to ensure that you have healthy hair.
8 Simple DIYs To Use Castor Oil For Hair
Now that you know the benefits, check out these amazing 8 DIY castor oil hair care products to help you get the perfect hair growth you deserve.
1. Castor & Almond Oil Hair Scrub
If you're looking to get a clean scalp while also getting shiny and soft hair, this scrub is here to help.
Ingredients:
10 full almonds
3 tablespoons castor oil
Method:
Grind all the almonds with their skin till a fine powder-like texture is achieved.
Next, mix in all the castor oil.
Incorporate until a scrub-like consistency is achieved.
Gently rub this scrub into your scalp to improve blood circulation and exfoliate any flaky or dry skin from the scalp.
Leave the scrub on for 10-15 minutes and wash off with regular shampoo for best results.
2. Lemon Juice, Egg & Castor Oil Hair Pack
This hair pack has multiple benefits apart from hair growth which includes treating frizzy and rough hair and dandruff. 
Ingredients:
1 medium-sized egg
2 tablespoons castor oil
Juice of ½ lemon
Method:
Add the egg to a bowl and beat until fluffy.
To this fluffy egg, add the castor oil and create a paste.
Next, add the lemon juice to this paste and stir till fully mixed.
Apply this as a mask all over your hair from scalp to tips and wear a shower cup to seal in the nutrients.
After 30 mins, wash your hair with any shampoo.  Use this castor oil hair pack twice or thrice a week for best results.
3. Castor Oil Hair Regrowth Serum
Castor oil promotes a healthier scalp environment, which is bound to stimulate hair growth. Applying this hair serum regularly gives you plush new hair.
Ingredients 
2 tablespoons extra virgin coconut oil
2 tablespoons sweet almond oil
2 tablespoons sesame oil
1 tablespoon castor oil
Method:
Incorporate all four oils together in a bowl.
Use this concoction to massage your hair from scalp to root. You could also warm up the oil mix for better penetration.
Keep the serum on for at least 60 minutes or leave it on overnight.
Wash off your hair with normal shampoo and enjoy your new plush hair.
4. Castor Oil & Coconut Oil For Hair
Castor and coconut oils have fatty acids that better moisturise the scalp and hence improve overall hair health. Regularly using this mask can combat hair loss and breakage.
Ingredients:
2 tablespoons castor oil
2 tablespoons liquid coconut oil
Method:
In a bowl, mix some castor oil and coconut oil.
Massage your scalp for 5 minutes with this oil mix.
Keep the hair mask on for 2 hours before rinsing off with shampoo.
5. Castor Oil & Olive Oil Tonic For Hair Texture
This mix of oils works as a healthy tonic for your hair, which improves your hair condition manifold and also prevents any scalp infections.
Ingredients:
2 tablespoons castor oil
1 tablespoon olive oil
1 tablespoon mustard oil
Method:
Incorporate all the oils together to form a combined oil. You can also heat it for better penetration.
Apply this mix from the scalp to the tip of the hair.
Leave the mask on for at least 1 hour before rinsing off with lukewarm water.
6. Rosemary Oil & Castor Oil For Hair Growth
Rosemary promotes hair growth and reduces hair loss. Rosemary oil stimulates new hair growth.
Ingredients:
2 teaspoons of castor oil
2-3 drops of rosemary oil
2 teaspoons of coconut oil
Method:
Mix all the oils together in a bowl.
Next, heat up the mixture.
Massage your scalp with this oil for 5-10 minutes and wash off with shampoo after 15 minutes.
7. Castor Oil Shampoo
The anti-inflammatory properties of castor oil help soothe the scalp and reduce irritation and itching. Using this shampoo could hence allow for a better scalp that allows for better hair volume.
Ingredients:
3 tablespoons of castor oil
40 ml Castille soap
2 teaspoons of coconut milk
30 ml olive oil
15 ml honey
Method:
Mix together the castor and olive oil in a bowl.
Next, mix in the honey and coconut milk and stir well until a nice watery paste is formed.
Lastly, add in the Castille soap (you can use baby soap as an alternative here).
Transfer this shampoo into a bottle or glass container to use as needed. Use this shampoo once or twice a week as necessary for soft and smooth hair.
8. Castor Oil & Honey Hair Mask
Because of the common moisturising properties of both these oils, this mask leaves your hair more moisturised and reverses hair loss and damage caused due to pollution.
Ingredients:
3 tablespoons castor oil
2 tablespoons honey
Few drops of lemon juice (optional)
Method:
In a bowl mix all ingredients together to form a smooth paste.
Apply this paste for 5-7 minutes on the scalp and hair.
Leave the hair mask on for at least 30 minutes.
Wash it off with a mild shampoo. Use this hair mask at least twice a week for the best results.
These castor oil products are sure to make your hair much more healthy and more smooth than before. For those with hair growth issues, this is sure to stimulate your hair follicles and hence trigger better hair growth.
Side Effects Of Castor Oil
Although castor oil is a natural ingredient and castor oil benefits for hair lead to positive effects on growth, volume, and size, it may lead to adverse effects in some cases. Learn possible side effects to be aware of or take care of before resorting to heavy usage of castor oil.
1. Allergic Reactions
While castor oil is completely natural, it may lead to skin rashes, swelling, and itching. It is advised to do a patch test of any products on a small patch of skin on your wrist before applying anywhere else.
2. Chances Of Diarrhea
Ingesting castor oil could lead to overstimulation of bowels and diarrhoea. Hence, it is vital to regulate castor oil intake.
3. Nausea
A castor oil overdose could lead to nausea. This could also be accompanied by vomiting and cramps, so avoid large quantities of ingestion.
4. Darker Hair
Castor oil is known to make hair darker. Hence, it is not suitable for those looking for a lighter hair shade.
5. Suitability To Skin Type
Jamaican black castor oil is alkaline and may sometimes be unsuitable for dry skin. Similarly, the other 2 varieties of castor oil may not be suitable for sticky hair.
FAQs – Frequently Asked Questions
Q. What is the best type of castor oil to increase hair growth?
A. All types of castor oil may be beneficial for all types of hair. While Jamaican castor oil is thicker in terms of consistency, it has more benefits as it facilitates hair nourishment better and also treats hair thinning. Cold-pressed oil is also loaded with benefits and is more popular because of its easy availability.
Q. What is the frequency of usage of castor oil for my hair?
A. Castor oil for dandruff or hair growth problems is best used about twice every week. A mask form or as a concoction of oils like castor oil and coconut oil can be used at least once or twice a week for best results.
Q. Is castor oil suitable for all skin types?
A. While it is a completely natural product, it is best advisable to do a patch test on your wrist to ensure there are absolutely no side effects on your skin type. Also, an overdose of any kind is bad. Hence, avoid large or overdoses of castor oil to avoid any ill effects.
Whether you create a mixture like aloe vera and castor oil or just use it as is, it's sure to give your hair the best care it deserves. You can use any of the mentioned recipes or create your own with this natural hair booster product for amazing hair.