They say that your hair is your crown, and it must be well kept. And with hair like Rapunzel, you sure are to feel like a princess. Regardless of the texture, colour or style, everyone wants shiny long hair that has been cared for by hairstylists! Or like the long tresses seen in ads and movies, the silky smooth, thick and luscious hair. But with the changing weathers, diet or health restrictions, your hair is more likely to face the brunt of it. Your hair is prone to be dry with an itchy scalp and weak roots and thin strands. And if that's the case, you are more likely to keep using different products. But stop with the products and go back to the desi nuskhe your grandma told you about! Trust us your hair will thank you!
Natural haircare using ingredients like coconut oil, curry leaves, dahi, ghee, egg yolks are known to treat your hair for damage and help it grow. They nourish your hair from the inside out and leave it to be silky smooth. And the best thing about desi nuskhe hair care is that they are tried and tested by our dadis and nanis, from generations before. So if there is anything about haircare you need to trust, it is these ayurvedic hair care ingredients for hair growth.
5 Ayurvedic Hair Care Ingredients That Can Help Your Hair Growth
While the vitamins and nutrients you eat, provide and help you in growing your hair, these ayurvedic ingredients provide the extra love and nourishment to increase the process of growing your tresses.
1. Bhringraj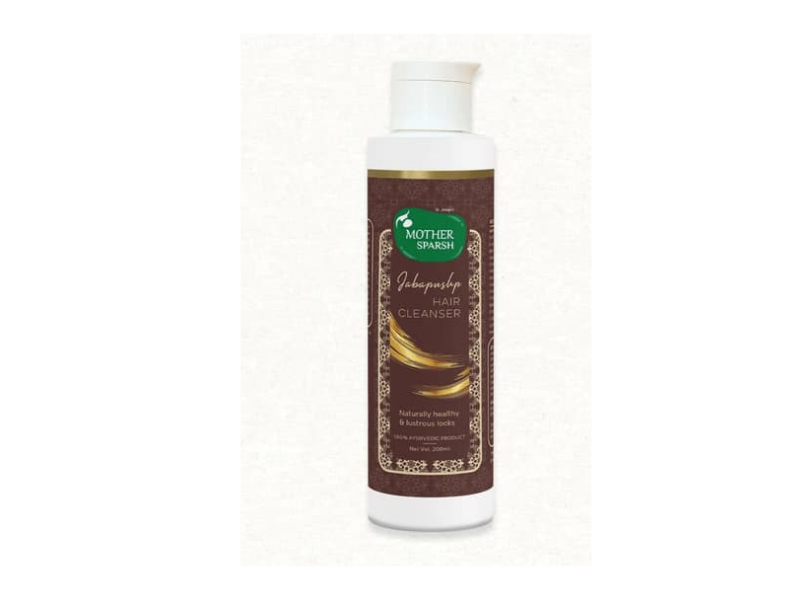 Bhringraj is herbal medicine, and according to Ayurveda, bhringraj oil is really good for hair. It can easily penetrate through the scalp and help in treating the dry scalp. Massaging the oil on your scalp and wrapping it in a steamed towel for five minutes helps in deeper absorption and helps in activating the sebaceous glands. It helps in improving the blood circulation at the root of the hair bringing more nutrients that support hair growth and foster hair follicles. Bhringraj is like a natural therapy for preventing hair loss. The herb contains important nutrients that fulfil the deficiency of minerals that lead to uncontrollable hair loss, hence, promoting hair growth. Bhringraj oil also helps in maintaining the natural colour of your hair.
Cleansing your hair with a Mother Sparsh's bhringraj infused cleanser is sure to up your game and leave you with soft lustrous hair.
How To Use It:
Heat the required amount of bhringraj oil for 30 seconds till warm. You can also add sesame oil while heating to add an extra dose of nourishment.
Apply it to your scalp and massage gently in circular motions for 15 minutes.
Leave the oil on for an additional 30 minutes.
Wash with a mild sulfate-free shampoo and let your hair air-dry.
Use two-three times a week for best results.
2. Onion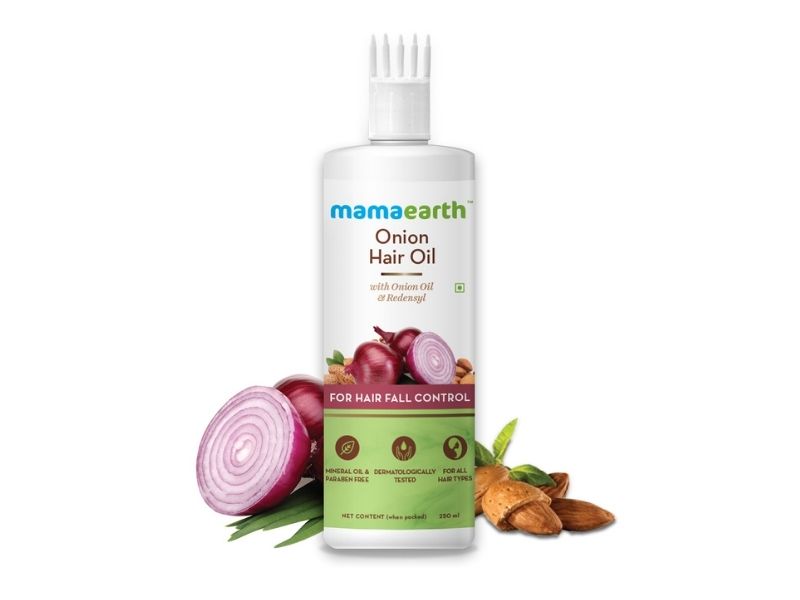 Onion juice for hair is the most common desi nuskhe given by dadis. And it is an ingredient that actually works. From promoting healthy hair growth to reducing breakage and hair loss, onion juice is your definite one-stop solution. Onion is an effective natural way to keep your hair healthy and voluminous. Applying onion juice to your scalp is a great way to boost an antioxidant called enzymes, which supports the rapid increase in hair growth. The sulphur content in onions is what helps to nourish your strands and stimulate dormant hair follicles to reduce hair fall and boost hair growth. The antioxidants present in onion juices prevents environmental damage and delays the greying of hair. The antibacterial properties keep scalp infections at bay, ensuring healthy hair growth. Additionally, regular application or masking with onion juice is a great way to see a definite reduction in hair fall.
How To Use It:
To make onion juice, peel 2 onions and chop them into small pieces.
Extract the juice out of the onion by either squeezing it or using a juicer.
Place the paste in cheesecloth and squeeze all the juice out.
Apply the juice to the scalp or the hair roots for a few minutes.
Wash with cold water and mild shampoo.
You can also apply an essential oil to your hair post hair wash, to reduce the onion smell.
3. Black Seed Oil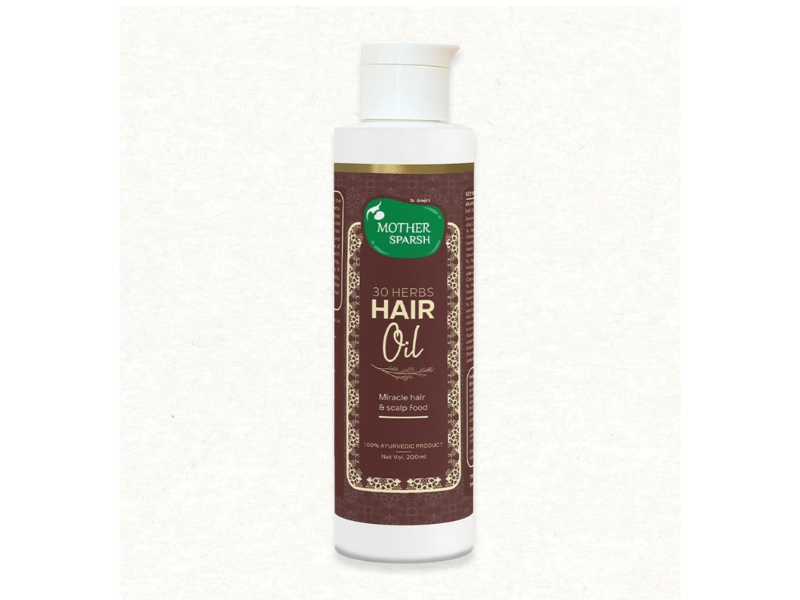 Black seed oil is kalonji or black caraway. It is an ingredient that has a lot of names but a star ingredient for hair problems from thinning to dryness. Kalonji is found in various hair oils and shampoos. The Mother Sparsh 30 herbs hair oil is infused with the goodness of kalonji as well as reetha and haldi to promote hair growth and overall health.
Kalonji promotes hair growth and reduces hair fall. It maintains the natural colour and shine of your hair for a longer time and delays premature greying. A champi with the oil helps in reducing the sebum produced and also reduces fizzy hair. Another great benefit is that it helps improve the health of your scalp. It is a great source of anti-inflammatory, antifungal, antibacterial, antiviral, and analgesic (pain-killing) properties. Therefore, massaging your scalp with kalonji oil is an excellent way to reduce dandruff, itchiness and stimulate hair follicles to promote growth.
How To Use It:
Heat the required amount of kalonji oil in a bowl.
Using a cotton pad, dip and apply the oil through your scalp.
Massage the oil on to your hair and scalp for about 5 mins and cover your hair with a shower cap.
Leave for around an hour.
Wash it off with cold water and mild shampoo.
Repeat twice a week for best results.
4. Curry Leaves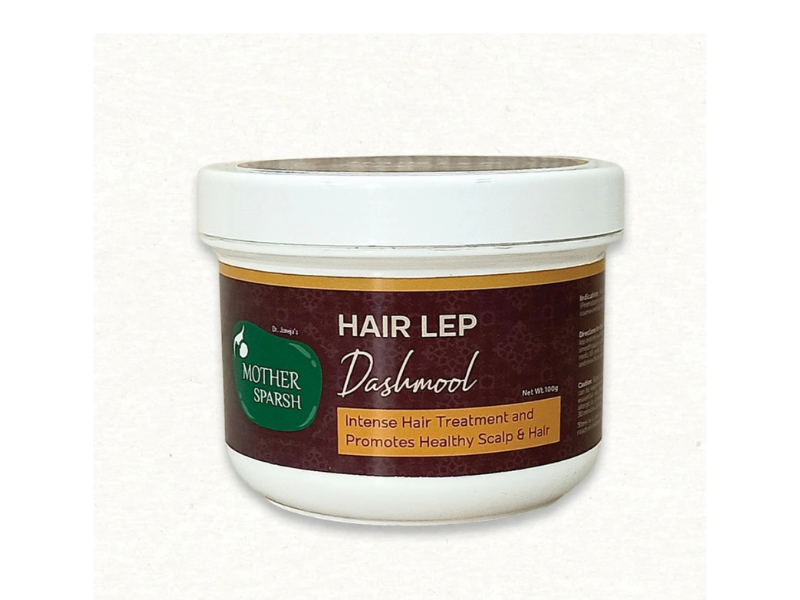 You have probably picked out curry leaves from your food when maa told you to eat it as it helps in hair growth. Well, that's true! Curry leaves (kadipatta) are loaded with properties that can work wonders for your hair and lead to hair growth. They are rich in antioxidants and proteins, these antioxidants neutralize the free radicals and keep your hair healthy and strong. Making nourishing oil with coconut oil, curry leaves and applying it to your scalp, helps strengthen the hair roots and shafts while curbing hair loss. The Mother Sparsh Dashmool hair lep is infused with dashamoola, curry leaf and shikakai that improves scalp health and is a superfood for your hair. Read this complete article on how to use curry leaves for hair.
How To Use It:
Take a handful of kadipatta and blend it into a thick paste.
Add one tablespoon of the curry leaves paste to 3-4 tablespoons of yoghurt (dahi) (depending on the length of your hair)
Mix the two ingredients well until they form a paste of smooth consistency.
Apply the mixture and massage your scalp. Just make sure that all of your hair is covered in it from the roots to the tips.
Leave it on for 30 to 40 minutes and wash it off with shampoo.
You can use this hair mask once a week to boost scalp health and make your hair soft and shiny.
5. Shikakai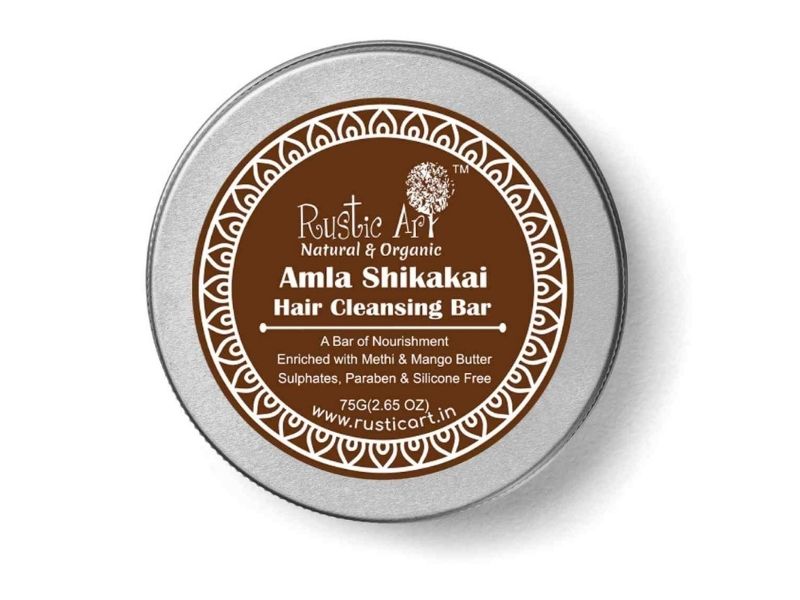 Shikakai is the oldest and most natural way of cleaning your hair. Grandmas have always used shikakai paste to wash their hair, and it has amazing hair care benefits. It is filled with antioxidants, which help fight free radicals damaging your hair and scalp. Its gentle cleansing action helps detangle your hair softly, thus reducing hair breakage and consequent hair fall. Shikakai is also rich in vitamins like C, A, E and K and other micronutrients that nourish your scalp and boost hair growth. The antifungal and antimicrobial properties of shikakai work to keep problems such as dandruff, scalp eczema, psoriasis and itchy scalp, lice, inflammation and other issues at bay. Shikakai keeps your hair shiny, silky and smooth for all hair goals!
How To Use It:
Add 1 cup of almond oil, 2 cups of coconut oil and 3 tablespoons of shikakai powder in a glass bottle.
Mix the ingredients well and store this for at least a week.
Use this oil during your usual champi sessions 2-3 times a week.
Hair goals like those seen in movies and ads are hard to attain, but not impossible. Using these ayurvedic ingredients, your hair is sure to be the hair of your dreams. Make sure to look out for these ingredients in your shampoos and oils or even use them as a hair mask. Use them weekly for the best results that are long and shiny hair! Here are some handy tips on how to use methi for hair for hairfall & dandruff.
Quick Tip: A head massage benefits us by increasing blood flow to our neurological system and spine, which improves memory and overall brain function.