The good old coconut oil takes you back to childhood! Our dadi's nushkas and maa ke haath ki champi were never complete without a good dose of coconut oil. Besides being a nutritious and delicious cooking oil, coconut oil is infused with properties that nourish and hydrate your skin. The benefits of using coconut oil daily are more than you can imagine. Buy the best homemade natural hair oil at the Red Dot Shop.
Coconut Oil, undoubtedly, is an all-beauty cure stored in a bottle! It's quite the jack-of-all-trades, from treating dry cuticles and rashes to boosting hair growth, and much more. You can use it for just about any and everything, from healing scars to moisturizing dry elbows. Coconut deserves a huge shout-out and certainly a place on your beauty shelf. If you haven't yet gotten your hands on this delightful thing, you're missing out on a lot. Here are some of the reasons why you need coconut oil in your life!
DIY Coconut Oil Recipes
If there were a competition between natural beauty ingredients, coconut would be that all-rounder kid that always came first. This no-nonsense beauty cure can fix all your problems in a jiffy. Got a skin issue? Use coconut oil. Hair looks dry? Coconut milk to the rescue!
1. Coconut Oil For Moisturized Hair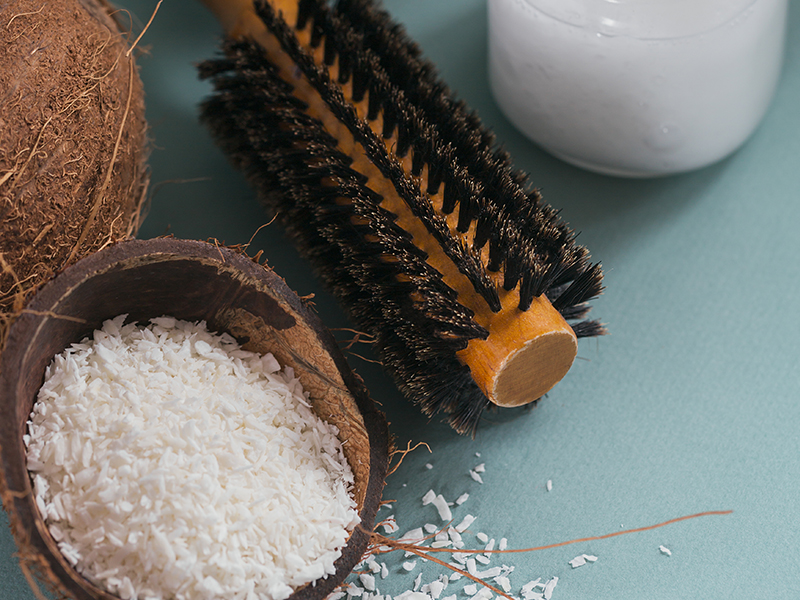 Coconut oil is one hair moisturizer that prevents the loss of protein after every wash from the hair strands. This important property keeps the hair soft and supple. All you will need is virgin coconut oil and follow the four steps as mentioned below one to two times a week.
Method:
On the hair and the scalp, apply the virgin coconut oil properly.
For a couple of minutes, make sure to massage gently.
Leave the hair for around 1 hour.
Make sure to rinse the hair properly using a mild shampoo. Do not forget the conditioner.
2. Coconut Oil As A Remedy For Oily Scalp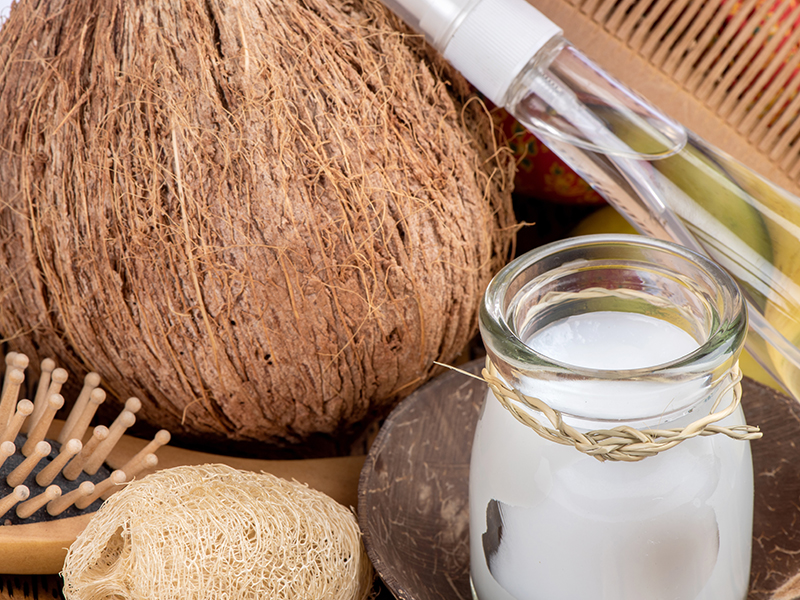 You would think that an oily scalp does not need more oil. But the truth is quite the opposite. Regular oiling keeps your scalp moisturised and prevents it from producing extra oil. Coconut oil is a light, nourishing oil that will deeply moisturise your hair. Our dadis and nanis have relied on coconut oil to do the trick for generations and now you have more reason to listen to them.
Method:
Gently massage coconut oil onto your scalp and in the lengths of your hair.
You can heat the oil a bit for a calming effect, but make sure to not heat it.
Tip: If you struggle with oily hair, learn about the causes, the hair care routine and home remedies to help with oily scalp.
3. Coconut Oil To End Split Ends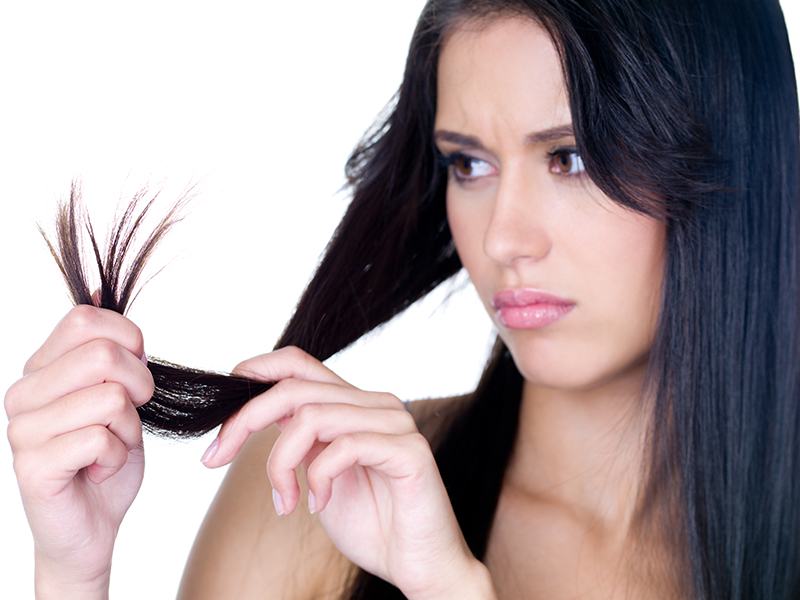 There are no two opinions about the efficacy of coconut oil in promoting hair growth. Most people use coconut oil for their routine hair care. Coconut oil prevents split ends by hydrating all layers of the hair shaft.
Method:
Massage your hair from scalp to tips using a generous amount of coconut oil.
Warm coconut oil will have a moisturizing effect on the hair.
Leave it overnight and rinse your hair with a good herbal shampoo the next day.
4. Coconut Oil With Vitamin E For Frizzy Ends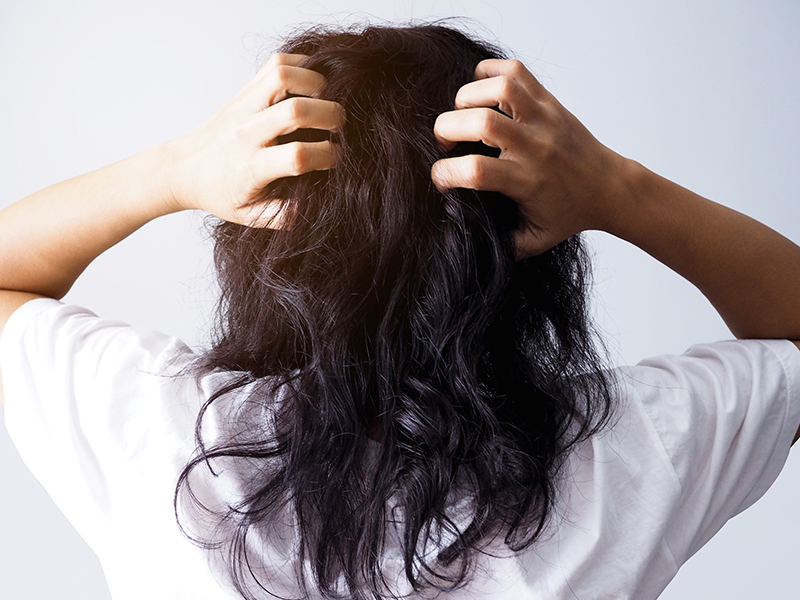 All of our dadis and nanis have sworn that coconut oil is the holy grail of hair care. And rightly so! It is a conditioning and nourishing oil, and deep massaging with it once or twice a week can uplift dry hair. Vitamin E can add a boost of conditioning while protecting hair from free radicals.
You Will Need:
4 parts of coconut oil
1 part Vitamin E (in the form of Vitamin E oil or you can empty some Vitamin E capsules)
Method:
Mix the oil and Vitamin E.
Massage it onto your scalp and hair.
Let it sit for 40 minutes before washing.
5. Coconut Oil To Reduce Hairfall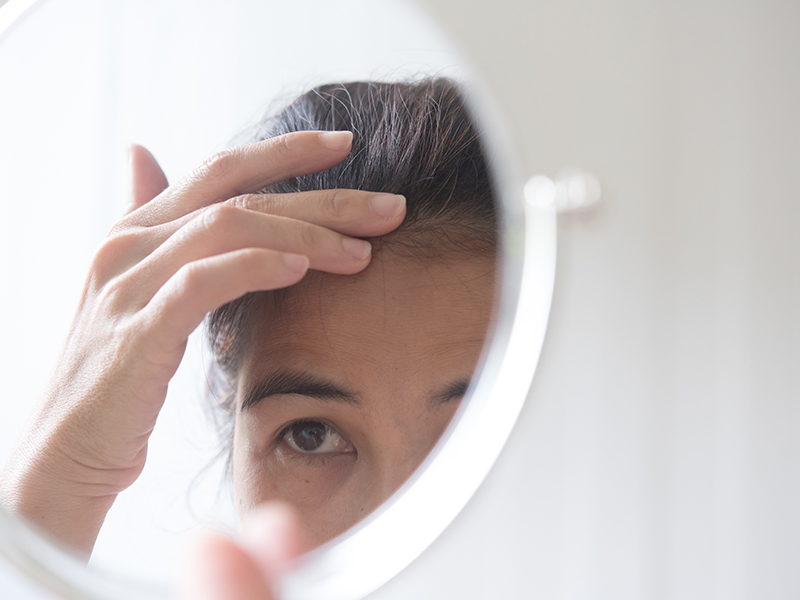 Another answer to how to control hair fall in monsoon is the regular use of coconut oil. Oiling is one of the most important steps in an effective monsoon hair care routine. Loaded with essential fatty acids and proteins, coconut oil helps nourish the scalp and strengthen the hair. It is a great remedy for dryness and frizz.
You Will Need:
2 tablespoons of warm coconut oil
Juice of 2 lemons
Juice of 1 orange juice
Method:
Mix the ingredients in a bowl.
Apply the mixture to your scalp and hair.
Give yourself turban therapy.
After an hour, wash your hair using a mild shampoo.
6. Coconut Oil & Curry Leaves Hair Pack For Natural Conditioning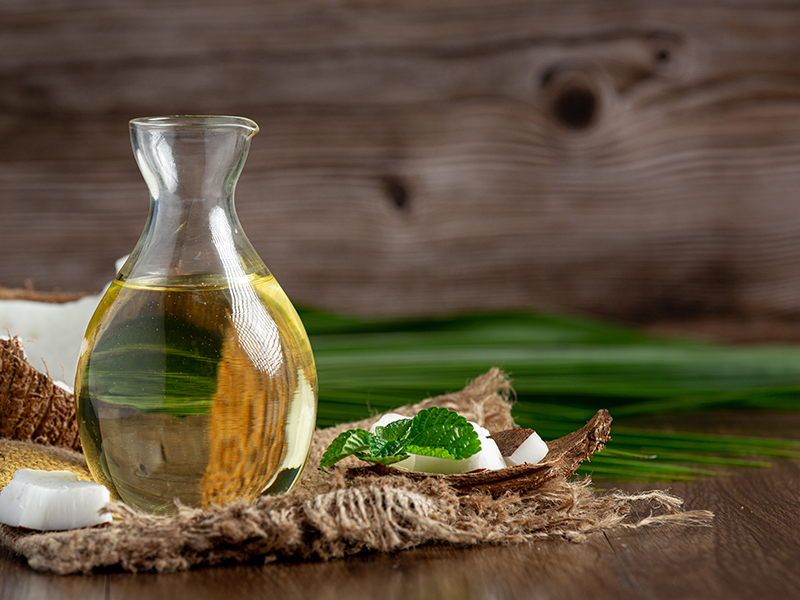 Curry leaves and coconut oil is a haircare combo that all grandmothers swear by. Both these ingredients have been used traditionally to condition and moisturise hair while boosting its growth. Here is a complete list to make diy hair masks, including how to make curry leaves hair pack right at home.
You Will Need:
Coconut oil (according to the length of your hair)
15-20 curry leaves
Method:
Warm up the coconut oil in a double-boiler (don't boil it as it will lose its nutrients).
Once it is hot, add in the curry leaves and let them infuse for 15-20 minutes.
Strain out the mixture and you will have curry leaves hair oil that you can use daily or for weekly hair massages.
When it is lukewarm, dip in your fingertips and gently massage it all over your scalp. Also, cover the tips of your hair for moisturisation.
This infused curry leaves hair oil is also beneficial to control hair fall as it strengthens and heals the roots. Keep it on for 1 hour before shampooing.
7. Avocado & Coconut Oil Hair Mask For UV Protection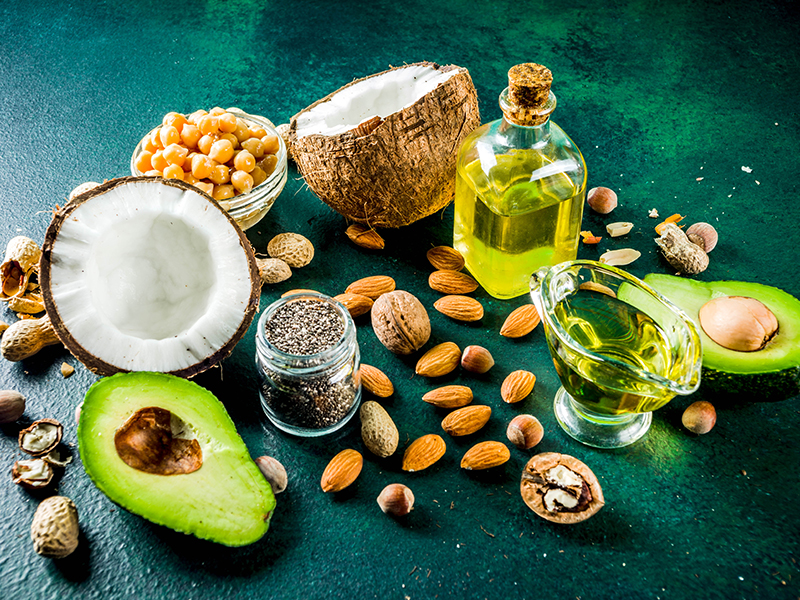 Coconut oil is the amazing and most beneficial oil for hair and its excellent property of penetrating the scalp makes it more worthy. It also contains fatty acids that reduce the effect of hair damage. Avocado when mixed with this superb. Coconut oil protects the hair, it forms a protective layer just like the ozone layer protects the earth from getting the harmful UV rays of the sun. This mixture manages to minimize the loss of moisture and damage.
You Will Need:
1 ripen medium-sized avocado
2 tablespoons of coconut oil
Shower cap
Method:
Mash the avocado and until it is lump-free.
Add two tablespoons of coconut oil to the mashed avocado and mix well.
Apply the mixture on the scalp and hair so you don't forget the ends of the hair as those are the most damaged parts of the hair.
After applying the mixture fully on the hair cover it with a shower cap and leave it for 30 minutes.
Wash your hair with a mild shampoo and don't forget to apply conditioner.
Using a towel squeeze the excess water let the hair air dry.
Apply this hair mask 1 to 2 times a week.
8. Banana & Coconut Oil Hair Mask To Combat Hair Loss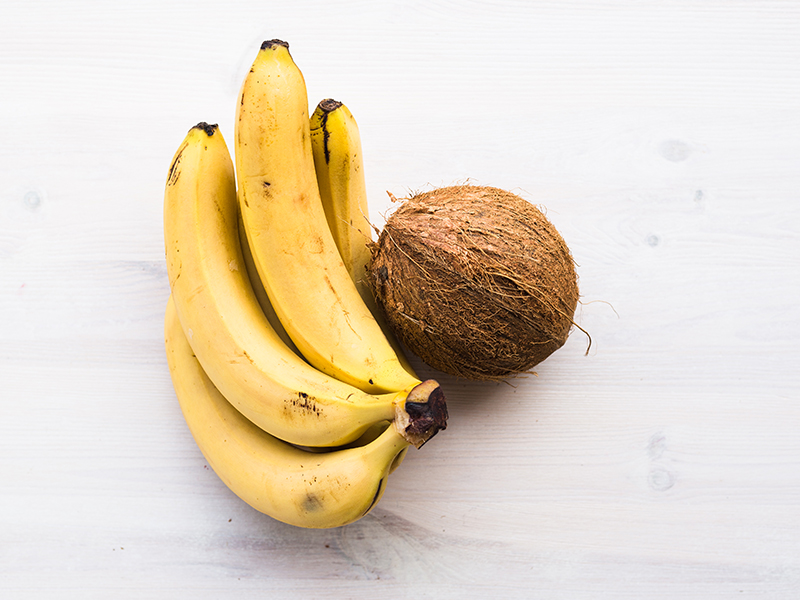 Bananas are loaded with natural oils, potassium and of course, antioxidants. And we all know how coconut oil works its magic on your tresses. Mix the two and you have an effective treatment for hair fall.
You Will Need:
2 ripe bananas
1 tablespoon of coconut oil
1 teaspoon of honey
Method:
Peel two ripe bananas and then slice them into small pieces.
Mash them properly to form a paste.
Next, add coconut oil and honey, and blend the ingredients well.
Apply it all over your hair and then leave it on for about an hour.
Once dry, wash it with a good shampoo.
9. Coconut Oil & Methi Hair Pack For Promoting Hair Growth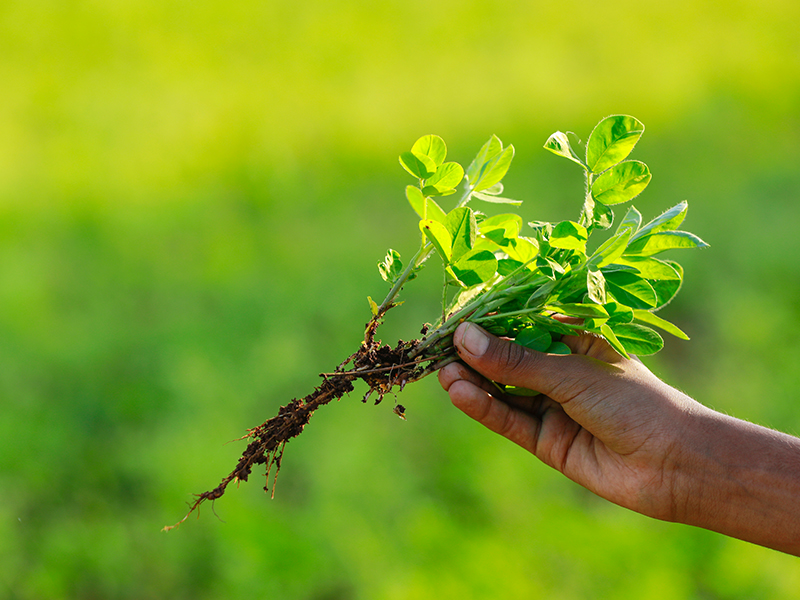 This miraculous combination of two powerful ingredients can help treat hair fall issues, promote hair growth and moisturize the hair. The lecithin present in fenugreek nourishes the hair, strengthens the roots and heals the scalp. Packed with important nutrients such as iron, vitamin E and vitamin K, coconut oil helps boost hair growth. Here is how you can make your very own fenugreek oil for hair.
You will need:
2 tablespoons fenugreek seeds (methi)
1 tablespoon coconut oil
Method:
Put both the ingredients in a pan and heat till you see the fenugreek seeds turn reddish.
Turn off the stove and let the mixture cool.
Once the oil is cool, remove the seeds.
Apply the lukewarm oil on your hair and scalp and massage.
Let it stay overnight. Shampoo your hair the next morning.
Tip: For best results, use this remedy twice a week.
10. Amla & Coconut Hair Oil For Hair Nourishment & Shine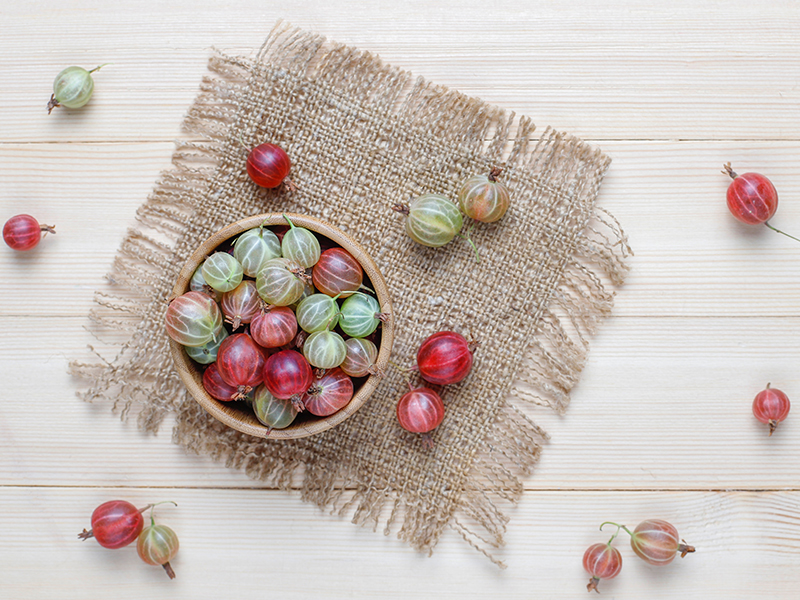 Just like amla, coconut oil and olive oil also offer several hair health benefits. Coconut oil helps nourish the hair from within, reduce protein loss and protect the hair from damage. It can also help in damage repair, and reducing hair loss. Olive oil is packed with several nutrients that may play a role in reducing split ends, repairing hair damage, treating dandruff, reducing hair loss and conditioning the hair. Make the most of amla oil benefits by using this amla, coconut and olive oil concoction regularly.
You Will Need:
2 teaspoons amla powder
2 tablespoons coconut oil
1 tablespoon olive oil
Method:
Take the coconut oil and olive oil in a pan and heat.
Add the amla powder to the oils.
Heat until the mixture turns brown.
Turn the heat off and let the mixture cool for a few minutes.
Once you notice that the charred powder has settled, pour out the oil in a bowl.
Apply the oil to your hair and scalp while it is still slightly warm. Massage for 10-15 minutes and let it sit for about 30 minutes.
Wash your hair with a mild shampoo.
Tip: Use this remedy 3 times a week for best results.
11. Aloe Vera Hair Oil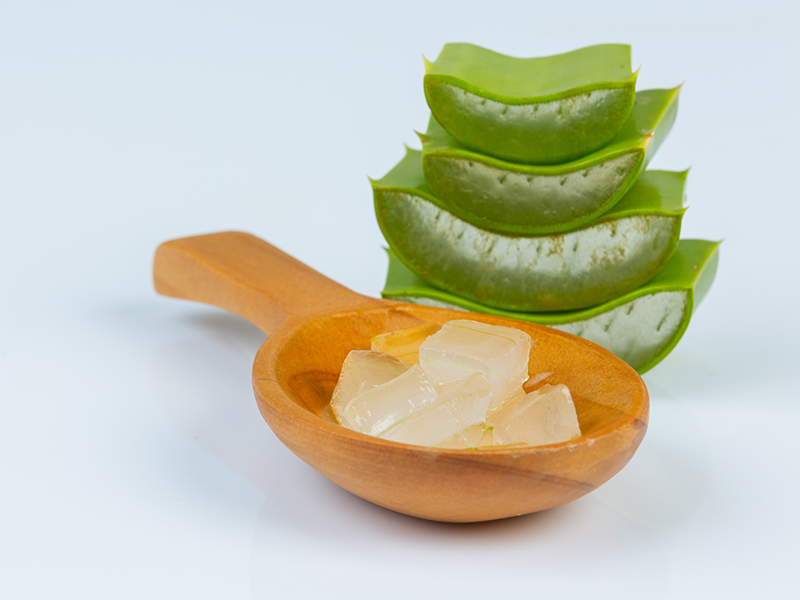 Aloe vera is well known for its moisturising properties. When used in hair oil, it lends the same benefits and helps to revive dry and dull hair. And, in case you were wondering how to grow eyebrows, aloe vera is a great solution for thicker, fuller brows as well. You can gauge the popularity of this blend from the fact that it is now being marketed by big brands as a solution for frizzy hair. But you don't need to hunt for expensive products because you can make aloe vera hair oil at home.
You Will Need:
2 tablespoon pure aloe vera gel
125 ml of coconut oil
Method:
Mix the two ingredients to combine them properly.
Then heat then over low flame for 5-7 minutes.
Take it off the flame and let it cool down completely. Then store it in an airtight container.
Leave the oil for at least 2 weeks for the aloe to thoroughly infuse. Then it will be ready for use!
Tip: If you are facing issues with your eyebrow growth, learn how to get thicker eyebrows naturally with simple home remedies.
12. Onion & Coconut Hair Oil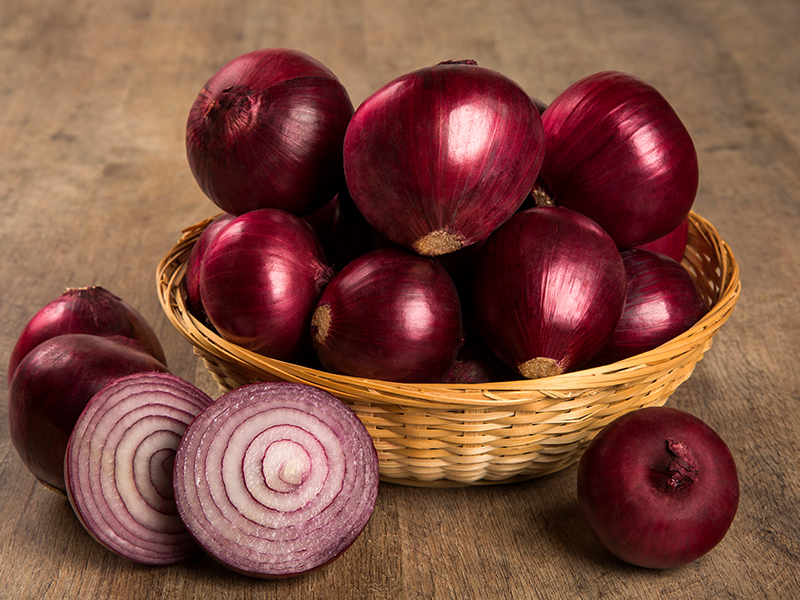 Need more reasons to love the onion? Well, it is an excellent ingredient for stimulating hair growth and treating scalp-related conditions. Here is an effective recipe to make onion oil at home that brings out the best of onion for hair health.
You Will Need:
100 ml of coconut oil
2 cloves of garlic
1 small onion
Lavender essential oil
Method:
Finely chop the chop and put it in a pan along with the garlic and coconut oil.
Heat the pan on low flame for 5-7 minutes.
When the mixture cools down completely, add in 2-3 drops of the lavender oil (it has calming properties).
Strain the liquid in a container and store it in the fridge.
13. Almond & Coconut Oil Shampoo For Healthy Hair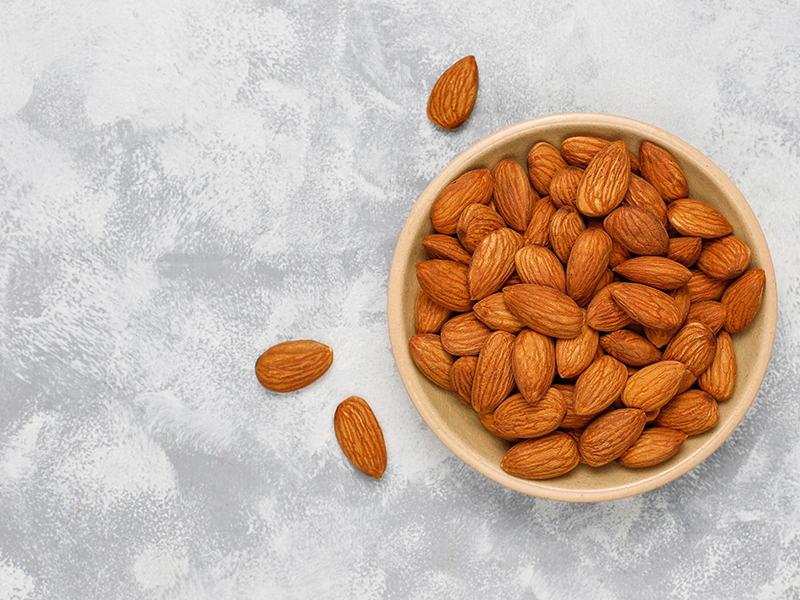 This shampoo with the goodness of coconuts and almonds can nourish your hair and stimulate hair follicles for healthier hair growth. It will moisturise and strengthen weak hair.
You Will Need:
½ cup of distilled water
2 – 3 tablespoons of liquid castile soap
¼ cup full cream coconut milk
1 – 2 tablespoons of coconut oil
½ tablespoon of almond oil
3 – 5 drops of either lavender, rosemary or rosehip essential oil
3 drops of vitamin E oil
Method:
Take a clean bottle and add coconut milk, water, and castile soap to it.
Shake the mixture.
Thereafter, pour the coconut, almond, vitamin E and essential oil in it.
You can store this shampoo for a maximum of 4 weeks.
14. Coconut Rich Skin Moisturiser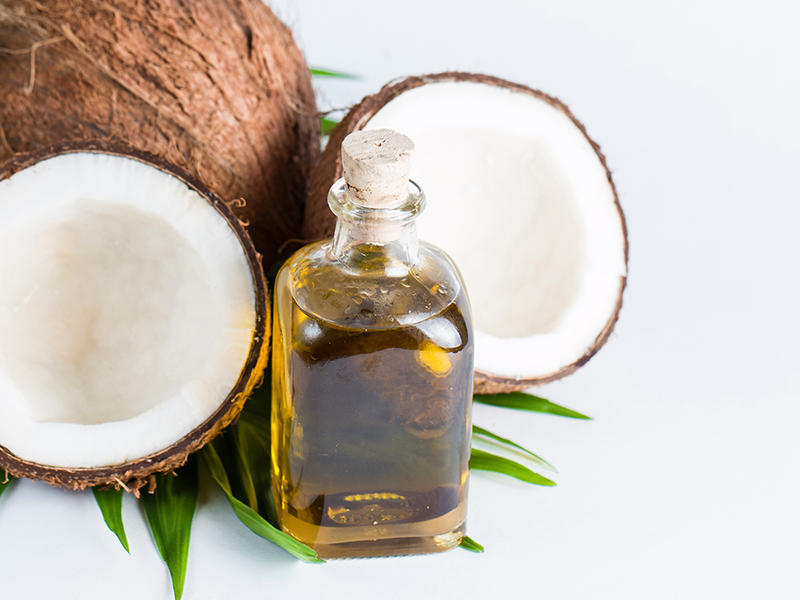 Coconut oil is filled with natural moisturization benefits. Make this natural moisturizer at home and pamper your skin with the goodness of coconut oil.
You Will Need:
½ cup of organic coconut oil
1 teaspoon vitamin E
A few drops of lavender essential oil
Method:
Melt the coconut oil.
Then, take a container and mix all the ingredients.
Once the coconut oil solidifies, your DIY moisturizer is ready to use.
15. Coconut Oil & Coffee Body Scrub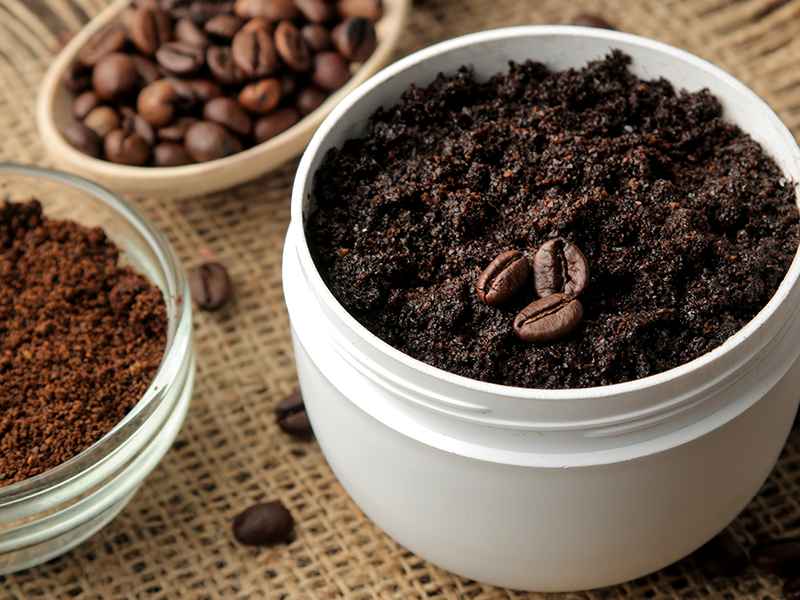 The combination of ingredients used below is a no-brainer exfoliant as well as moisturiser, and an excellent way of getting rid of dead skin. Some experts say that caffeine dilates blood vessels and reduces the appearance of skin dimples. This can be enjoyed once a week.
You Will Need:
1 cup of coffee powder
1 cup of coconut oil
(Adjust quantity in the same ratio)
Method:
Apply all over your body and scrub gently.
Wash off with warm water once done.
16. Coconut Oil To Get Rid Of Blackheads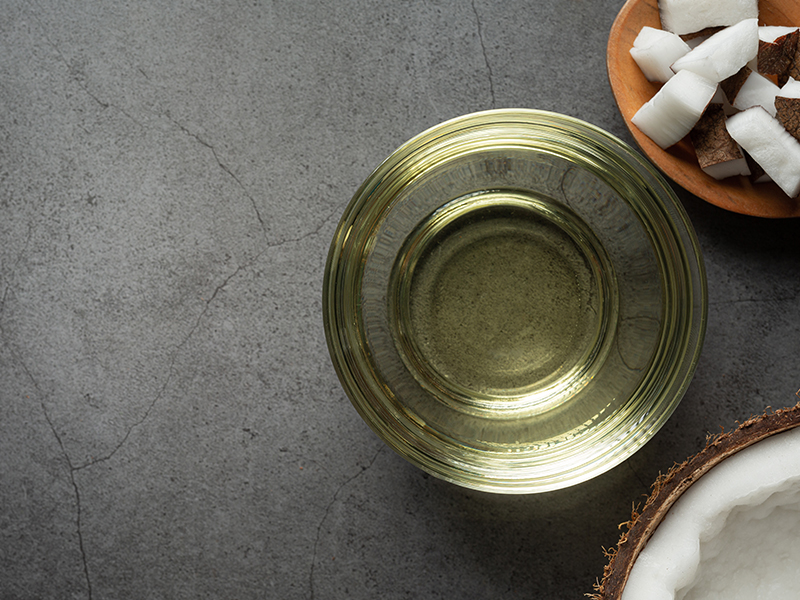 Coconut has many proven benefits as it is a good moisturizer. This can help relieve dry skin and prevent the blockage of pores with dead and dry skin cells. As a home remedy for blackheads, it can be used daily.
Method:
1. Apply a teaspoon of virgin coconut oil (cold-pressed, if available) on the blackhead areas
2. Leave it on until it is fully absorbed into your skin.
3. Apply it twice daily until effective results.
17. Apply Coconut Oil, Sugar & Coffee Lip Scrub For Soft Lips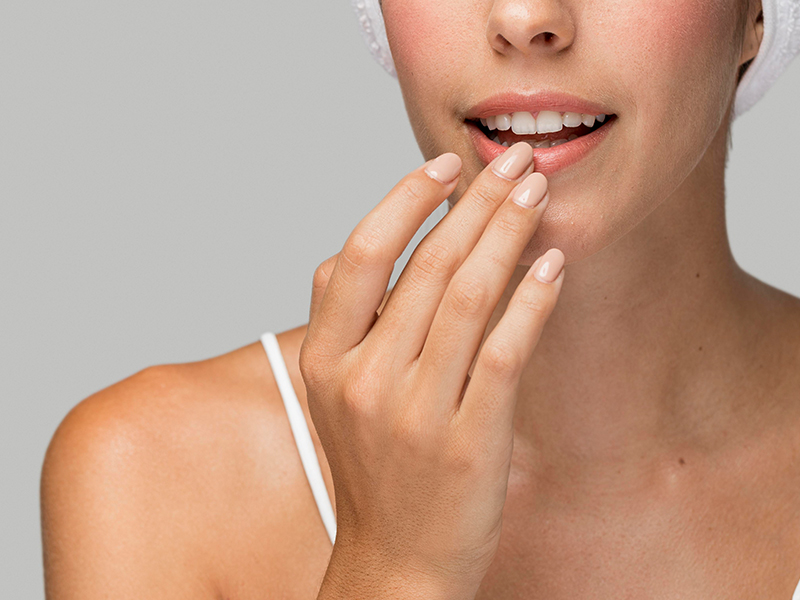 The sugar, coffee and coconut oil in this lip scrub recipe act as excellent exfoliants by rolling over the skin and lifting off dead skin. If you want to bring back some colour to your lip, add a few drops of pomegranate seeds.
You Will Need:
1 tablespoon granulated sugar (brown sugar preferred)
1 tablespoon coconut oil
A pinch of coffee
Pomegranate (Optional)
Method:
Massage and leave it on for 10 mins and rinse.
This is safe to do every alternate day.
18. Apply Coconut Oil To Lighten Dark Circles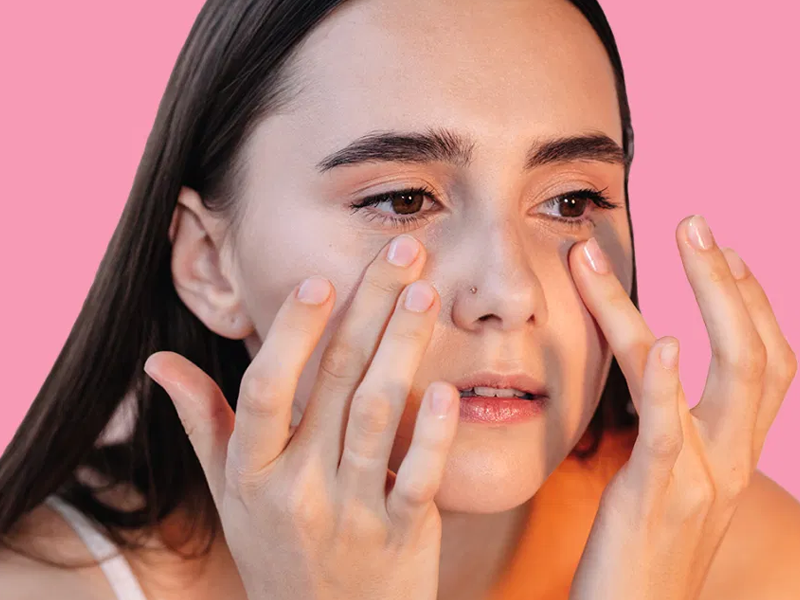 It is known that coconut oil is ideally suited for healthy skin and hair. Along with that, it is known to lighten dark circles and patches. It also adds to the suppleness of your skin.
Method:
Pour a few drops of coconut oil onto your palm.
Rub it under your eye using your fingertips.
Let it sit for the whole night and rinse it off in the morning.
19. Apply Coconut Oil To Get Naturally Dark Eyebrows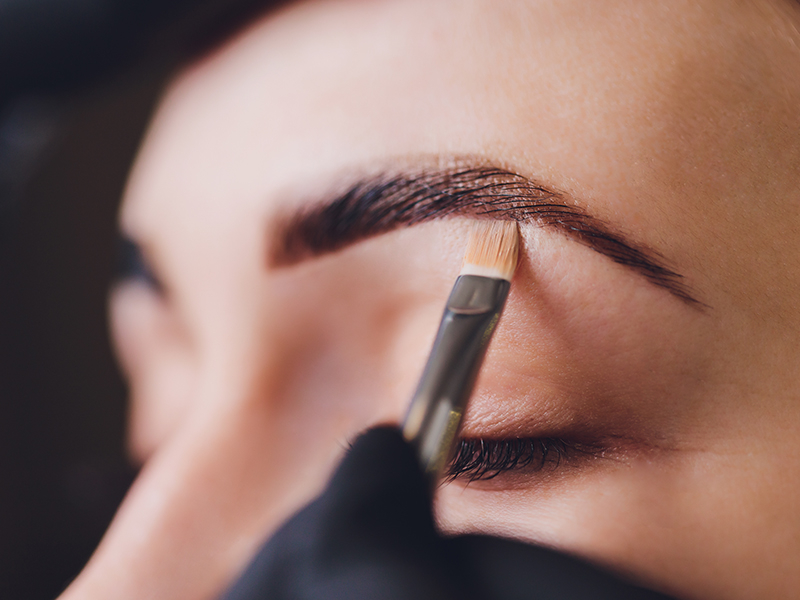 If you're looking for ways on how to darken eyebrows naturally, there are plenty of home remedies you can try. Thick and full eyebrows appear dark naturally. Coconut oil, castor oil or olive oil promote hair growth and thickness.
Method:
Use a cotton swab or clean mascara wand to swipe a small amount of coconut oil over the eyebrows.
Apply coconut oil to the eyebrows before sleeping, keep it overnight and wash it in the morning.
20. Apply Coconut Oil With Besan To Remove Facial Hair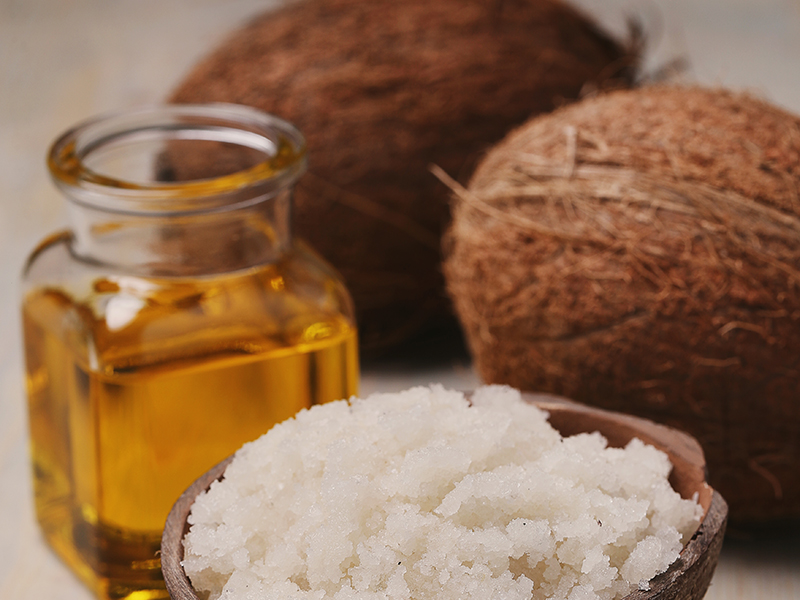 There are many ways to use gram flour for the face and one such use is to remove hair on your face. Getting rid of your peach fuzz and unwanted facial hair on the face is easy with this remedy.
You Will Need:
1 ½ tablespoon besan
1 tablespoon rosewater (gulab jal)
1 tablespoon coconut oil
Method:
Mix it well and apply it to your face.
Wait until it dries up.
Then, rub it against the direction of hair growth once dried.
21. Coconut Oil For Makeup Removal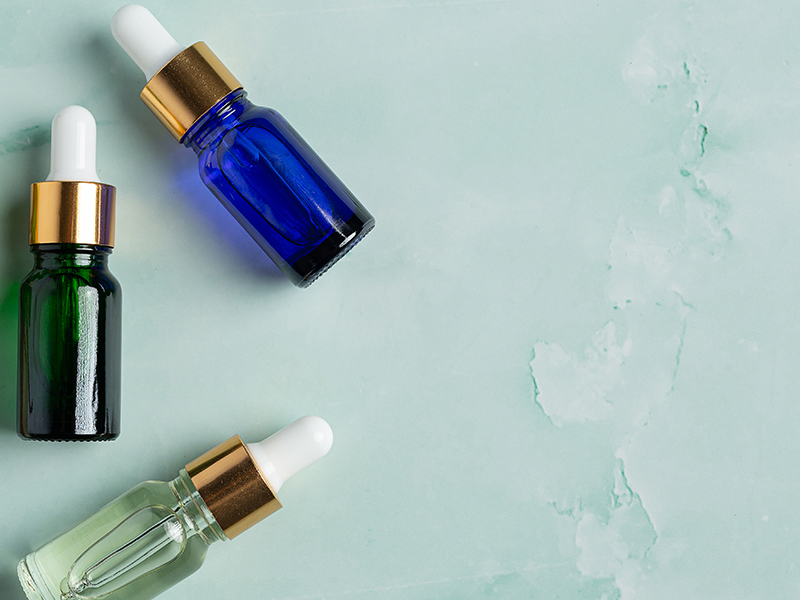 The coconut oil works as a brilliant item for breaking up the substances of the makeup that are water-resistant. It also helps to maintain the hydration of the skin. However, make sure to give a follow up with a soap and water session for better cleansing. It is completely suitable for dry, dehydrated, and dull skin.
Method:
Pick out some coconut oil in a jar. Make sure it is in melted form.
Rub the oil all over the eyelids, lashes, and face.
Ensure to have enough oil for moving the fingers without talking on the skin.
Do not let the excess oil remain on the face and wipe it off.
Splash some warm water on your face at the end.
This will act as a natural makeup remover, providing the skin little extra rest.
22. Apply Coconut Oil To Get Stronger & Longer Nails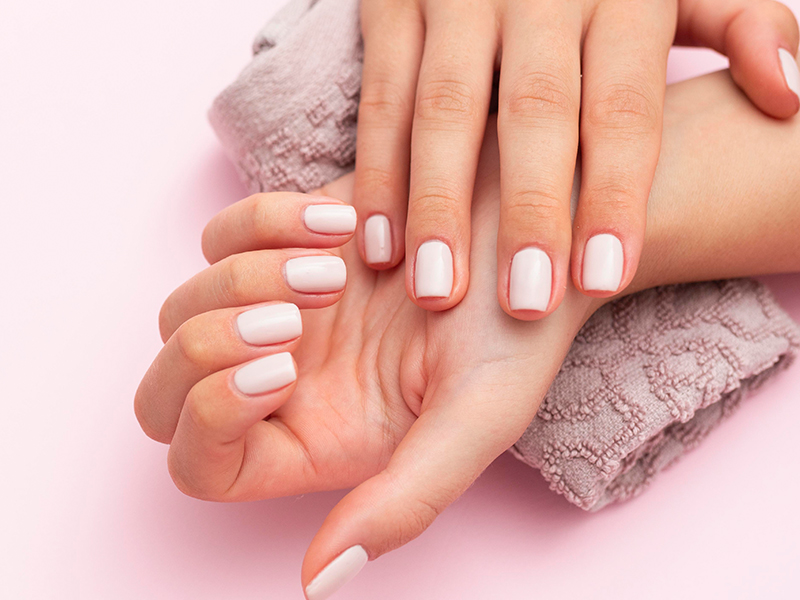 A great nail growth supplement, coconut oil does wonders to nail growth and strength. If the question, how to grow nails, is on your mind, here's an age-old solution.
Method:
Warm up the coconut oil.
Dip your fingers into the oil and massage it in a circular motion to allow blood circulation. Rinse your hands after 10 minutes.
Do this every night for better results.
23. Apply Coconut Oil To Reduce Scars & Lighten Their Appearance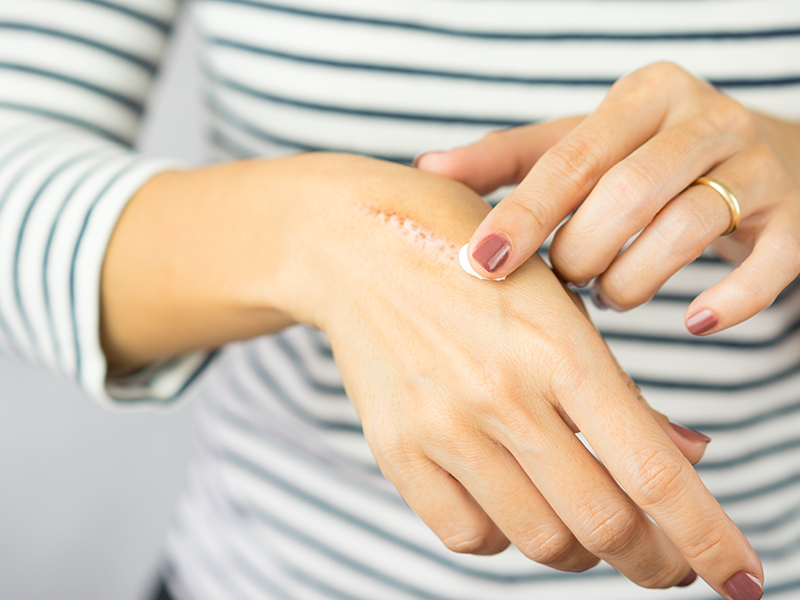 Coconut oil has many benefits for your skin. It helps minimize the signs of ageing, intensely moisturizes, reduces temporary redness and smoothes skin's texture.
Method:
Heat a few tablespoons of coconut oil.
Massage the oil into the scar for about 10 minutes.
Let the skin absorb the oil for a minimum of one hour.
Repeat two to four times every day.
24. Swap It With Your Shaving Cream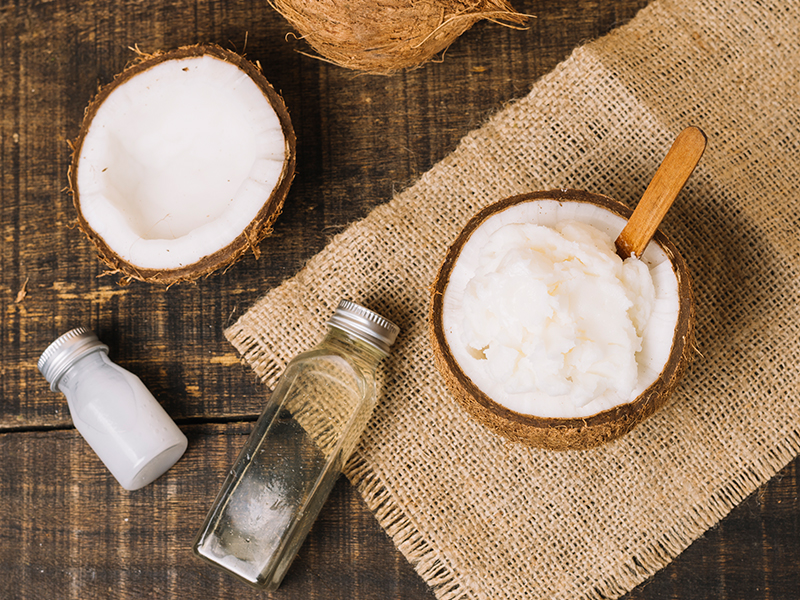 If you find it tedious to keep up with waxing appointments, try to shave a small patch with coconut oil. Yes, switching it with shaving creams, which are full of chemicals is a better option. Why? It's antibacterial and anti-microbial, it is better than a foaming agent and helps avoid infections altogether.
25. Apply Coconut Oil To Reduce The Appearance Of Stretch Marks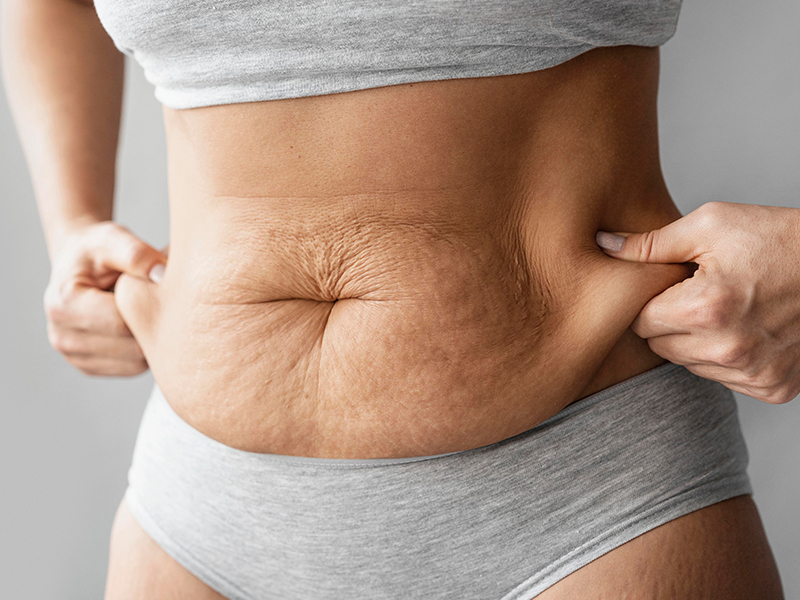 The best and statistically proven method to reduce stretch marks is moisturizing. This helps to moisten the various layers of skin and helps skin to rejuvenate. Many vegetable oils like Coconut oil, Aloe Vera gel, Shea Butter, Calendula oil and vitamin-E oil work as good moisturizers and can be used.
Coconut oil has been touted to be the most effective ingredient for healthy, strong and thick hair. It has been an essential part of every Indian woman's hair care ritual (thanks, mom). And in the last few years, coconut oil has gained a lot of popularity among skincare buffs too — skin experts believe it can be quite beneficial when applied topically. It hydrates the skin, lightens dark patches and increases collagen production, the humble coconut has never failed to impress. There are tons of skincare creams, lotions, serums and moisturisers in the market. Though several brands are taking the organic route, using coconut oil for skin benefits has no match. With easy availability and multi-purpose use, coconut oil is a great option for natural skincare.