The Dhak Dhak girl has since long had hearts racing with her stunning curls, pleasing features, and age-defying grace. Turning 56 this 15th May, actor Madhuri Dixit doesn't look a day over 40. And that's why we're celebrating her birthday by sharing some of Madhuri's best-kept health and beauty secrets. Here's how the actor keeps herself fit and takes care of her skin and hair—on shoot days as well as when she is at home.
7 Beauty Secrets Madhuri Dixit Follows Regularly
1. A Good Ol' Champi
Madhuri loves to massage her hair with a mix of coconut oil, methi (fenugreek) powder, and curry leaves. It helps her arrest hair fall and treats dandruff, giving her signature curls amazing bounce, shine, and volume.
2. Madhuri's Skincare Routine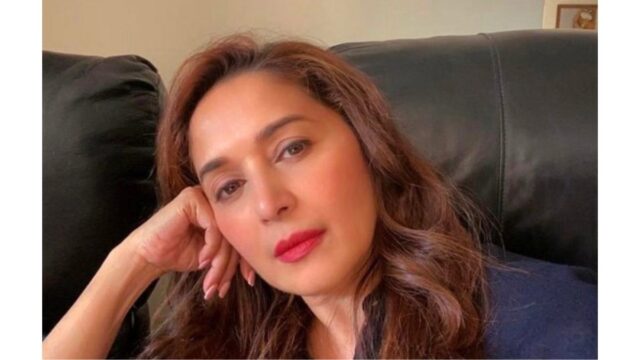 An AM CTM routine (cleaning, toning, & moisturising), along with a broad-spectrum sunscreen, does the trick for the diva. It deep cleanses the pores and hydrates her skin, leaving it soft, supple, and radiant.
Before going to bed, she makes sure to remove her makeup thoroughly and follows it up with a toner, vitamin C serum, and moisturiser. The skincare routine repairs the damage done to her skin and gives it the moisturisation that it needs. Last, but not the least, she drinks water regularly to flush out the toxins from her skin and keep her skin healthy and glowing.
3. Yoga & Dance Are The Secret To Madhuri Dixit's Fitness
Yoga is the secret behind Madhuri's fitness. She also complements it with a simple exercise routine at home, whenever she cannot hit the gym—a routine that does not require using gym equipment. She uses ankle weights to focus on floor workouts. And, of course, there's Kathak to help her stay fit. She practises Kathak thrice a week and regular exercises on two other days.
4. Madhuri's Favourite Lipsticks Include…
Madhuri considers her eyes to be the highlight of her face and focuses on giving them definition with a dash of mascara and shimmery eyeshadow, although subtle. Since she does not like experimenting with her makeup, she doesn't like coloured eyeliners, smokey eyes, or mascara. The actor is especially partial to creamy eyeshadows that glide well on the skin and do not settle in fine lines.
Madhuri's top 5 favourite lipsticks include M.A.C. Mehr, M.A.C. Ruby Woo, Sephora No 36, Pat McGrath Omi, Colorbar Outrage, and Charlotte Tilbury Pillow Talk.
5. Blow Dry For Her Precious Tresses
The actor loves experimenting with new hairstyles, although she prefers wearing her hair straight or in curls with a side parting, following it up with a blow dry sesh. It gives her hair a voluminous look, her crown a sense of height, and imparts definition to her face.
6. Sleep-Wake Cycle
Madhuri Dixit follows a strict sleep cycle of 6 to 7 hours to give herself complete rest. This improves blood flow and helps the skin rest and repair. Any wonder the actress has such a youthful glow at age 56?
7. Madhuri Dixit Meditates To Reduce Stress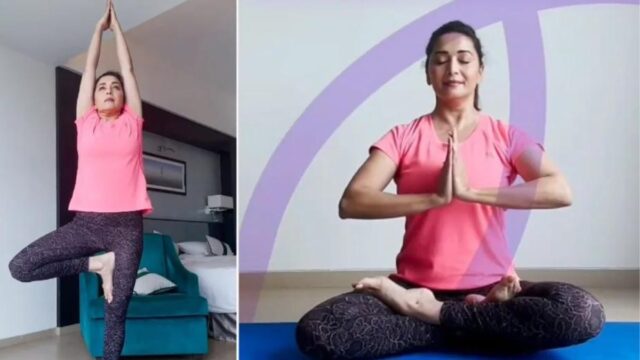 Stress causes changes to the protein present in the skin, which reduces its elasticity and results in fine lines and wrinkles. It can also lead to acne, rashes, under-eye bags, extensive hair fall, and premature greying of hair. The actor practises meditation regularly and believes in focusing on positive thoughts to keep herself healthy and happy.
Open up like never before and participate in conversations about beauty, entrepreneurship, mental health, menstrual & sexual health, and more. Desi women, join our community NOW!